Ahead of the I-35 showcase in Wichita Kansas at the Wichita Sports, we will take a quick look at a few prospects to take a look at.
Avery Lowe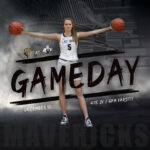 Avery Lowe 6'3" | PF Maize South | 2023 State KS (Maize South High School '23)- Lowe, the UNK commit is every bit of 6'2″ and is a showstopper. Her ability to stretch the floor from 3 brings the defense out making it tough for other post players to guard her. Once she knocks down a few 3s and gets the defense to come out of their comfort zone, she loves to put the ball on the floor and beat them to the rim. Her great footwork gives her a variety of scoring options when she gets to the rim or stuck in traffic. Those jabs and step throughs she uses are a weapon that she pulls out every game. Don't forget her ability to cut while she's away from the ball, she does a great job of cutting from the opposite side getting the ball and hitting the open mid range jumper.
Peyton Shields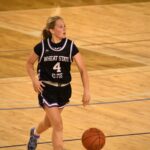 Peyton Shields 5'4" | PG Chanute | 2024 State KS (Chanute High School '24)- The guard for Chanute High School is as competitive as they come. From knocking down 3s at a consistent rate, to forcing turnovers, she competes all game on both ends of the floor. From leading wheat state to crucial wins, entering her junior season she will look to do the same for her Chanute team. She will be looking to showcase to all the college coaches her ability to score the ball and defend at a high level with the best of them! Shes relentless when she puts her head down to go score, from her ball fakes to her footwork, she finds a way.
Ava Baker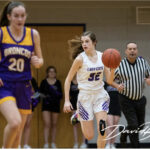 Ava Baker 5'10" | SF Louisburg | 2023 State KS (Louisburg High School '23)- A big time to rim protector on the defensive end. Defends well without fouling consistently. On the offensive end she does a excellent job of posting up and sealing her opponents demanding the ball. When she catches the ball she doesn't think long and goes right up with her right hand that seems to be the goto. Whats eye catching to a basketball junkie? Her ability to post up in the middle of the paint to not allow any help side to come. She will be interesting to watch during this competitive showcase.
Devoriah Brown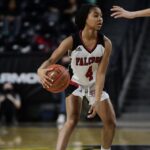 Devoriah Brown 5'4" | PG Wichita Heights | 2025 State KS (Wichita Heights High School '25)- One of the most talked about guards coming up for heights high school and for that competitive bluejays team. Her quickness and defensive tenacity is what stands out initially but she's not afraid to get into the teeth of the defense and use her crafty finishes around the trees. What will help her stand out from the rest? Her consistent scoring ability and her ability to make her teammates better by her consistent playmaking ability.
CJ Rignell CJ Rignell 5'7" | PG Riley County | 2023 State KS (Riley County High School '23)- The sharpshooting guard is locked in for the I-35 showcase and she will turn heads without any doubt. Helping off of her is the last mistake you want to make, her ability to shoot the ball is second to none! From mid range to the threes, she knocks them down at a high rate and will continue to do so at the level! The multi sport athlete had a good summer for GameBall and you can expect that to transfer over.