5'6" | PG | 2024
North Linn | Iowa Prep
Kamryn Kurt Kamryn Kurt 5'6″ | PG North Linn | 2024 State IA offensively led the North Linn Lyxn last season on their state run and hopes to do the same in the 22-23′ season. Kurt, the multidimensional PG with an act of putting the ball in the hoop averaged 17.7 PPG, while dishing out 4.8 APG. With the ability to shoot the ball from mid-range to the three point line, Kamryn is an offensive player that you need to consistently make tough shots with a hand in her face or else it is going to be a long game. Shooting 51.2% from the field last winter and trying to build on it this upcoming season, the Lynx will look to make it to state once again after finishing 23-3 overall, 13-1 in conference. Having 3 starters returning, heavy bench experience, and a system that clearly works from last year, North Linn should be coming back stronger this season with a clear goal in mind.
5'4" | PG | 2025
Woodbine
Charlie Pryor is the definition of a scorer when it comes to women's basketball in Iowa. Averaging 13.5 PPG on 44.4% shooting, 42.3% from three, and 83.3% from the free throw line as a freshman, the PG also averaged 3.7 APG to add onto her impressive offensive season in 21′-22′. For defenses on the floor they need to know where Pryor is at all times, being an elite shooter with more than half of her offensive attempts coming from behind the three point line last season, she is not afraid to let it fly and let you know about it. Having such a successful shooting rate from deep as a freshman, and being able to dish the rock, it will be intriguing to see how the Tigers use Pryor this next season after finishing 20-4 last year, 13-3 in conference.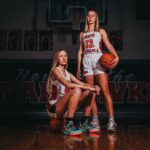 5'11" | SF | 2025
North Mahaska | Iowa Intensity
Breckyn Schilling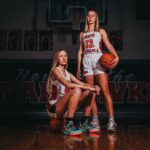 Breckyn Schilling 5'11" | SF North Mahaska | 2025 IA registered a good stat line in almost every offensive category for North Mahaska High School during her freshman year. Being someone who can guard a quick PG, or a 3 or 4, the lengthy forward is a matchup nightmare. Averaging 12.5 PPG, 3.1 APG, recording 68 steals, along with 16 blocks, the Warhawks star lead her team to a 16-0 conference record, while going 23-3 overall and eventually losing in the state quarter-final. This year will be more difficult for North Mahaska as they only will be returning 1 varsity starter, and light bench experience. With that being said, I can see Schilling having an even more impressive season as a sophomore, showing her dominance, and bringing in interest from all levels of college as she grows as a playermaker.
6'0" | C | 2025
Moulton-Udell
Adriana Howard returns to Moulton-Udell High School as a center that you need to get to know if you don't already. Averaging a double-double as a freshman, with 13.5 PPG, and 12.5 RPG, the powerful center has great footwork and understands a game plan well. Being able to use either hand, having good footwork, and not shying away from contact, Howard looks to be a problem again for defenses this winter, along with the next few seasons as she adds to her game. While only finishing 7-15 overall last season, 3-7 in conference, the goal for the Eagles will be to compete for a conference championship and have that jump start going into the 1A playoffs for the 22′-23′ season.