Check out my analysis on some of the top performers in Houston! These ladies have really been performing over the summer and are primed to make some real noise during their senior year!
#20 Jalayah Ingram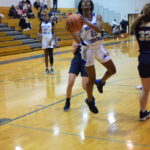 Jalayah Ingram 5'8" | CG Houston Christian | 2023 State TX 2023 5'8 Houston Christian
Jalayah is an aggressive guard who can not only play on or off the ball, but also clamp you up defensively! Her long arms have a real tendency to poke the ball free from her opponents, and run the other way. I loved watching her break down and slide her feet to beat her opponents to a spot, and then smartly reaching in to dislodge the ball. She is an elite help side defender who can come in at just the right time to get her hands on the ball, either as a shot blocker or to get another steal! Her aggressiveness on the defensive side of the ball is a true weapon, and how well she is able to wreak havoc either as an on ball defender or as a free lancer floating when her opponent is just sitting in the corner.
#19 Danielle Porter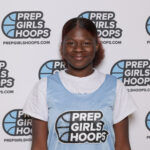 Danielle Porter 6'1" | PF Dickinson | 2023 State TX 2023 6'1 Dickinson High School
Danielle is an aggressive forward who can play out of the high post, or use her motor to chase down rebounds. I loved watching her compete on the interior, especially on the glass. She uses her stride to race up and down the court, and showed an ability to run the fast break by herself! Her length is a weapon as an on ball defender, or by playing the passing lanes. Her opponent's did not think she would be able to explode to get to passes and it allowed Porter to race the other way for easy opportunities. She always keeps the ball high when she goes up and attacks the rim, using her length and strength to keep the ball in her possession. I would like to see her work on her positioning, instead of always relying on her athleticism to get to where she wants to be on the glass!
#18 Abigail Tomaski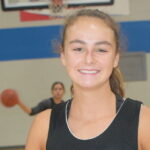 Abigail Tomaski 6'0" | SG Memorial | 2023 State TX 2023 6'0 Memorial High School
Abigail is a highly skilled guard/ wing prospect with aggressiveness, defensive intensity and awareness on the offensive and defensive glass. It is not hard to figure out why her nickname is "Glass Cleaner" when you watch Memorial play. Tomaski dominates on the interior, who moves her feet well to wreak havoc on the defensive end, using her length to deflect shots or passes. Offensively, she only takes high percentage shots; catch and shoot opportunities or taking the ball off the bounce and attacking hard closeouts. What made her even more effective was her passing ability and her awareness to zip a pass across the court to an open shooter. Her AAU team is known for their aggressiveness, unselfishness and the high basketball IQ that they put into their players and Abigail is a prime example of all of that coming to fruition. Tomaski has all the tools to be a real dynamic weapon at the next level with her versatility, willingness to do the little things and her overall basketball IQ.
#17 Chelsy Singleton 2023 5'7 Cypress Ranch High School
Chelsy is a high level scorer from beyond the arc who can get to her spots beyond the arc and fearlessly rise up, even with a defender in her face. What makes her special is her confidence in her shot and how easily she makes it look! She is the female embodiment of "hand down-man down," constantly making the defense pay with her shot making ability. Her confidence and aggressiveness allows her to play at a different gear, and knows how to adjust her speed within the half court before exploding past her on ball defender and getting to the rim. She is an unselfish player at the end of the day, and realizes how much defensive pressure she faces and sets up her teammates with good passes after drawing a second defender. She has the tools to develop into a skilled combo guard, but it might be more beneficial to just let her score at will! Defensively, she is a weapon playing passing lanes, drawing charges and coming over as a help defender to snatch steals. I loved her motor, never stopping during her time on the court. Singleton is easily one of the better players in the state of Texas, and a college coach at the next level is getting a skilled scorer!
#16 Shalayne Morgan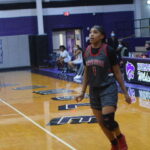 Shalayne Morgan 5'9" | CG North Shore | 2023 State TX 2023 5'9 North Shore High School
Shalayne is a LOCKDOWN defender on and off the ball, clamping up some of the best players in Texas with ease and running the other way with the ball. Her size allows her to be a dynamic weapon, and is a runaway freight train when she gets downhill. I love watching her aggressiveness and how well she attacks loose balls, relaxed dribbles and how she plays passes in the passing lanes. She is a weapon in full court pressure, constantly used as the focal point of their attack with how she is able to move her feet and wreak havoc. Her awareness on this side of the ball is already at an elite level, as is the energy she displayed on the court. Offensively, she is not afraid to put her head down and go through her opponent on her way to the rim, finishing through contact with ease and displaying an array of finishes. She displayed an ability to play off the ball, cutting backdoor and spotting up in the corner and along the wings for easy looks.