It is hard to replicate or deal with size at the high school level. When you add in the top-level skill that each of these players have, it becomes almost a nightmare. These players are not only tall and skilled, but they play hard and have exceptional work rates every time they step on the floor. It is no secret why their teams had successful seasons in 2021-22. Here are five forwards you must know heading into the new season.
6'0" | PF | 2023
Lake Roosevelt | NW Express
Sanfo-Finley is a pretty versatile forward from Lake Roosevelt. She plays with a good, natural feel for the game, impacting it with her scoring ability and passing from the post and short corner. She has a good variety of moves she employs from down low, finishes through contact, and has a decent outside shot as well. At 6'0 she has good length and is one to watch entering her Senior year.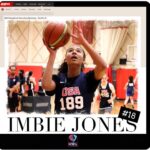 6'2" | SF | 2023
Garfield | Way to Win
Jones is a bonafide forward who has already committed to playing at Wisconsin after this season. She helped Garfield to a 3A State Title last season and a huge part of her game is her length. She has a quick and long first step that gets her around defenders on her way to the hoop. Then inside, she uses that long reach and good strength to own the boards on both ends. She's a multi-dimensional threat with size, quickness, and skill. There's a good chance Garfield works their way back to the title game with Jones operating inside.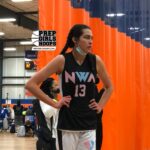 6'6" | PF | 2023
Ellensburg | FBC NW Alliance
Anderson jumps out right away for her size and length, but she's also a highly skilled player with the ball who showcases great footwork inside and on occasion, the ability to handle the ball coast to coast. Even as the top-ranked player in the state, Anderson has a ton more potential and just committed to Washington earlier this month.
Schmidt is a fun player to watch. She can be a dominant force inside, offensively, and defensively. She can put the ball on the floor and get to the hoop, hit the jumper, and works hard to establish position. She has the right attacking mindset to be a force all game long. She rebounds, throws long outlets up the court, and has great touch with that left hand. Eastlake took fifth place at last year's tournament and was close to making the championship game. With Schmidt down low they have a chance to make another deep run.
6'0" | PF | 2023
Eastside Catholic | Washington Premier
Daggett-Greczanik is a lefty forward that punishes defenders inside. She is quick and strong, and not someone defenders want to get in front of. She loves driving to the hoop and gets a head of steam in a hurry. The forward brings great effort to the floor and looks like a big factor in Eastside Catholic's frontcourt for the coming season.