The i-35 had a lot of good guards to produce at the showcase! From the top scorers, elite defenders and now the top playmakers, see who was magicians with the basketball.
Brooke Bettis- the shifty guard showed out at the showcase. Her ability to finish at the rim with either hand seperates her from everyone else. Her craftiness allows her to get to the paint and make plays for everyone else when the defense collapse. She doesn't play one side of the ball she plays both. After she scores she immediately turns around to defend. Bettis doesn't take amy plays off and the 2024 guard will be a steal at the next level.
Sarai Graham- Graham, the youngest one there showed she can play up as well. Showing off her smooth shot or her good footwork, her ability to impact the team goes up when she plays. From help side defense, boxing out, pitching the ball ahead, Sarai will be a wrecking ball in the next couple years.
Mya Mayberry Mya Mayberry 5'4" | PG Heights | 2024 State KS – Mya is a threat from anywhere on the court. Not only does she score from 3, but you will also catch her making 1 hand bounce passes across the lane for the assist showing off her court vision. Shes tough to account for because she looks for her own bucket or she hits her big on the pick and pop.
Te'Shawn Lyday- If you didn't know her before, you should know her now! She was a spark plug the moment she stepped on the court. From getting stops, making the extra passes, or just getting her teammates energized and involved, there wasn't much she didn't do.
Teagan Garrison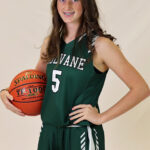 Teagan Garrison 5'6" | PG Mulvane | 2024 State KS – Teagan with alot of experience under her built put that on display showing off her IQ. Garrison was 2 steps ahead of the defense during the showcase. Being able to make plays good, but seeing the play before the play happens is impeccable.