2026 6'0 G Jerzy Robinson (Desert Vista HS): Jerzy Robinson is the next big thing in the state of Arizona. Over the weekend we watched her dominate on the court scoring 20+ in both of her games at the Arizona Preps Fall Showcase. Jerzy is bigger, faster and stronger than nearly all her opponents and she is only a freshman. Jerzy is elite with the ball in her hands and if she gets going downhill, you're not stopping her. She can shoot it from deep, pull up in the midrange, shoot floaters in the lane and take advantage of smaller defenders in the post. Defensively, she loves to block shots and create deflections with her wingspan. Robinson already holds scholarship offers from: UCLA, ASU, USC, Georgetown, Ohio State, Alabama, Arizona, Texas A&M, and GCU. If you haven't got the chance to see Jerzy Robinson play basketball, you need to.
2024 5'7 G Ysabel Puente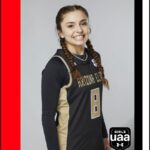 Ysabel Puente 5'7" | CG Dream City Christian | 2024 State AZ (Dream City Christian): Puente is a star guard in the making. She loves to push pace and get easy buckets in transition for her team. She is as smooth as it comes handling the ball against pressure and rarely turns it over. Offensively, she is explosive and gets by her defenders with ease. She can shoot it from 3, create for her teammates, and finish through contact in the lane. She displayed that this weekend scoring 15pts against Deer Valley. Defensively, she is physical and does a really good job staying in front of her opponent. Puente is poised for a breakout season with DCC. She will be a top commodity for college coaches in need of a really good guard in the class of 2024.
2024 5'6 G Andrea Becerra Andrea Becerra 5'5" | CG Dream City Christian | 2024 State AZ (Dream City Christian): Becerra had a dominate weekend helping lead her DCC team to two wins over Notre Dame Prep and Deer Valley. Becerra scored 15pts and 11pts in those two games. Becerra showed her ability to shoot it from the perimeter paired with a very quick release. Defensively, Becerra is aggressive and loves to pressure her opponents into mistakes. Becerra is a college-ready point guard that has great quickness, tenacity and IQ. Look for Becerra to continue to make a name for herself and WOW college coaches from around the nation this upcoming season.
2025 5'8 G Aiyanna Perkins (McClintock HS): Perkins is the heart and soul of a very talented McClintock team. Perkins is a scorer that uses crafty dribble moves to get by her defenders and finish in the lane. She can handle ball pressure, shoot it from 3, and finish through contact in the lane. She displayed her ability to score in bunches this weekend scoring 20 points against Queen Creek. Expect Perkins to have a breakout sophomore season for McClintock HS.
2023 5'7 G Mirella Funari Mirella Funari 5'6" | CG Southern Arizona Prep | 2023 State AZ (Southern AZ Prep): Funari is a really talented guard prepped for a breakout senior campaign. In her first game of the weekend she scored 20pts by getting into the lane and knocking down some timely threes. Southern AZ Prep is a very talented team with a very high ceiling. Funari is a crafty finisher in the lane that can finish well with both hands. Funari is also a high volume shooter capable of knocking down 3's in bunches. Funari is going to play a big part in the success of her team this upcoming season.