Basketball season in Arkansas is about to be in full swing. The smaller classifications that are non-football schools have already began their season while other schools are gearing up for a great basketball season. We know we have some great talent at the high school level. The class of 2023 is lead by Chloe Clardy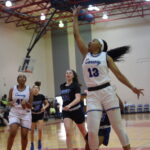 Chloe Clardy 5'9" | PG Conway | 2023 State AR and Jenna Lawrence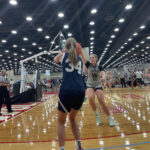 Jenna Lawrence 6'3" | PF Farmington | 2023 State AR , while the 2024 and 2025 class has a number of players that are talented as well. The 2026 class is also shaping up to be a talented group, coverage on that class will out soon. But let's look at this 2027 class. I've gotten to know several of these players and I can say they are super talented. We could see several of these players nationally ranked by time they graduate. Keep reading to learn more about some these talented players.
Miciah Fusilier | 6'3 | Forward | Camden | 2027
Miciah probably has the highest ceiling of all the players on this list. Standing at 6'3, she can play inside and out. Miciah has handles like a guard, can get to the rim, shoots the ball from the mid-range and from three. She's already getting national attention and holds a couple of offers from high major division one schools.
Journey Jefferson | 5'7 | Guard | Earl | 2027
Journey is a player that has really come into her own over the past couple of years. Her game continues to mature every year. She's shifty, finishes well in the paint, and can shoot the three-ball. She also is getting national attention and drawing interest from division one colleges.
Randi Stewart | 5'8 | Guard | Pulaski Academy | 2027
Randi is a player that I have to see more of, but I know the potential is there. I saw her play a little over this past summer and the summer before. I can tell her game is growing and she will continue to get better. Randi is also getting national recognition and will continue to be one of the 2027 class top players.
Jacey Halitzka | 5'4 | Guard | Bergman | 2027
I saw Jacey at the Middle School Showcase I hosted. She put on an absolute show with her shooting and ability to get to the rim. She does a great job of changing speeds and direction to keep her defender off balance to get to the rim or shoot the pull up three pointer. Jacey is a player you will hear about for years to come.
Brinley Collins | 5'4 | Guard | Bergman | 2027
Brinley is another player I got the opportunity to evaluate at the Middle School Showcase I hosted. The backcourt mate of Jacey Halitzka, it's almost unfair for the two of them to be on the same team (they also play for Banshees 2027 team). Brinley has a nice handle that keeps the defender on their heels. She can get to the rim and finish a variety of ways, shoots the ball well, and plays hard on defense.
Jaida Crawford | 5'7 | Wing | Fayetteville | 2027
Jaida is another athletic wing player that can play multiple positions. She's also starting to get some recognition outside of Arkansas. She was recently named MVP of the Pass Tha Ball NxtUp event in Dallas, TX. She's going to play hard on both ends of the floor. She's aggressive, but is unselfish. As she continues to develop her skills she will continue to make a name for herself.
Faith Sartor | 6'2 | Post | Alma | 2027
Faith is not your typical back to the basket post player. She can post up on the low block as well as face up from the mid post and high post. She can shoot the mid-range and extend her range out to the three-point line. She does a great job of executing pick and rolls and dribble hand-offs. Faith can pop and shoot the jumper or drive it straight to the basket.
There are also a few more players that also have the potential to be some of the best players in the class of 2027 in the state. These players I need to see more of them, but I know the potential is there.
Kloee Garner | 5'5 | Guard | Russellville | 2027
Skills have improved a lot over the past couple of years. She will be fun to see develop as she enters high school.
Summer Morgan | 5'6 | Guard | Jonesboro | 2027
Summer is an athletic guard who hasn't scratched the surface with her potential. As her skills increase she will be known as one of the best in the class of 2027.
Sadie Minton | 5'2 | Guard | Rose Bud | 2027
Sadie is a player that plays the game the right way. Solid fundamentals equals a solid game. She is a player you don't want to sleep on.
Madisen and Makenlie Campbell | Guards | Springdale | 2027
Twin guards mean double trouble. These players maybe sisters but they have their own identity on the court. You'll know who they are as they enter high school.
Bailey Barton | Guard | Beebe | 2027
Bailey is a player I haven't had the opportunity to catch in a live game. From the highlights I've seen I can tell she has a nice skill set and will be a player to know when she enters high school.