Summer ball won't give you an exact answer… but it sheds light on players who seem to be figuring out the game, and are poised for a huge leap.
Below are the players I believe have a shot at grabbing this award.
---
Guyton's motor, focus, and ability to control the court on both ends… are simply why she's top 5 in her class, and one of the top guards in the state. Offensively, its 3 levels of creativity and buckets. She plays tough but in control. The ball handling, the body control around the rim, the tempo, form release, and the vision stick out immediately. Defensively, she's locked in, focused, and aware. The IQ on both ends is high. With the mailbox flooding with offers… Aaliyah Guyton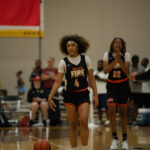 Aaliyah Guyton 5'6" | PG Peoria | 2024 State IL is a program changer.
---
Nikki Kerstein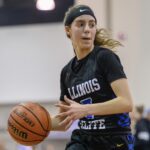 Nikki Kerstein 5'8" | PG Deerfield | 2025 State IL 's summer was filled with numerous offers rolling in & highlight plays. Nikki's skillset allows her to do whatever is needed for her team to win. If you need her to score in bunches, she will. If you need her to be a complete facilitator.. she can flip the switch in go into that mode as well. If the team is surrounded by scorers, Kerstein can also adjust and be a lockdown defender. The skillset is deep and wide-ranged, and she continues to add more after each game. Her HS stats speak for themselves, she led her team in almost every major statistical category. 4.5 rebounds per game, 169 assists, 5.6 assists, and 4.7 steals to go along with her 143 steals. All of that while shooting 53% from the field. As she gets stronger… she will be a headache for all opponents.
---
At all levels, Claire McDougall Claire McDougall 6'0" | SF Washington | 2023 State IL can get to where she wants. Her game is smooth, paced, and simple. She just simply gets the job done. Her length, agility, and soft touch around the rim make her hard to guard off the dribble and from the triple threat. She's a 1-3 move and go type of player. Defensively, her length, mobility, and aggression are key factors on why she's so dominant on that end as well. The skillset and frame warrant a stat sheet that is filled, and a possible double-double every game.
---
---