The first piece I want to write regarding the 2024 rankings is a breakdown of the top 10 kids in the class. All of these kids are scholarship-level kids. They all already have multiple scholarship offers. Let's meet these ten.
Allie Ziebell Allie Ziebell 6'0" | SF Neenah | 2024 State WI
In the 2024 class, I don't know if you'll find a more talented and devoted kid to the game. Ziebell is one of the best players in the country and shows it every time she steps on the court. She's already scored well over 1,000 points in her high school career and finished last season averaging over 30 per game and leading the entire state in scoring.
Teagan Mallegni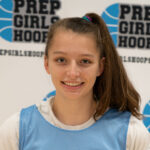 Teagan Mallegni 6'1" | SF McFarland | 2024 State WI
The McFarland wing put together an all-time week last winter scoring 62 and 51 points in back-to-back games. She can play multiple positions at a high level and excels at all of them. She can handle the ball and shoot, along with defending all five positions at the high school level. Mallegni is one of the most talented kids in the country. You won't find many kids with her level of talent.
Kayl Petersen Kayl Petersen 6'1" | SF Waupun | 2024 State WI
State champion Kayl Petersen Kayl Petersen 6'1" | SF Waupun | 2024 State WI put together an excellent season in her sophomore year. The Waupun native started the season going scorched earth, averaging well over 20 points per game, and shooting over 60% from the field and 50% from the 30-point line. The 6-foot-1 forward is one of the most unguardable kids in the region when she gets into a rhythm.
Taylor Stremlow Taylor Stremlow 5'10" | PG Verona | 2024 State WI
Unfortunately, Stremlow lost her entire sophomore season due to injury. However, I saw her play for the first time at Summer Jam in June, and there's no way she was at 100%, but she was one of the most creative kids at the event. She sees passing lanes that nobody else does and is one of the strongest guards I've seen. She'll go through her defender.
Gracie Grzesk Gracie Grzesk 6'0" | SF Green Bay Notre Dame | 2024 State WI
The Notre Dame forward is a two-time state champion and has beaten multiple shoe teams on the AAU circuit with Purple Aces. Where she goes, winning follows. The best I've ever seen Grzesk play was against North Tartan's 17U EYBL team last summer in Des Moines. She found ways to score and defend some of the best wings in the country and looked the part.
Trista Fayta Trista Fayta 5'8" | PG Green Bay Notre Dame | 2024 State WI
The intro is the same as Grzesk's, multiple time state-champion, played a significant role in beating shoe teams with Purple Aces last summer, made four 3-pointers in two minutes in the D2 state title game last March, and has only lost two games in a Triton uniform. If I were to list all of these two's accolades, this article would be 4,000 words long, but wherever Fayta and Grzesk go, winning follows them. However, I don't think many kids had a better July than Fayta. She outplayed multiple power five kids in the 23 class.
Alyssa Wirth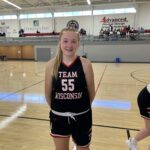 Alyssa Wirth 6'5" | C Altoona | 2024 State WI
The Altoona center became the first player in the 2024 class to commit in the state of Wisconsin. The 6-foot-5 future Minnesota Golden Gopher has all the tools to succeed at the college level. She gets into good positions and keeps the ball high on the catch.
Gabby Wilke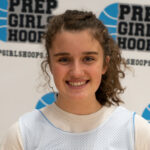 Gabby Wilke 6'1" | PF Beaver Dam | 2024 State WI
The Beaver Dam native became the second 2024 to commit in the state. The future South Dakota Coyote can play inside and out and brings a high level of competitiveness. She's willing to fight in any way possible to help her team win. She's desperate to win, and I'm excited to see her play for a Coyote group that just made it to the second weekend of the NCAA tournament last year.
Kallie Peppler Kallie Peppler 6'0" | PF Hortonville | 2024 State WI
The younger sister of Ms. Basketball in Wisconsin a year ago has a bunch of talent in her own right. Peppler is a 6-foot wing who can guard all five positions at this level and brings a lot to the offensive end of the floor. She can shoot, get to the basket, set good screens, and rebound. There aren't many kids who can do what she can do. I think interest in her will only increase next summer.
McKenna Johnson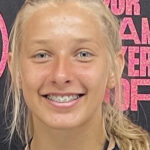 McKenna Johnson 5'9" | SG Wilmot | 2024 State WI
The Wilmot native is one of the best scorers in the state that nobody talks about as an elite prospect. The left-handed guard can make shots from all over the floor and score in bunches. I can't stress this is no joke, the first time I saw her play. Johnson scored 20+ points for her Midwest Elite team against a talented Lady Meanstreets team with a stress fracture in her leg. Johnson is a tough kid and one of the best scorers in Wisconsin.