This list of surprise performers is the final of a three-part summary covering the NBN Super 60 Showcase event held in late September. The following group of young but very talented players could possibly contribute to the success of their high school varsity teams this coming season.
Laykin Moore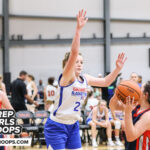 Laykin Moore 5'10" | SF Mountain Home | 2025 State AR -5'10" Combo Guard, Mountain Home H.S. Class 2025. Mountain Home AR. Laykin has size. She is very solid and held her own at the showcase. At the guard position, she can create mismatches. If she can learn to play a bit lower with the ball, it would improve her quickness and make her more effective in the open court. Her versatility will be an asset to her team.
Madan Brooks-5'8″ Combo Guard, Springdale H.S. Class 2025. Springdale, AR. Playing the combo guard position might just land Madan a spot on the varsity team. Her skill level to play all three positions would serve her team well. Madan's willingness to play "up" all summer gives her coaches a reason to take an extended look at her game. She is smart and does not turn the ball over.
Jordyn Elrod-5'8″ Wing, Benton H.S. Class 2026. Benton, AR. Jordyn got caught up in mostly all transition games during the showcase. I didn't see much in the half-court, but she definitely got out on the break and meshed in well with all of the upperclassmen. She proved that she can play at this game speed, and time will tell if she can mix it up physically in the half-court for her high school team. I think she can.
Kate Wood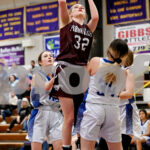 Kate Wood 5'9" | SF Perryville | 2025 State AR -5'9″ Combo Guard, Perryville H.S. Class 2025. Perryville, AR. Kate will make a huge impact on her high school team this coming season. She has played all summer at a very high level and her strength and quickness will be the determining factor for landing a spot on the varsity squad. She is best at the wing facing the basket. Kate can shoot the three-ball but is best driving to the hole. Look for her to help her team to a playoff run.
Allison Burgess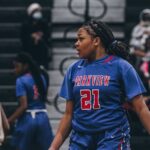 Allison Burgess 5'6" | PF Parkview Arts Science Magnet | 2025 AR -5'6″ Combo Guard, Parkview H.S. Class 2025. Little Rock, AR. What caught my attention about Allison is her physicality and strength. She can mix it up down low against older and more experienced opponents. Her defensive skills will get it done at the varsity level. If Allison can sharpen some of her offensive skills, there will be a spot for her to log quality minutes for Parkview this coming season.
Marin Adams Marin Adams 5'11" | PG Farmington | 2025 State AR -5'9″ Combo Guard, Farmington H.S. Class 2025. Farmington, AR. Marin has the size to make a huge impact during her sophomore season. She has excellent court awareness and has proven she can play at the varsity level. She got pushed around some down low but knocked down threes like they were layups. With some strength conditioning on that tall frame, her ceiling is very high.
Makenzie Moore-5'8″ Combo Guard, Baptist Prep H.S. Class 2026. Little Rock, AR. Makenzie will be a freshman at her new school, however, has been playing "up" all summer. Given the chance, she can push some of the upperclassmen in the program at Baptist Prep. She's got great footwork, can shoot the three-ball, and can play both sides at the wing position efficiently.
Aubrey Neal-5'5″ Combo Guard, Newport H.S. Class 2025. Newport, AR. Aubrey stood out as a team player, in that she was very unselfish with the ball. At a showcase such as this, probably not advisable. However, I was impressed by her movement without the ball. She set many effective screens, understands spacing, and never stands around. She's always moving. That displays maturity which is something that her high school coaches will recognize.
Kaiya Mccoy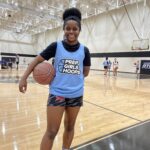 Kaiya Mccoy 5'2" | PG Springdale | 2026 AR -5'2″ Combo Guard, Springdale H.S. Class 2026. Springdale, AR. Quick. Quick. Quick. Kaiya is very aggressive on the court despite her size. She's not afraid to compete with much bigger opponents. She plays with heart. Kaiya protects the ball and can hit the outside shot. She will challenge all of her teammates at the high school level.
Don't be surprised if you see some of these student-athletes make some noise this coming season.