The Dayton Shootout was full of talent in both sessions. Here are five players who made the trip from Cincinnati that I thought all had a fantastic day at Bethel High School.
Parker Straub, 5-8 2025, Lakota East– Handles ball to run offense. Rotates well around the perimeter, has a nice outside shot! Once hot she will continue to hit.shots from the outside. Ready for a big season ahead. Glad to I got to see her compete. Fun player to watch.
Kaitlyn Barber, 5-7 2025, Lakota West– She works hard while she is on the court and is able to contribute on both ends of the court. She attacks the rim strong while being an aggressive on ball defender. Active player and that contributes to her defense.
Callie Nichols, 5-8 2025, St. Ursula Academy– Just an all around talented kid and she displayed a lot of desire when she was on the court. Aggressive and gritty. Athletic and high basketball IQ. Strong drives to the hoop and not afraid of contact. She is a player who could play for me with her active style of play.
Katlyn Pham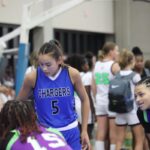 Katlyn Pham 5'6" | SG Lakota East | 2025 State OH , 5-6 2025, Lakota East– This player is special. Both Jim and I watched her together and both thought a lot of her overall game. High IQ player, very solid defender with good hands. Extremely quick, high energy player. Great hustle. Good finisher at the rim. She has a very high ceiling.
, 5-9 2025 Lakota East– Always gave a good effort and focused on making plays for her team. Engaged defender and stays active with hands. Moves without the ball on offense. A good basketball IQ, a player who just wants to make things happen. This entire group of sophomores had good talent!