The featured image is of Julia Economou
Julia Economou 5'11" | SF Penn | 2023 State IN (2023) of Penn High School.
Last Friday, September 30th, we released the Fall rankings update for the Class of 2023. There were a handful of new additions, a few players who raised their "stock", so to speak, so subsequently there was some movement throughout the list. I wanted to take this time to circle back and address all of the ranked prospects, position by position. Below is a look at 60 small forward prospects who make up 26.7% of the rankings this time around, with analysis on a handful to "keep an eye on" detailed at the bottom.
KEEP AN EYE ON:
6'0" | SF | 2023
Cathedral | Indiana Pride Attack
I've talked about what a great Summer Layla had, and she continues to gain momentum. Some of that could be the fact that she's one of just a handful of the top 2023s throughout the Midwest who remain uncommitted. But a lot of it is surely due to the potential coaches see in her. This Winter could be another big steppingstone in her recruitment. The Lady Irish have size, so she'll be able to play more around the perimeter, knocking down jumpers and attacking the basket. She has also shown an improved ability to defend outside.
5'10" | SF | 2023
Garrett | Always 100 Black
Bailey has already proven herself at both the high school and grassroots levels, she earned a spot on the 2022 Junior All-Star Team, and she is committed to play at Huntington University. With the June graduation of several key pieces, the Railroaders will now lean more heavily than ever on Bailey. This means two things: (1) she will have even more opportunities to make plays, and (2) she will be chased, doubled, and keyed in on by everyone. She has really nice athletic talent and a balanced skillset, so she should be up to the task.
5'9" | SF | 2023
Portage | Example Sports Red
A season ago, "Cita" was Portage's second leading scorer. The problem is, six of their top seven left via the diploma back in the Spring. She is in a similar boat to Kelham (above), in that everyone will be focused on stopping her this Winter. She is long, wiry-strong, and very athletic. She's one of the best athletes in the state who few people know much about. She plays with tremendous energy, she can defend multiple positions 84-feet, and she can score the ball at all three levels. She also rebounds her position well and makes hustle plays.
5'10" | SF | 2023
Lawrenceburg | Indiana Flight Sharks
Lizzie had a strong Junior season in 2021-2022, but look for her to be even better this Winter. The Lady Tigers should be solid across the board and give opponents fits with their ability to pressure the ball in different ways and make shots in the halfcourt. Lizzie has a solid frame, nice length, and she's a good North/South athlete who plays with a great motor. She has turned herself into a dangerous perimeter shooter, but over the last 12-18 months she's shown she can score it at all three levels consistently. She rebounds well from the wing, too.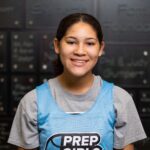 5'9" | SF | 2023
Jeffersonville | Louisville Legends
Myah looks much different from last Fall to this. She is noticeably stronger, and I feel like that added strength has really nurtured her confidence and made her more aggressive. She looks to attack the basket, whether in transition or from the wing in halfcourt offense. She has nice length, fluid athleticism, and she plays hard. She can defend multiple types of wings and forwards, and she rebounds her position very well. I think as she continues to work on her handle and her perimeter jumper, she can be a really nice small college prospect.