One final article on the Forwards at the Prep Girls Hoops Top 250 Expo, held two weeks ago in Louisville at the MidAmerica Sports Complex. I want to thank all of the players for showing up to play.
As a basketball junkie, it was great to see several hours of live action on display during a period of the year when there is little else going on. Just being able to get into events like the 250 make my job worth doing. But as a trade-off, I do miss some of the action when I have to look down to write notes. So if I missed some of your best moments that is likely why. (Or I was not on your court at the time.)
Apologies that there are not great pictures and graphics in this article. I am having a few issues getting that feature to work, but I wasn't willing to delay this post any longer. If I can get things sorted I will come back and insert them afterward.
Talynne Shearer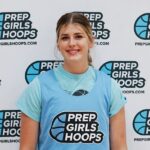 Talynne Shearer 6'1" | PF Rockcastle County | 2024 State KY
Shearer is one of those players that the 250 format doesn't fit as well, especially if you see her play the first game for her team on the day. She is a great off-the-ball player that makes great cuts within the offense and off of screens she sets or that are set for her. In pickup games, there are no plays to master and your teammates don't know when to be sure to get you the ball. She also forces lots of fouls (scoring 77 points at the line last season) and this sort of event doesn't give a player as many chances to show off this skill. Luckily for her, it was me who caught her first game and the other Scouts caught the other two after her teammates could adjust into a more cohesive unit.
Shearer did make a midcourt steal and drive the ball on the break to make a great dish to a teammate but the layup failed. It didn't really cost her the stat though. I don't think anybody was taking stats anyway. If she could improve her outside shooting touch from three-point range and at the free-throw line her prospects for the next level could increase dramatically. She does so many things well and has a real understanding of the game improving that additional in her bag would make her a can't-miss prospect.
As it stands now her being an excellent rim protector, rim runner, and short-range shooter, who can put the ball on the floor, and move without the ball is a great package to have developed. She can be and is a Star in High School, but she is built a little thin for that exact same role in College. Luckily she has two more years to develop and considering everything she has already achieved in basketball I would bet on her making that next step in that amount of time. Or at least getting it down by Freshman year.
Brooklyn White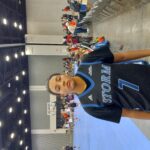 Brooklyn White 6'0" | PF Paris | 2025 State KY
White threw an impressive baseball-style overhead pass the full length of the court after collecting a long rebound at the 250 and demonstrated her great speed racing down the court. Her athleticism is off the charts. She checks all of the boxes, strength, size, quickness, maybe not great leaping ability but good (or maybe she just didn't need to show it off in the situations I saw her play). She also uses that physicality extremely well. She is not averse to contact and hustles when there is something that can be gained by it without any wasted hustle. That is big for an interior player to grasp that sort of decision-making. You do want players with size to stay around the hoop, but if they have the speed to make plays you don't want them to be too tied down to the hoop either. It is a balance and she made the right choices while I was watching.
I already know I am going to see White play three times this winter while I am pulling double duty for PGH and my new job. That is just one of the benefits. I didn't get a chance to see her do anything else specifically at the 250 other than prove she has excellent potential and three more years to develop it. So it is great to have more time to see what else she can do this winter and to see the work of her very talented teammates without having to put in many miles on the car. More to follow when the time comes.
Kayley Benningfield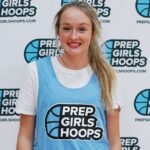 Kayley
Benningfield
5'10"
Taylor County | 2026
KY
Benningfield is a very good rebounder. Her stats on the KHSAA Scoreboard may not reflect that, but from what I saw at the 250 and knowing she did not play a ton of minutes last season her 1.7 rebounds per game last season would be impressive if it were expressed in a rebounds per minute statistical category.

Considering she very likely still has some growing to do she was very effective on both the offensive and defensive glass playing against bigger and older players. She has a strong body and knows how to use it to create space in the lane, meaning even if she doesn't get any taller she will still be an effective rebounder. The level of hustle she displayed to run the floor also shows promise. It is way too early to try to project her to the next level, but I have to say that I like her potential. She has plenty of time to continue to develop.
Savannah Triplett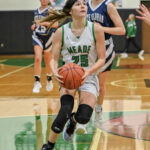 Savannah Triplett 5'8" | PF Meade County | 2025 State KY
Triplett is a player with hustle, tough defense, and a no-quit attitude. She is not one to shy away from contact or mixing it up against larger players and applying shutdown defense on her opponents. The word "plucky" seems to be an apt descriptive word for how she plays. But like another player in the last article Triplett needs to work on being more vocal to increase her ability to affect the game through good communication.
Her school team is currently loaded with talent and is most likely prepared to return to the Sweet 16 again this year. She is definitely ready to contribute more this season but will need to become a better outside shooter and continue to improve her ballhandling to be a prospect. She did make 100% of her free throws last season but will need to draw fouls to utilize that skill. I would look for her to continue to be an important role player off the bench this year and to become a very valuable team member the following season assuming she continues to put in the work needed to get her there. She plays too hard not to develop her skill package to go along with it.
Cameryn Ridderikhoff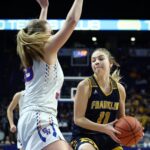 Cameryn
Ridderikhoff
5'10" | SF
Madison Central | 2025
State
KY
Ridderikhoff is a very smooth, level-headed player on the court with great length and a strong body. Patient with the ball, a great passer into the post and elsewhere on the court and can put the ball on the floor to score and create opportunities for teammates. She appears to be unfazed by any sort of pressure in the game and just executes the smart play time and time again. She isn't very fast like some players but knows how to move so that she can get a step on the defense, a less ball-dominant Luka Doncic-type of player is the best comparison I can think of at the moment.
I didn't take any notes on her at the 250 because I have seen her enough this season playing for her school and on the PGH Circuit to know what she can do and wanted to focus more on players I haven't seen as much. I should give her more time to grow and develop so that I can see her with fresh eyes again sometime next season.

If you are a Coach looking for a Point Forward-type that could play Guard in the right system make sure you see Ridderikhoff play to get in on her early. This is a definite next-level player if she keeps putting in the work. The only question is which level? I am very interested in seeing where exactly she lands but it will have to wait 3 more years unless she signs early.
Ella Coffey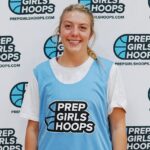 Ella
Coffey
5'9"
Boyle County | 2023
KY
Coffey is a Wing Forward with great speed and Guard skills. She is an excellent shooter and ballhandler who dribbled circles around the Defense at one point for a left-handed layup. I can't recall if it was technically a Nash Dribble, but it was a similar type of play. She also quickly drove from the left wing for a right-side layup finish.

Coffey was very active at the 250. She was all over the place trying to mix it up during the day's final game. It is this kind of energy that helped her to be the second leading scorer and rebounder on her school team. That and her shooting skills. She made 80.8% of her free throws and 31/3% of her three-point field goals last season and is poised for more production in her Senior campaign.
–