This past weekend, Sonora High School in La Habra, CA played host to the 4th annual Hope Scholastic Showcase. The event featured some of the top high school teams from California, Nevada and Arizona. I was able to attend the event on Sunday, Oct. 2 and I focused on the CA teams. Here's a look at some of the top standouts I saw.

1. Morgan Hawkins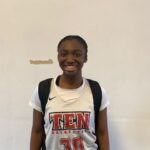 Morgan Hawkins 5'7" | SG Corona Centennial | 2024 State CA – Corona Centennial 2024

I saw Hawkins at a showcase a couple of weekends ago and was impressed then by her ability to lead a team. She does well as the lead guard. She has good court awareness and handles the ball well under defensive pressure. Reads the defense and reacts well. Does a good job finding the open teammate in halfcourt sets. She can attack the defense consistently off the dribble and finishes at the basket.

2. Atalia Thomas – ML King 2023

Thomas is strong guard. In the game I saw, most of her work came off the ball. Without the ball, she makes strong cuts around the basket and puts herself in position for scoring opportunities. With the ball in her hands, she makes quick, decisive passes and then immediately relocates to get in scoring position. Uses her strength/size to finish at the rim. Good rebounder who follows misses and crashes the offensive glass. Consistent range out to the three-point line.

3. Ayiana Olavarria – Pinewood 2023

Olavarria stood out as a strong shooter from three-point range, especially off the catch. She has a quick release and can get her shot off before the defense closes out. She's a natural ball-handler, capable of running the offense. She pushes the ball well in transition and is able to find the open teammate. Makes good entry passes and does a good job relocating after the pass.

4. Jhai Johnson – Oakland Tech 2026

Johnson stood out as an intriguing interior player with a lot of upside. She can operate in the paint and is very athletic. She can also step out and shoot the three-point shot. She's active around the basket, does a good job lurking along the baseline and being in position to score. Rebounds well in traffic. Runs the floor well and can finish with a soft touch around the rim. Defensively, she blocks shots and stops drives to the rim.