These players have ton of swag and a huge chip on their shoulder! When they make winning plays you will know about it. Being anchors on the defensive end, sharpshooters on the offensive end, play makers all over!
Devoriah Brown- probably the smallest one on the list but have the biggest chip on her shoulder here. The lefty guard showed she can shoot the 3, defend full court and play make to get her team involved. The heights guard will make a big time showing this season.
Kierrah Pinchon- What is there not to love about Kierrah? Her size, her versatility to play both ends of the floor multiple positions, shoot the 3 at a high rate, you have to love every thing about her game. She has the chance to impact the college level in a positive way.
Jadyn Buttery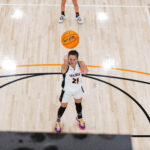 Jadyn Buttery 5'11" | SF Tahlequah | 2024 State OK – The person who has the most swag is easily Jadyn and the college coaches watching knew it. What stood out? Every time she shot the 3 she shot it with confidence and had the attack look in her eye. If theres a player with the attack mode mindset you're looking for that doesn't back down from anyone, Buttery is your girl.
Kyla Herfkins- The ultimate competitor and nothing short of it. From chase down blocks, to scoring off the bounce, steals, Kyla does it all! What you have to love about her is she doesn't settle for jumpers and bail people out. Herfkins attacks the rim and splits the gap, finishing at the rim consistently.
Addison Dave- Whats obvious to the naked eye, her size stands out to everyone around her. But what she also brings to the court is rebounding, blocked shots, defensive intangibles, offensive threat spreading the floor, she does it all! Her size and wingspan causes a lot of damage to her opponents, interrupting their vision on the floor and shooting over them without a doubt no matter who contest their shot. A humble star with a bright future.