This content series is sponsored by GameChanger – The Official Scorekeeping, Stats, Team Management & Technology Partner of Prep Girls Hoops.
Having the responsibility to cover the talented athletes at the Prep Girls Hoops Oklahoma Top 250 Expo has been a joy and I consider it an honor to write the sponsored "GameChanger" article. 60 high school girls arrived in Edmond, OK on Sunday October 16, 2022 to compete and play against the best players in our region. The players listed below made a great impact on the court and in my opinion were the top performers of the showcase. The gym was filled with talent, but these players stood out the most.
Marleigh Sellars
Marleigh Sellars 5'7" Salem | 2024 AR | 5-7 / CG | Salem HS (AR) | 2024
Marleigh is an athletic guard that really impressed me right away. She controls the pace of the game and will share the ball with her teammates. She is also a slasher and will come back to the ball ready to attack. She displayed her versatility and scoring ability in so many different ways. Several shots in transition from 3, countless plays finishing through contact, pull-up jump shots in the mid-range, post-up game was solid, and so much more. She was by far the most impressive player at the Showcase. She is an electrifying player that scores in bunches and did something good every single time she touched the ball.
Reagan Fowler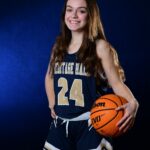 Reagan Fowler 5'7" | PG Heritage Hall | 2025 State OK | 5-7 / CG | Heritage Hall | 2025
Reagan is a dynamic guard that has a knack for getting in the paint and to the basket. She is quick but smooth when attacking off the dribble. She changes direction on-time without having to slow down. She has sneaky bounce and showed her athleticism when rebounding, finishing at the rim, and on defense. Her teammates are looking for the ball to be in her hands because she makes good decisions. She is a ready shooter that takes good shots and can make shots from deep. She has good energy and fun to watch!
Mia Adams | 5-8 / CG | Union HS | 2025
Mia is an athletic guard that's quick and can jump out of the gym. She displayed savvy handles and consistently played with her head up. She takes her time with the ball and is looking for the high percentage play. She can get downhill, play through contact, and finish at the rim. She can pull up in the mid-range and has the rare skill of hitting that shot consistently. She uses her athleticism to rise above the defense, and its money. She shoots it pretty good from behind the arc also and if you leave her open, its going in. Defensively she is a problem for the opposing team: playing the passing lane, crashing the boards, and contesting shots. She stood out, and was very impressive!
Taryn Cottrell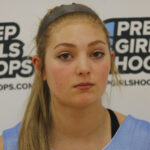 Taryn Cottrell 6'0" | PF Moore | 2024 State OK | 6-0 / F | Moore HS | 2024
Taryn's first touch of the basketball was a catch and shoot 3-point shot in rhythm, outcome—swish. Something told me she would have a good showing and she did. She plays on the perimeter with screens, roll to the basket, and popping to open spots for shots. I like her size, ability to bang in the paint, and roam in the high-post. She works really hard and has tremendous potential to be a valuable contributor at the next level. Surprisingly, she does not have any college offers, but with her junior season about to start, I believe she will be a key factor to Moore High School's success this year.
Laynee Stanley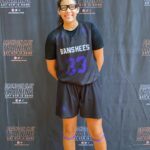 Laynee Stanley 6'0" | PF Fort Gibson | 2025 State OK | 6-0 / F | Fort Gibson HS | 2025
Laynee is a long player with a smooth demeanor. She showed that she can catch the ball on the perimeter and mix it up and be a threat from behind the line—if she is open you can count it! She is able to shot fake and get the defense up, attack the basket, and finish at the rim with some finesse. She fights for position in the post and can score with her back to the basket. She is relentless and will continue to be aggressive on offense. She is at her best when the game comes to her and she reads the defense. Her patience turns into confidence, that evolves into a dominant performance. I look forward to seeing her work this upcoming season at Fort Gibson High School.