Keokuk won the Southeast Conference last season with an undefeated record. However, plenty of high-level kids in this conference graduated, so there'll be some turnover. I wouldn't be surprised to see the final standings look much different than they did at the end of last season.
Andrea Lopreato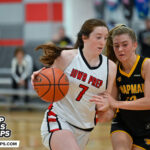 Andrea Lopreato 5'9" | SF Mount Pleasant | 2023 IA
The 5-foot-10 guard from Mount Pleasant is one of the most press-resistant guards in the state. She's cam split double teams in the backcourt and create five-on-three opportunities on the offensive end. The Panther averaged over 20 points and finished a couple of rebounds away from averaging 20 and ten rebounds. Lopreato makes the right play whenever she gets the ball. I think she'll take this team to another level this season.
Kayde Martin
The Keokuk guard was the second-leading scorer on last year's team. She may be the x-factor for this coming season. Martin is a solid shooter and creates well when given the opportunity. Even though she was excellent last season, she'll receive a different level of attention this upcoming year for the Cheifs. Martin also returns as one of the best defensive playmakers. The senior created multiple steals per game and was a high-level rebounder for her positions, nearly grabbing five rebounds per game.
Camille Kruse Camille Kruse 5'7" | PG Fort Madison | 2023 State IA
Malarie Ross was outstanding last year for a Fort Madison team that finished second in the Southeast Conference. However, she's no longer a Bloodhound because she graduated. Kruse is the leading returning scorer and will play a significant role on this season's team. The 5-foot-8 guard may not have elite size, but she was the leading rebounder on last season's team. The value of rebounding can fly under the radar at times. However, every rebound creates a possession and prevents the other team from scoring. Rebounds add up, and usually, the team with the most rebounds has the most points at the end of the game.
Makenna Altgilbers
The Keokuk junior was the third-leading scorer last season on the conference champion Cheifs. This season the Chiefs will look different. Abby Wolter is gone, and the team will fill that void. Nobody has to score 20 and grab seven rebounds, but the opportunity is there for kids to take. Altgilbers' shooting can help this team fill the void because she can score in bunches. She made six threes against Mount Pleasant last season. That's challenging for any team to overcome. Keep an eye out for how the Cheifs scoring balances this season.