Preseason basketball is always a good time to see development and dominance for the upcoming season. Snuggled under the Ben Franklin Bridge, the Rutgers-Camden preseason tournament offered standout players mainly from south New Jersey but also a few schools from Pennsylvania and Delaware attended. The tournament was packed with traditional Delaware Valley players, that always play with high IQs, toughness, and confidence. Here are the top 5 players that skill sets jumped out of the crowd. 
Jada Jacobs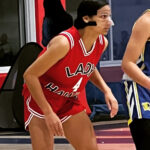 Jada Jacobs 5'7" | PG Medford Tech | 2023 State NJ , Medford Tech – Jada is the definition of an Elite anticipator. If the ball is in the air for more than 1 second and Jada is around it is hers. The ability to have flexible and functional hip bend is a key factor in an elite on-ball defender, she has it. Jada has the physical and anticipation skills needed to be an elite defender as well as the knowledge and communication base to be a great team defender. 
On offense, her IQ and coordination lead the way. Ball handling and passing is at combo guard level but her decision-making with the ball is that of a point guard. Shot on and off the dribble are developing but the form consistency with said form is there. She is a creative dribbler who can easily get to the paint with a change of pace and levels. The open court is still her best way to score but scores efficiently in the half-court with quick dives or drives. 
Jada's best intangible is her ability to be a teammate and leader. She empowers people on her team to be better. Almost to a fault, she is a great teammate but I would like to see more selfishness in scoring. Complete guard. 
Riley Ahrens
Riley Ahrens 5'10" | SG Delran | 2023 State NJ , Delran – Riley is the player that every coach wants. A complete player that understands the responsibility and skills needed for every position 1-5. She plays at a pace and timing that provides a calming influence not only on her team but the overall game. The set shot has the ability to develop into one of the best shooters in the state by the end of the 23 season. Ball handling is at the level of 3/2 but her passing vision is elite. 
On defense, Riley has above average athleticism that sometimes affects staying in front of smaller quicker players, however she makes up that with elite awareness. She is able to anticipate where the offensive player will finalize her move and defend accordingly vs just guarding where the player is at.
She is able to adjust her level of play accordingly to her team needs. For example, when she is not the top talent on a team, she will become the glue that holds the team together. On the other hand, if the team does need her to be more selfish, she does so with understanding of her role and expectations.
Cadence Anderson
Cadence Anderson 5'5" | PG Palmyra | 2024 State NJ , Palmyra – Cadence is listed as a point or shooting guard but just call her a lead guard. Every time she entered the game, she was clearly a game-changer. Her team made a run, the opposing team found it difficult to dribble, and she made her teammates better by settling them down. Excellent hip bend and explosive first step. Not the fastest guard, however, she has a textbook change of direction and speed as well as deceptive quickness to seem like one of the fastest players on the court. Her jump shot was the best form in the gym as it possesses fluid movement with the shot out at the apex of her jump. One of the few players that could hard drive and get under control for a pull-up vs a runner/floater. 
On the ball or off the ball she is an excellent defender that understands her limitations and how to use them to her advantage. Very aggressive and pesky defender that can take the will from opposing ball handlers if and when she picks up full court on defense. Amazing, Cadence relentlessness and timing allow her to get blocks and steals of someone 5-8″ taller than her.
Cadence is the lead guard, that as a coach you can give her the ball and be comfortable that everything will be alright. Footwork on both ends of the court, in almost every facet, is a fundamental building block of immense talent for any coach to tap into. When she comes on the court the first thing a person says after 1 minute of watching her play is, "She got game."
Nicholle Green, Timber Creek – Nicholle is kind of an underrated player at this point, nevertheless her game potential popped on the court. The best physical passer in the gym. Vision may not be all the way there, but the ability to make all the possible passes on the court (1 hand both, chest, hip, outlet, skip etc) opens up an endless number of opportunities. Her vision, you can see getting better and better with every possession as she develops into elite skill. The ball handling has the potential to get as good as the passing. The commanded and controlled the ball to get everywhere she wanted and or got the ball out of her hands before traps could be effective. Would like to see more of her playing at an uptick pace as hers is deliberate and controlled. Also was one of the few that has the ability to shoot off the dribble with an actual solid controlled jump shot vs the floater. Skill base has a lot that can be developed into a starting college PG. 
Iriona Gravley Iriona Gravley 6'0" | PF Williamstown | 2024 State NJ , Williamstown – Iriona was the best player at the tournament. She is currently power forward and center but I believe she is a power wing forward. She is so good you have to force her into not just depending on her own talent but playing within the system, which she did. On defense completely changed the game. Guarded the best player on the opposing that was dominating before she got in the game and held her in check every time she was on the court. Coaches say defensive possession is not over until we control the rebound. She was elite at not only rebounding but positioning and quick jumps.  
The offense was just as incredible. Scored inside on drives, post-ups, flashes, and rolls, all with either hand. She used her body to shield defenders appropriately to get wherever she wants on the court. Post-game of drop steps spins, and appropriately timed turns and faces left the spectators in awe. Just when we thought that was all she had, she broke out 3-pointers and passes that bent the defense even more.  
Iriona skill is of a focal point player. She showed talent of a heliocentric player on both sides of the court that may be what her high school teams' approach will and needs to be in the upcoming season. I left impressed.