As I'm working on the South Dakota 2024 rankings, I wanted to put something out for our college coach subscribers — and give my thoughts on the remaining/uncommitted D1 and D2 prospects. The projections are based solely on my opinion and experience evaluating prospects at the high school level.
The South Dakota 2024 class has five D1 commits already, by my knowledge. There's one remaining in my opinion in 6'3 post of out Hill City, Maggie Taylor Maggie Taylor 6'3" | C Hill City | 2024 State SD . She's explained a little more below. By my opinion and insight, I have four to five D2 prospects remaining, with one to watch.
The SD 2024 rankings are set to be posted Wednesday (tomorrow) October 5th. Here's a little primer to those that are uncommited.
Maggie Taylor Maggie Taylor 6'3" | C Hill City | 2024 State SD – 6'3 C 2024 – Hill City – SD Network – In my opinion, Maggie is the lone D1 prospect that is still uncommitted. The #5 prospect in the 2024 class has offers from University of South Dakota, Drake, Wyoming, and St. Thomas. Her size at 6'3, along with athletic ability, has her being the top interior prospect in the class.
Sawyer Stoebner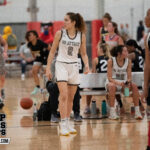 Sawyer Stoebner 5'10" | CG Mitchell | 2024 State SD – 5'9 G 2024 – Mitchell – SD Attack – Sawyer is a legit D2 prospect with size and is a versatile guard that could play the point in a pinch at the next level, because she's skilled as a ball-handler. She plays with strength, allowing her to be one of the premier rebounding guards in the state, averaging 9.3 per game a season ago. Class AA All-State honors, scoring 15.9 ppg. She handled the ball for Mitchell by necessity, but to me, she translates to a two-guard, and previously stated could play the point if necessary.
Carli Kuyper Carli Kuyper 6'2" | C Lennox | 2024 State SD – 6'2 C 2024 – Lennox – Ambush North Stars – Carli has yet to breakout onto the high school scene but has an opportunity to do so in her Junior season. She has a D2 projection for me, because of her size, movement, and defensive presence. Great length at 6'2 and is tough to score over in the paint. Alters and blocks shots consistently, staying on the ground and walling-up without fouling. I'm not sure she'll become a dominant scorer in the paint, but she will be a difference-making paint protector if given the chance at the D2 level.
Caylin Kelly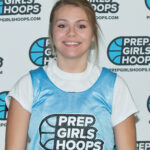 Caylin Kelly 6'0" | SF Florence/Henry | 2024 State SD – 6'0 Wing/Power Forward 2024 – Florence/Henry -Pentagon Schoolers – Caylin has reached the six-foot mark and has skills with the ball as a prospect that can hold her own on the wing and can battle as a power forward-type prospect. You could call her a versatile 3 or 4 prospect with the ability to shoot it well and attack off the dribble and score off the glass. She was a Class A all-state player, racking up a double-double, scoring 17.0 ppg., 10.5 rpg., 4.1 apg., and 4.3 spg. That's getting it done on the court from all facets and affecting the game in a major way for her team.
Skyler Volmer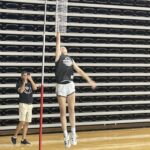 Skyler Volmer 5'9" | CG Lyman | 2024 State SD – 5'9 CG 2024 – Lyman – SD Network – Skyler may not be considered a D2 prospect as of this writing, but I think she has the ability to morph into one. She's a major breakout candidate, in the sense that she'll take her game to another level. An athlete that has grown physically and athletically recently. Major hops, as you'll see in the featured image — and movement — and it seems that she has grown in her height, jumping up to the 5'9 range. She can handle the point and can attack off the wing spot.
Honorable Mention
Hannah Leverson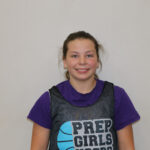 Hannah Leverson 5'4" | PG Sisseton | 2024 State SD – 5'4 PG 2024 – Sisseton – SD Attack – Hannah is a tough one to put a projection on because of her size. But I think if the right D2 school is in need of a point guard with no other weaknesses, that is super-skilled with the ball and is legit three-point shooter — then Hannah is a perfect fit. I believe she can step on a D2 court no problem and do her normal stuff. It's whether college coaches feel the same.
Need To See More
Aweng Akoi Aweng Akoi 6'2" | C O'Gorman | 2024 State SD – 6'2 C 2024 – O'Gorman – Pentagon Schoolers – Aweng is a prosepct I need to see more of at the varsity level to put a projection on her. She's in the 6'2-6'3 range and has ideal length, that needs to put on some strength to her frame. She'll be watched closely, because she should get a crack at the varsity level in her Junior season.