The featured image is of Natalie Robinson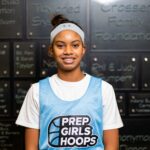 Natalie Robinson 5'11" | PF Marquette Catholic | 2025 State IN (2025) of Marquette Catholic High School (#5 in white).
Monday, October 17, will mark the start of official practices, therefore the beginning of the 2022-2023 high school season is right around the corner. With that in mind, I wanted to begin a thorough, multi-article preview spread throughout the next few weeks, looking ahead at each Sectional, the top teams, and preseason all-state teams. I will begin by taking a look at the first Class 1A North Regional, which incorporates the winners of Sectional #49 through #52. Below is a look at the teams in each of those Sectionals, along with some general comments and analysis.
(SAG = Final 2021-2022 Multiclass Sagarin Rating (395 teams); SOS = Final 2021-2022 Strength of Schedule)
Sectional #49
Kouts (20-7), SAG 143, SOS 257
Washington Township (17-6), SAG 207, SOS 325
DeMotte Christian (18-5), SAG 223, SOS 319
Tri-Township (14-8), SAG 235, SOS 293
Morgan Township (9-14), SAG 259, SOS 231
Hammond Academy of Science & Technology (1-9), SAG 386, SOS 378
Sectional #49 could be very competitive this season, as there are four teams who won double-digit games a year ago, plus there is nice talent spread throughout the Sectional. Kouts will be the hunted this year, having graduated just one player and returning another from a season-long injury in 2021-2022 (you can see their team preview here). However, because of their guard play, I feel like Washington Township offers a big challenge for the Fillies this year. The Senators are still fairly young, but they now have experience, and since they have the ability to control tempo with their backcourt, they will be a tough "out" (you can see their team preview here). Maybe the wildcard in Sectional #49 will be DeMotte Christian, formerly known as Covenant Christian (DeMotte). They have size, talent, and experience, returning five of their top seven players, including their top two scorers and top two rebounders from a season ago. 6-0 Senior wing Skylar Bos Skylar Bos 5'11" | SF DeMotte Christian | 2023 State IN (15.2p, 4.3r, 4.6a, 4.0s) is a talented soccer player, but on the court, she is a playmaking athlete and a nice facilitator who has led this team the last couple of years. She is joined in the lineup by 5-11 Sophomore twins Sophie Bakker Sophie Bakker 5'11" | SF DeMotte Christian | 2025 State IN (11.0p, 7.2r) and Claire Bakker (4.2p, 4.5r). They gave the Lady Knights an immediate boost upon arrival last season. 6-1 Senior post Gabbi Zeilenga (5.7p, 9.8r) gives them another sizeable player who can patrol the paint at both ends of the floor. 5-4 Senior guard Olivia Mellon (3.0p), or one of a couple of Freshmen, could find their way into the lineup as well this year.
Tri-Township, formerly known as LaCrosse, had some nice moments a year ago, like a couple of wins over Class 4A schools. They can get hot from the perimeter in a hurry, and they return most of their backcourt. 5-7 Junior guard Miranda Wozniak is the main catalyst. She can handle and play point guard, or she can play off the ball and score it at all three levels. 5-6 Junior guard Addie Gorski is another versatile guard, but she is also strong and does a nice job of absorbing contact when she attacks the basket. 5-7 Senior wing Avery Hendrixson can score it a little as well, but she also rebounds and defends multiple positions when necessary. Up front, they did graduate Jersie Bartels, but 5-8 Junior Kendra Frazier and 5-9 Sophomore Jayce Pryor look to be more productive this year. Morgan Township is another team who a season ago also had some nice moments, but I feel like they are on the cusp of consistency, especially graduating just one Senior in 2022, and returning their top four scorers, and six of the seven girls who played in 20 or more games. 5-11 Junior forward Peyton Honchar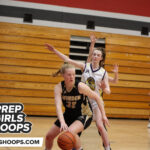 Peyton Honchar 5'11" | PF Morgan Township | 2024 State IN (11.2p, 7.2r) is a versatile player who can use her strength inside, but she also likes to create off the dribble, and she can knock down the perimeter jumper on occasion. 6-0 Senior post Victoria Detraz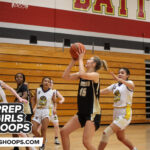 Victoria Detraz 6'0" | C Morgan Township | 2023 State IN (7.7p, 8.0r) has improved so much throughout her career, and she provides another nice interior presence for Morgan Township. She has length, some bounce, and she is a presence defensively. 5-6 Sophomore guard Madi Lemmons (7.0p, 6.7r, 2.1a) stepped in immediately and gave them big minutes, plus she acted as their primary ball-handler most of the time. 5-5 Sophomore guard Josie Lemmons (6.2p, 2.7r) also played a lot as a rookie, and she looks to contribute even more in her second year. The Cherokee could also turn to a couple of Freshmen, most notably guard Shiloh DeBoard, for help/depth. The Hammond Academy of Science & Technology were new competitors to the IHSAA state tournament last season, and they look to build on what they've started. 5-6 Sophomore guard Priscilla Otero (14.3p) is their unquestioned leader statistically, and she will look to do even more after a strong rookie season. 5-5 Sophomore guard Leah Thomas (8.4p) is her running 'mate, and she too should continue to improve with more Varsity experience in Year-2.
Sectional #50
Argos (17-9), SAG 156, SOS 252
Triton (13-9), SAG 194, SOS 205
Westville (12-11), SAG 230, SOS 279
Oregon-Davis (8-14), SAG 280, SOS 307
Marquette Catholic (10-14), SAG 284, SOS 309
Culver Community (5-18), SAG 308, SOS 227
South Bend Trinity at Greenlawn (9-12), SAG 355, SOS 331
I feel like Sectional #50 is one of those Sectionals where almost anything can happen, and sort of in a spooky way. In 2021-2022, Triton was upset by Culver Community in their opening Sectional game, but they return as much as anyone and could be the favorite out of the gate this year. They will lean heavily on the leadership of 6-1 Junior post Addyson Viers Addyson Viers 6'0" | C Triton | 2024 State IN (18.7p, 8.2r, 2.0b) and 5-3 Senior guard Kinsey Atkins Kinsey Atkins 5'3" | PG Triton | 2023 State IN (11.6p, 3.6r, 2.5a, 3.0s). Viers can score around the basket, but she can also put it on the floor a little and create, and she can step outside and knock down the occasional 3-pointer. The Lady Trojans' point guard, Taren Yates (10.4p, 5.5r, 6.3a, 2.9s), graduated, but I'm confident Atkins can slide into that position and produce on the ball as well. She is quick, tough-nosed, and skillful. 5-4 Junior guard Jocelynn Faulkner (5.8p, 5.9r, 2.1s), 5-4 Junior wing Jenna Bules (0.8p, 2.2r), 5-7 Senior wing Emily Bugg (0.8p), and 6-0 Junior post Macie Hensley (0.4p) all saw some critical minutes here and there throughout the season. Faulkner could be the next player to step into a much bigger role, following Yates' graduation. The Lady Dragons of Argos are always competitive, and they'll be good again this year, but they'll have to do so without graduated post Elizabeth Edmonds (11.3p, 8.9r, 2.8a, 2.5s, 4.3b). Fortunately, the Lady Dragons were built on balance within their starting lineup, so they do return three starters who averaged between 7.8 and 9.1 points per game, but depth could be the problem. 5-10 Senior forward Bella Stults (8.3p, 5.9r, 2.4s) will likely be more of the focus now without Edmonds in the mix. 5-6 Junior guard Samantha Redinger (9.1p, 2.9r) can play on or off the ball, and she had a nice scoring surge towards the end of the season. 5-9 Senior wing Emma Dunlap (7.8p, 3.7r, 2.5a, 2.2s) is kind of a do-everything player. She can handle and run offense, score it herself, and defend multiple positions. From there, they can go a number of different directions, but Senior Amanda Fajardo played most of the other returnees. Westville drops down to Class 1A once again, following a brief run in Class 2A. Unfortunately, they'll be without Grace Weston, Rebecca Benefield, and Kayley Bowley, who were key to what they did the last couple of seasons. 5-7 Junior guard Loreli Mallon looks to play a pivotal role in the backcourt, while 6-1 Sophomore post Andrea Benefield should have a strong presence for the Blackhawks inside. 5-8 Senior wing Maddie Stark, 5-6 Junior guard Addison Sontay, and 5-5 Junior guard Emily Hannon will likely add backcourt depth.
The good news for Oregon-Davis fans is that they return all but one key player. The bad news is the player who graduated was 6-1 post Maddie Hudspeth (23.0p, 11.7r, 2.4s). Now the focus must turn to a handful of other players, but several return with experience. 5-10 Senior wing Mackenna Chessor (11.9p, 5.6r, 2.0s) will likely step into the main leadership role. She plays with length and versatility, and she could have a huge year for the Lady Bobcats. 5-6 Senior point guard Elizabeth Johnson (3.2p, 3.1r, 3.4a, 2.3s) is well-rounded and finds a variety of ways to contribute to the cause. 5-9 Senior forward Kylee Saylor, 5-6 Junior guard Reagan Danford, and 5-5 Junior guard Madison Wireman should help solidify the rotation for Oregon-Davis. Marquette Catholic is kind of a wildcard in Sectional #50. They are very young, but they have talent and size. Replacing graduated guard Ayana Blakely (15.8p, 3.3r, 2.4a, 2.9s) could be a bit of a challenge, but they return the other six players from last season's rotation. Sophomores Jiselle Chabes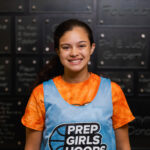 Jiselle Chabes 5'6" | SG Marquette Catholic | 2025 State IN (8.1p, 3.5r, 2.9a, 2.4s), a 5-6 guard, and Natalie Robinson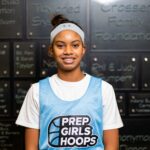 Natalie Robinson 5'11" | PF Marquette Catholic | 2025 State IN (8.0p, 7.1r, 2.2s), a 5-11 forward, had the typical Freshmen ups and downs, but they have talent, skill, and bright futures. The twin tower combo of 6-0 Sophomores Livia Balling (3.9p, 6.1r) and Elaina Balling (3.4p, 5.3r) give the Lady Blazers an intimidating presence in the frontcourt as well. And all four of those Sophomores play extremely hard, with a veteran poise as well. 5-10 Senior forward Addison Johnson (2.4p) and 5-3 Senior guard Xaria Biggerstaff (2.0p, 2.0r) add some Senior leadership to the group. Following some postseason success, Culver Community looks to improve this year, especially with the return of most of their roster. 5-5 Senior guard Kaylee Hamilton, 5-6 Junior guard Grace Sieber, 5-7 Senior forwards Maisy McCuen and Luci Overmyer, plus a number of Sophomores all look to lead the Lady Cavaliers closer to ten wins this time around. As for South Bend Trinity, they posted the second most wins in their brief history last season, but they've also graduated their top scorer from each of the last two years. Newcomers will need to step up for them to repeat last season's win total.
Sectional #51
Blackhawk Christian (18-8), SAG 133, SOS 220
Bethany Christian (11-12), SAG 255, SOS 274
Lakewood Park Christian (9-13), SAG 260, SOS 250
Elkhart Christian (7-13), SAG 331, SOS 333
Hamilton Community (1-13), SAG 385, SOS 335
Bethany Christian is healthy and experienced this season, and I would look at them to make waves statewide in 2022-2023 (you can see their team preview here). Blackhawk Christian has had a nice run over the last few years, but the graduation losses of Hailee Kline (12.6p, 5.2r, 5.7a) and Lily Helmuth (8.7p, 4.5r, 2.6a) will certainly be felt. Kline had been a four-year leader for this program. One exciting piece of the puzzle returning, is that of 6-2 Junior post Allie Boyer (10.6p, 7.5r). Boyer nearly doubled both her scoring and rebounding from her Freshman year, and she became a real presence down the stretch for the Lady Braves. Additionally, Blackhawk Christian returns 5-6 Juniors Emma Kline, Kenzie Kinnison, and Addie Koehlinger to their backcourt. Up front, 6-0 Senior forward Aubrie Swain and 5-9 Junior forward Delaney Kintz can provide Boyer some help.
Lakewood Park Christian must overcome the loss of Frannie Talarico (12.2p, 4.6r, 3.1s) to graduation, but they return a lot as well. 5-5 Sophomore guard Ava McGrade (11.8p, 4.0r) put together a fine rookie season and should expand upon that in 2022-2023. 5-7 Junior wing Jade Carnahan (6.1p, 5.4r) has a lot of Varsity experience and can be a nice second option this year. Juniors Grace Merkel (5.1p, 3.4r), a 5-7 forward, and Maddie Beck (4.9p, 2.1r, 2.4a, 3.9s), a 5-4 guard, have also seen a lot of action and should inherit bigger roles in their immediate future. There are a number of other Juniors and underclassmen who should help round out the roster this season as well. Elkhart Christian was led by the graduated Camille Annan, but there were a number of underclassmen who saw major playing time. They are now Juniors and Sophomores. Look for 5-4 Junior guard Allison Russell, 5-4 Junior guard Mya Ott, and 5-4 Sophomore guard Abby Crouse to man the backcourt, while 5-11 Junior front-liner Ellie Liggitt and 5-6 Sophomore wing Kiely Smith play forward roles. As for Hamilton Community, they won their first game in three years last season, and the Marines look to 5-2 Junior guard Jasmine Schiek, 5-8 Senior forward Krystalyn Mullin, and 5-9 Junior forward Maddie Dager to help improve upon their win total in 2022-2023.
Sectional #52
North White (20-7), SAG 99, SOS 157
Caston (18-7), SAG 106, SOS 168
Tri-County (10-10), SAG 218, SOS 265
Frontier (9-13), SAG 263, SOS 246
West Central (6-15), SAG 317, SOS 315
South Newton (1-16), SAG 362, SOS 249
North White put together a fantastic season in 2021-2022, losing to Lafayette Central Catholic in the Class 1A North Semi-State. Unfortunately, they must say goodbye to six graduates, most notably Caitlin Conn (11.3p, 8.8r), Lauren Annis (9.1p, 3.6r), and Lynzi Heimlich (11.3p, 6.1r in 2020-2021; sat out last year with an injury). 5-10 Senior post Tessa Robertson (10.9p, 7.7r) and 5-6 Senior guard Abigale Spry (10.2p, 3.5r, 2.9a, 2.4s) will now have to carry the load, as only one other player saw consistent minutes throughout the year. Robertson and Spry are good ballplayers, though, so I would anticipate them still being a problem for most opponents. Because of the Lady Vikings' losses, I now look at Caston as the favorite in the Sectional and possibly a Top-10 team in the state (you can see their team preview here). The Comets are experienced and have one of the state's better prospects in Class 1A. The Cavaliers of Tri-County have some good pieces back, minus graduating leading scorer Brynn Warren (13.6p, 3.9r, 2.0a). But 5-5 Junior forward Johnetta Whitmire (12.4p, 8.3r) and 5-6 Sophomore guard Sara Zarse (11.2p, 5.6r, 2.9a, 2.9s) were also double-figure scorers. 5-8 Sophomore forward Hannah Arvin (8.8p, 6.5r) gives quality support along the frontline and could average a double-double this year, while 5-4 Junior guard Allista Taulman (4.5p, 2.1r, 2.3a, 2.2s) adds to the backcourt depth and can play on or off the ball…wherever needed.
As for the rest of Sectional #52, Frontier lost one of the most impactful players in Sectional #52 to graduation in Emma Blissett (19.4p, 5.2r), as well as leading rebounder Olivia Newcom (5.9p, 11.2r). Fortunately, though, everyone else returns. 5-6 Senior guard Lacie Mears (9.2p, 2.9r), 5-4 Junior wing Haley Jay (6.2p, 4.8r, 2.0s), 5-4 Senior point guard Emma Sorensen (5.7p, 3.6r, 5.9a, 2.9s), and 5-7 Senior forward Kasee Anderson (2.5p, 3.5r) all saw a majority of the remaining minutes. The Lady Falcons could still approach ten wins this year, but it will be more of a "sum of their parts" effort this time around. West Central seems to be in a position to make some moves. They return all six rotation players from a year ago, and none are even Seniors this year. 5-8 Junior forward Annika Smith (13.5p, 11.8r, 2.4s) posted an impressive double-double last season, while 5-5 Sophomore guard Kailee Bishop (10.7p, 5.0r, 2.0a) was also a double-figure scorer. 5-2 Junior guard Mara Sharpe (6.5p, 3.8r, 3.0s) and 5-7 Sophomore forward Liza Allen (3.9p, 3.0r) appear primed for bigger roles this time, too. South Newton looks to improve their win total, but that will be tough following the graduation of six members of the 2022 class, including their leading scorer and leading rebounder from a year ago. 5-6 Junior wing Addysen Standish (4.2p, 4.3r, 2.7s) will likely be leaned upon to lead this group in 2022-2023, while fellow classmate Jocey Vogt (1.8p, 2.1r), a 5-6 forward, also has significant experience already.