Here is the last pool of wave-makers from the Slate Valley Showcase. Jump in, the water's nice!
Schuyler Nolan, 5'6 G – Cambridge Central School Class of '23
When watching Schuyler, I initially noticed her physicality and hoop IQ. She backed down smaller players and used quickness against bigger players. Moreover, she showed an ability to distribute the ball nicely, setting teammates up for easy buckets. Schuyler has a strong frame and uses it well on both ends of the floor, showing grit and toughness on defense and leveraging her physicality in myriad ways offensively.
Sabine Brueck, 5'7 G – North Country High School Class of '25
Sabine is one of those players who's always in the mix. She helps well on defense, digging into the post and cutting off slashers, rebounds well for her size, and is always a candidate to recover 50/50 balls. Brueck showed a knack for getting out in transition and finishing plays at the rim too. Sabine handles the ball nicely, but she does most her damage off-ball, cutting into space or setting up teammates with screens.
Lauren Vaughan, 6′ F – Champlain Valley Union High School Class of '25
Vaughan is a long, nimble 6-footer who showed flashes of various skills. She rebounds well and has a quick outlet pass followed by a strong drive to run the floor. Lauren also displayed her handle a little bit, both in transition and in the halfcourt. Off-ball, Vaughan cuts hard with hands high for teammates to target. Defensively, with her length she showed a sound ability to challenge shots without fouling and stayed in the play. Definitely one to keep an eye on.
Emma Litchfield Emma Litchfield 5'10" Colchester | 2025 NewE , 5'10 G/W – Colchester High School Class of '25
Emma is one of those players you can't fit into any one position. She can push in transition off the rebound or attack from the perimeter while also being able to do damage in the post, battling for buckets, boards, and second chance points. An all-around threat. She has a nice catch-and-shoot jumper but she does most damage slashing, getting to the rim and making plays. A swiss army knife type player with a good motor and strong handle.
Julia Decker, 5'7 W – Burr and Burton Academy Class of '24
Decker is a lengthy wing who is a pest on the defensive end. She slides her feet well and knows how to challenge shots and drives with extended hands and a solid, balanced frame. She displayed her hustle by tracking down loose balls, boxing out, and running the floor in transition. Decker has a nice stroke from deep as well. A 3&D type who makes the right play.
Brittney Love, 5'3 G – Fair Haven Union High School Class of '23
What caught my attention with Brittney is her constant probing on offense for scoring opportunities. Love is a quick, springy guard who can break a defense down with crafty drives. She finishes clean looks around the rim but I found her seeking to set teammates up even more so. She had numerous nice assists in transition and in the halfcourt. Moreover, she's a pesky defender who's hard to shake.
Ryleigh Hughes, 5'7 G/W – Rutland High School Class of '24
Hughes showed her grit from the jump and continued to do so all day. She rebounded amongst the trees, using her strength and physicality to box out stronger and taller players, and she tracked the ball down relentlessly, both on the glass and in 50/50 situations. Furthermore, she's comfortable handling the ball in transition and making plays. Ryleigh finishes well around the basket and is a hawk for second chance points.
Sydney Perry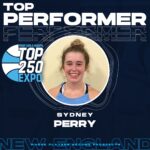 Sydney Perry 6'0" Windsor | 2024 NewE , 6′ F – Windsor High School Class of '24
Sydney is a hardy forward with good height and strength. She showed off her rebounding prowess on both ends of the floor and made quick outlet passes to spark the break. Perry got after it in the pick and roll, creating looks with tough screens and hard rolls to the rim. She can post up and pull the trigger in the short-range or back someone down for a hook shot while also keeping an eye on the perimeter, looking to kick to shooters.
Katelynn Hadwen, 5'6 G – Fair Haven Union High School Class of '25
Katelynn is an exceptionally strong guard who knows how to use her physicality. Repeatedly she outrebounded those taller than her because boxed out hard and pursued the ball. Once she collected the board she displayed a solid handle, pushing the ball in transition and playmaking. Hadwen is a gritty, hard-working player who doesn't need anything drawn up for her, she'll simply go get it herself.
Brooke'lyn Robinson, 5'5 G – Lyndon Institute Class of '24
Brooke'lyn does a little of everything out there. She's athletic and can drive it with confidence to both sides of the hoop, finishing rather efficiently, even amongst the lengthy forwards inside. Robinson sticks catch-and-shoot opportunities too, making defenders choose between challenging the shot or taking away her quick slashes. Lastly, Brooke'lyn really grinds on defense, getting in ballhandlers air space and forcing them into action. Robinson is a confident and decisive player on both ends.