Prep Girls Hoops Missouri take a look at some of the top Class of 2026 standouts from the day we spent at the Sweet Hoops Fall League on September 25 at Lift for Life Academy.
Brandi Mills (Lift for Life): A talented young point guard who is physically strong and knew how to maneuver in traffic to finish in the lane. Her court vision was excellent as she was able to thread the needle in lane and also drop a few nice no-look dimes, which led to buckets. She also had a very effective spin move and an excellent runner in the lane to finish
Haeli Tart (O'Fallon): A 5'9″ combo guard who was an impact performer at both ends of the court. She was strong on the attack on offense and she was also hitting the perimeter jumper. She is also an excellent defensive player who can lock down an offensive player and also play the passing lanes well for steals.
Lauryn Wimbley (McCluer North): A 5'4″ point guard with good speed and quickness and the ability to get a bucket at all three levels. She has a nice burst to get by defenders and she can also elevate on her mid-range jumper. When left open, she also hit the 3-pointer off the catch.
Ava Vanecek
Ava Vanecek 5'9" | SG Webster Groves | 2026 State MO (Webster Groves): A 5'9″ shooting guard who found a home on the left wing as she was knocking down 3-pointers against a zone defense. She also scored on a nice drive in the lane. She has very sound fundamentals as she can also excel as a ball handler and passer.
Lola Morton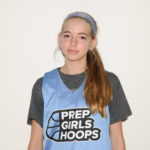 Lola Morton 5'7" | PG Parkway North | 2026 MO (Parkway North): A solid young point guard who ended up winning the game that I watched with a transition layup at the buzzer. She did a good job of running the pick and roll, where she knocked down a mid-range jumper at the elbow off the dribble.
Keely Windsor (Bethalto, IL): A young wing player from metro east Illinois who was one of the best perimeter shooters that I saw during the day, regardless of class. She made four 3-pointers in the game that I watched and she hit all of them in the first half. She has good form on her shot and a quick release.
Peyton Whitley (Valley Park): A 6'0″ forward who is strong around the basket and has some impressive mobility. She had a number of very nice rim-runs. When she rebounded the ball, she did a nice job of keeping the ball up high. She is in the beginning stages of her development, so she has a bright future.
Bella Westbrook (Fort Zumwalt East): A solid all-around wing player who was very assertive on the offensive end. She had a nice shooting touch from 3-point territory, especially from the corners. She was a confident playmaker with her handles as she attacked the basket well and displayed a nice stop-and-go move to get to the basket.
Kahmyla Bell (Ritenour): A young forward who was excellent at one specific skill, which was rebounding. She was very active on the board with her quick jump and tenacity to get the ball. She was also willing and able to get out of her area.
Madyson Ford Madyson Ford 5'9" | PF Cardinal Ritter | 2026 State MO (Cardinal Ritter): A 5'9″ forward who plays the game with a strong, blue collar work ethic. She was an active rebounder who also competed hard on the defensive end. She also ran the court with a lot of hustle.