These guards have a little more to offer than your typical backcourt players. Yes, they can handle the ball, they can attack the rim and distribute, but with their height advantage, they can do so much more. These five players are all 5'9 and taller which allows them to impact games in areas you don't normally expect from a guard. They add another rebounder to the floor, can get their shots off over defenders easier than smaller guards, and are naturally stronger players bringing physicality on both sides of the ball.
6'1" | SF | 2023
Arlington | Tree of Hope EYBL
We're starting off with one of the most highly rated guards in the state, Jenna Villa Jenna Villa 6'1″ | SF Arlington | 2023 State WA . The WSU commit is a special player who, at 6'2, is a presence both in and around the hoop as well as from the perimeter. She can stroke the ball with ease, is a strong rebounder, and is a gifted passer too. Her height probably plays into her passing ability, as she has great vision of the court whether it's from up top, the high post, or working down low. She finds those passing lanes and her ability to both pass and shoot makes her a dynamic offensive player and a tough matchup for opposing players.
Hoard is a player who uses her size specifically to impact the game on the defensive end and creating second chance opportunities for the offense. She is super aggressive on the boards and bruises her way into position for rebounds and loose balls. She plays with a high IQ, knowing where the ball is and how to get herself in the best position possible to make a play. Hoard is simply someone who makes plays. Whether she is sinking the free ones at the line or sneaking up on players to steal the ball away, Hoard is an intimidating player at the guard spot.
5'9" | CG | 2023
Lake Washington
This guard is tall and strong, and it shows in the way she fights through contact whether on the dribble protecting the ball, shielding opponents from shots inside, or showing off her deep range. Butler Wu is a player that benefits from great balance. She stays in those strong positions and gets leverage that helps her with pull-ups, defending, and driving inside. She was a big part of Lake Washington's run to the 3A State Title game and will be an even bigger piece in 2022-23.
Braun is another player for a deep Mead squad that did all the little things to get her team within a game of the 3A State Championship. She's a strong guard that contributes on the boards, has the typical guard qualities, handling and dishing the rock, but like Hoard she brings a little extra. She works for loose balls and has the fighting mentality that really helps her capitalize on her size advantage as a guard.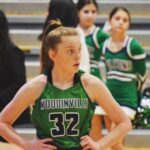 5'10" | SG | 2023
Woodinville | NW Blazers
Beresford is a really controlled player who makes good decisions and hurts opposing teams in a number of ways. First off, she runs the floor hard filling lanes on offense and hustling for as many easy opportunities as possible. That hustle works its way onto the glass as well, where Beresford crashes from the perimeter. She is a strong finisher at the rim and can step outside to hit the open three too.