Periodically I have released articles about the a class's top 10 players in Wichita area. While that will continue, it is time to provide a Wichita area all-class top 10 heading into the 2023 season.
#1 Maryn Archer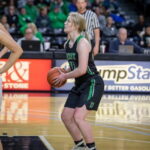 Maryn Archer 5'8" | PG Derby | 2023 State #29 Nation KS , 5'8″, PG, Derby, 2023 – If you did not know already, Archer is forgoing playing her senior year to enroll at Arkansas. The future Razorback will grey shirt with the team the spring semester. After sitting out club ball season most of the summer Archer joined Southwest Elite for the last month and tore it up. She was a favorite of PGH scout Bash Hudson at July's session III of the Select 40. He right away noticed she was the hardest working player on the court and does everything with a purpose. In an article released a couple of weeks ago my Kansas colleague Adrian Maloney wrote about her strong body, handles, finishing ability, and the need for players to respect her jumper. He especially loves her decision making in the half court. On the other end she led a tight Derby defense at the 6A state tournament to knock #6 Blue Valley off, basically shutting everyone else down and making Jadyn Wooten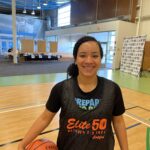 Jadyn Wooten 5'6" | PG Blue Valley | 2024 State KS do all the work.
#2 Addyson Brown Addyson Brown 6'2" | PF Derby | 2023 State #44 Nation KS , 6'2″, PF, Derby, 2023 – The Iowa State commit played a big – so to speak – role in the Panther's run through the AVCTL and the class 6A state tournament. A streaky shooter on perimeter, where she really shines is within 12′ of the hole. Brown has solid transition speed, good hands, and handles. Add that to her size, strength, and understanding of how to score she makes it awfully difficult for other teams to match up.
#3 Avery Lowe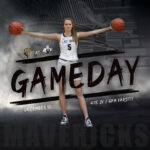 Avery Lowe 6'3" | PF Maize South | 2023 State KS , 6'2″, PF/SF, Maize South, 2023 – A University of Nebraska-Kearney commit, Lowe's game has grown by leaps and bounds over the past couple of years. Lowe is fast, heady, and has a multitude of moves she will use to take advantage of her quickness; length, and perimeter shooting. She is especially effective at passing and clearing the ball of rebounds to her PG to get the transition game going. Lowe will be a big part of the Eagles run to the 5A state tournament.
#4 Brooke Walker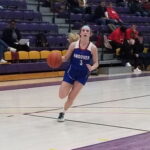 Brooke Walker 5'7" | CG Andover | 2024 State KS , 5'7″, CG, Andover, 2024 – I have been a big fan of Walker for a long time and it pained me, okay ticked me off, to see her playing out of position all season last year through no fault of her own. With a change in head coaches I expect to see Andover wreak havok all season with Walker doing what she does best – score. From everywhere. Walker has handles to play multiple positions, fluidly finish with either hand, light up from three point land, defend smartly, and absorb contact for many a three point play (yeah, strong FT shooter). There are many good reasons why Walker has been among the top 5 2024 players in the state.
#5 Landon Forbes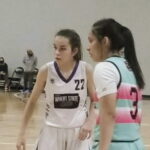 Landon Forbes 5'7" | PG Bishop Carroll | 2023 State KS , 5'6″, PG, Bishop Carroll, 2023 – Forbes' game has exploded over the summer. Well regarded in the Greater Wichita League, and a first team lock this year, Forbes has emerged as a top 20 player in the class statewide. Forbes pushes tempo well, moves well into space, makes quick yet soft passes to gather assists, and is a serious perimeter threat. Her hand speed and quickness also benefit her on the defensive end, creating turnover opportunities to turn into transition baskets. She will dish out many a long night this winter for opponents.
#6 Mckenzie Fairchild Mckenzie Fairchild 5'11" | PF Andale | 2023 State KS , 5'11", SF, Andale, 2023 – While Fairchild is a track & field commit for Texas A&M she has also been a top player in the area since she hit the floor as a freshman and top 20 player statewide. A season ago she not only was AVCTL Div IV first team but also a Kansas Basketball Coaches Association 4A second team selection. Fairchild makes it rough for other players not just due to her length and scoring ability but also because she will wear opponents out with her stamina.
#7 Alana Shetlar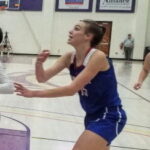 Alana Shetlar 6'1" | PF Andover | 2024 State KS , 6'1″, PF/SF, Andover, 2024 – Shetlar's recruitment has been heating up this summer and it is just getting started with NCAA D I & II and NAIA schools extending offers. Shetlar is arguably the best mid-range shooter in the state and with her length, hops, swift release and terrific release point…it is a rare day when anybody gets close to blocking her shot. She is also a terrific three point shooter. Where the gloves came off for me was at the early April MAYB Hall of Fame Exposure Tournament in Wichita. Putting the ball on the floor from the wing with quickness and speed to beat a couple formidable defenders served notice that her game had reached another level. Shetlar is not just strong offensively. She is a good rebounder who keeps the ball up to get the put back or clear it out, a shot blocker, and a quick defender. What I am watching for now is strength. As it grows the more of a nightmare she will become. Well deserved launch into the top 5 2024s in the state.
#8 KaMyra Barber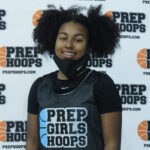 KaMyra Barber 5'9" | PG Wichita Northwest | 2025 State KS , 5'9″, SG, Wichita Northwest, 2025 – I saw a Barber play a bunch this summer with her club as well as at the I-35 Showcase last month in Wichita. At the I-35 she ran the point 85% of the playing time and thrived. A top ten 2025 statewide, Barber just quietly destroys people. 25′ three ball over a backed-off defender or very high screen, check. No-look pass on the break to gather the assist, check. Attack the close-out and score fluidly with either hand, check. Take a hit, check. Free throws, check. Solid, smart defender, check. My colleague Akiem Bailum saw her in May at the Prep Girls Hoops Live event. He wrote "Barber is versatile with an ability to thrive in the back court as a guard and in the front court as a small forward."
#9 Sophia Gimino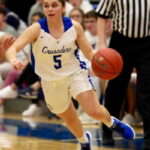 Sophia Gimino 5'4" | PG Kapaun Mt. Carmel | 2023 State KS , 5'4″, PG, Kapaun Mt. Carmel, 2023 – What I love about Gimino is how hard she plays, her ability to carry the load when needed, and her game IQ. She is a pure floor leader who knows where everyone is supposed to be, what everyone is supposed to do, and knows when teammates need to get their tails in gear and play harder. She has terrific handles, defends with energy, is a solid perimeter threat, and finishes well with either hand. Gimino is also tough.
#10 Kennadi Jackson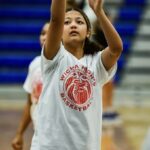 Kennadi Jackson 5'9" | CG Wichita Heights | 2025 State KS , 5'9″, CG, Wichita Heights, 2025 – Jackson not only had a great summer but also was a lightning rod of attention at the Wichita I-35 Showcase last month. Regarded as one of the most explosive players in the state, Jackson has generated interest from NCAA D I & II schools from inside and outside the state. She is fast, has strong handles, is athletic around the basket, and has size enough to challenge taller and athletic players on both ends of the floor. The top 10-15 players in the 2025 class is arguably the deepest of any of the oldest three classes and Jackson has real potential to climb into the top 5 before her high school career is through.
Featured image: Derby 2023 Maryn Archer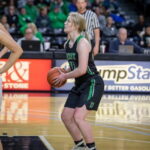 Maryn Archer 5'8" | PG Derby | 2023 State #29 Nation KS . Photo: Joel A. Craig. Used with permission.