The 2024 class is stacked with talented players at all positions. In this list, I've selected just a few of the top players to highlight, including two girls ranked in the ESPN Top 60. These players are among some of the best in an extremely deep and well-rounded 2024 class.
5'10" | PG | 2024
Garfield | Tree of Hope
Fiso checks in as the 19th-ranked player in her class, in the nation, according to ESPN. She is a dynamic guard who shows superb agility with the ball, phenomenal fluidity and control attacking the hoop and a great jumper that makes her a complete three-level scorer. She's an intense player who can affect the game in a number of ways; scoring, passing, and as a solid defender. Her Garfield team narrowly missed a 3A State Title last season but she is a big reason why the Bulldogs are likely to get another shot this coming season.
5'10" | SG | 2024
Nooksack Valley | Tree of Hope
Coppinger has an absolute bullseye from behind the arc. It's a beautiful shot to watch with picture-perfect form, finished by a solid snap of the wrist. She is number 36 on the ESPN 2024 class rankings and the highly touted guard nearly led her Nooksack team to the 1A State Title last season, losing by one point in the championship game. She's not just a great shooter though, she's a great contested shooter. She is really good at creating enough space off the dribble and has perfected the pull-up going any direction. Coppinger's instincts and work rate help her chip in on the boards and create turnovers on the defensive end as well.
6'2" | PF | 2024
Woodinville | FOH Seattle
Eggers is a physical presence at 6'2 and causes big problems inside the key. Offensively, she powers through contact, drawing fouls and converting tough shots. On defense, she holds her ground inside and has great timing blocking shots. But Eggers also has some good touch on her jumper, drilling free throws and even knocking down the long-range shot when given time. As she continues to work on her game and diversify her offensive attack, Eggers will rise up the ranks and be one of the more dominant players in her class.
5'7" | PG | 2024
Sumner | Team Stuckey
Houillon is a slingshot at the point guard spot. She is quick, aggressive, and knows how to draw defenders with her drives to open up teammates. She's not afraid to mix it up and goes hard after loose balls, really setting the tone for her squad. She can score a little too, nailing threes and getting to the rim. Houillon has the right attitude to be a lead-by-example point guard and is a player to watch in the 2024 class.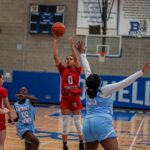 5'8" | PG | 2024
Lynnwood | Team Stuck
Her Lynwood team finished in the top half of the Wesco 3A last season and I would not be surprised to see Hooker take them closer to the top this coming season. She's a versatile player, scoring points, grabbing boards, dishing dimes, and swiping steals. Hooker moves so well with her dribble and is capable of weaving through defenders to finish at the rim or find a dish back outside. She also has a really nice-looking shot that hits from outside. I'm looking for a big year from the well-rounded guard in 2022-23.