Brooke Meeks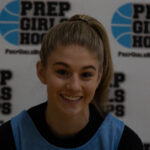 Brooke Meeks 5'11" | SG Arvada West | 2023 State CO – Arvada West
Meeks brings consistency as a shooter while continuing to battle on the defensive end. Standing right around 5'10, Meeks gets a large portion of points as a floor spacer out beyond the three point line. Should the defense close out too aggressively, she stays patient for her next decision. Within the mid-range, Meeks is especially potent getting to her right handed floater While dependable out on the perimter, Meeks is more than capable battling in the post, thanks to her high reach and soft touch with the right hand. On the opposite end, she stays physical down low along with consistent pressure jumping passing lanes in the halfcourt. This past season at Arvada West, Meeks averaged 7 points, 4.5 rebounds, 3.3 assists, and 2.9 steals per game. The incoming senior currentlyranks 55th in her class and 20th among combo guards.
Tathis Arredondo Tathis Arredondo 5'3" | PG Greeley Central | 2023 State CO – Greeley Central
Arredondo brings a dependable skillset with Greeley Central, capable handling the team's pace. Standing right around 5'3, Arredondo is a crafty downhill scorer with either hand. She has shown to utilize on-ball spin to finish in tight windows through traffic. One skill that most guards need is the ability to change a gear, where she is more than capable exploding downhill past opponents. On the opposite end, Arredondo stays assertive getting loose balls and creating chaos. Once stealing the rock, she is poised to push the pace, either herself going coast to coast or through an outlet pass. This past season at Greeley Central, Arredondo averaged 11.9 points, 5.2 rebounds, 2.7 assists (team high), and 2.9 (TH) steals per game. Coming into the season, Arredondo ranks 47th overall and 11th among point guards.
Sydney Baller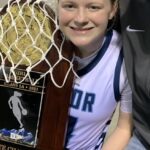 Sydney Baller 5'10" | SG Valor Christian | 2023 State CO – Valor Christian
Baller has been crucial doing the dirty work that may not always show up on the box score. The incoming senior shooting guard will be rejoining a stacked group over at Valor Christian. Standing roughly 5'10, Baller creates a large number of second chance opportunities from rebounds and subsequent putbacks. Consistent hustle is the main reason for her rebounding success, where she consistently navigates around ballwatching opponents. Another clear strength came from her willingness to attack passing lanes or loose balls, often tossing it into an opponent to create an immediate possession. Baller currently sits as the 33rd overall prospect in the 2023 class and 4th among shooting guards.
Alena San Augustin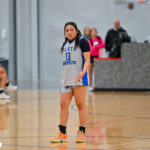 Alena San Augustin 5'5" | PG Cheyenne Mountain | 2023 State CO – Cheyenne Mountain
San Augustin has skill as a pull-up shooter, specifically when coming off of screens. The incoming senior shooting guard will play a key offensive role at Cheyenne Mountain. She has proven to be a capable shooter when stepping into shots. Often utilizing an on-ball screen to free up the mid-range, San Augustin should be a capable playmaker coming into the year. This past season at Cheyenne Mountain, she averaged 16.6 points, 5 rebounds, 3.3 assists, and 3.5 steals. One area worth monitoring will be her shot selection inside the arc. Coming into this season, San Augustin sits at 36th overall and 5th among shooting guards.