Continuing my review of this year's Lamar Warrior Classic, there were several top performers in the lower enrollment schools as well. Some of these student/athletes have made their mark in recent high school basketball publications, but some are just coming into their own;
Kori Sanders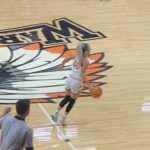 Kori Sanders 5'4" | PG Lamar | 2025 State AR -5'3″ PG-Lamar H.S. 2025-Kori, pictured above, is the team's quarterback. She's just a sophomore but has the skill set and IQ of a senior. She has excellent court vision and can attack the rim, dish off to her teammates, or stop and pop a three. Her touches-to-turnover ratio is very low. Look for Kori to lead her team to a deep post-season run.
Ashlynn Avey-5'8″ SG-Hector H.S. 2023-Ashlynn is a crafty player. She is not the fastest, nor is she the quickest player on the floor, but she seems to get it done. I call it the blue-collar approach. Her strength is that she can play multiple positions. She can work in the paint to post up or catch-and-shoot from the outside. Her strong frame creates mismatches on offense and gives her an advantage on defense.
Riley Bryant Riley Bryant 5'11" | SG Central Arkansas Christian | 2023 State AR -5'10" F-Central Arkansas Christian H.S. 2023-Versatility is Riley's strength. She can play at the wing position or post up inside. She shoots mostly mid-range jumpers but can also penetrate and attack the rim. This lefty has the size to mix it up inside and rebound on the defensive end. She is clearly one of the leaders on her team.
Abbi Grace Cunningham 6'1″ F-Atkins H.S. 2024-Abbi Grace is one of the state's top players. Her size coupled with her basketball IQ makes her stand out on both ends of the floor. She can shoot the mid-range jumper, post you up, or knock down the three. Her game impresses me every time I see her play.
Kadee and Koree Keaster 5'5″ SG-Atkins H.S. 2025, 2023-Kadee, the sophomore, and Koree have the identical skill set. Both handle the basketball very well and can shoot the three. Both like to penetrate the lane as well. This duo can be very hard to defend. Look for this pair and Abbi Grace Cunningham to carry their team to a deep playoff run in Class 3A.
Karley Williams Karley Williams 5'7" | PF Lamar | 2023 State AR 5'9″ F-Lamar H.S. 2023-This senior forward/swing guard is a shooter. Karley likes to penetrate, draw the foul, and score. She's not afraid to mix it up inside. She has excellent footwork. On offense, Karley moves well without the ball always working hard to get open. Defensively she plays the passing lanes and anticipates very well. Good chance she'll lead her team back to the state tournament this year.
This group of ladies can play and displayed their skills during this 4-day tournament. All made my all-tournament selection. Next up, is my list of players that got my attention for honorable mention.