Prep Girls Hoops Missouri continues its preseason previews with a look at the Big 8 West Conference. Nevada won the conference last season and they return a strong nucleus along with the Player of Year. Seneca, East Newton and Lamar should also be very competitive.
THE STARTING FIVE
Clara Swearingin (Nevada): The 2024 guard returns after earning All-State and Conference Player of the Year honors. She's an excellent all-around player who can make perimeter shots. As a sophomore, she averaged 16.2 points, 4.4 rebounds, three assists and two steals a game.
Hazley Grotjohn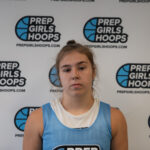 Hazley Grotjohn 5'6" Seneca | 2025 MO (Seneca): A 2025 point guard who led Seneca to 22 wins en route to earning All-Conference honors in an impressive debut varsity campaign. As a freshman, she averaged 16.5 points, 5.0 rebounds, 4.7 steals and 2.7 assists a game.
Maddy Majors (Nevada): A 6'0″ 2023 wing who has good height and a versatile skill set. As a junior, she averaged 12.8 points, 3.1 rebounds along with 32 steals.
Marcy Miller (Lamar): A 6'1″ 2024 forward who returns as the top frontcourt player in the conference. As a sophomore, she averaged 15 points, 11 rebounds a game along with two steals and two blocks. She was also a All-Conference First Team selection.
Josie Guinn (East Newton): A 2023 guard who returns after earning Second Team All-Conference honors last season. As a junior, she averaged 10 points and four rebounds a game.
BEST OF THE REST
2023
Shaw Coburn (East Newton)
Allyson Inman (Monett)
Abbey Heathman (Nevada)
Makenna Braiser (East Newton)
Parker Long (Seneca)
Megan Elwood (McDonald County)
Gracie Johnson (East Newton)
Sadie Camp (Monett)
Ashlyn Stettler (Lamar)
Phajjia Gordon (Lamar)
Ashlynn Bryan (Cassville)
2024
Samantha Mittag (Seneca)
Kate Johnson (Nevada)
Aryanna Seelye (Monett)