I was able to attend the cape Cod Swish Academy group training session. The energy was high in the gym, and the players were focused on skill development to get ready for the high school season.
Here is some observations from the session.
At the session they did agility drills, ball handling, layups, spin moves and finishing off 2 feet, and 1 foot, inside hand finishes, reverse layups, shooting, and scrimmaged at the End.
Jordyn Streitmatter, Position Guard, Class 2024, High School Nauset Regional.
I really liked the energy from Jordyn. Coach Vaneria commented how she was going so hard on the layup drills that she was crashing into the pads on the wall. She is a high energy guard who is hard working with a pure scoring ability. I think you will see a big Junior season from Jordyn.
Gabby Foster, Position F, High School Nauset Regional, HT 5'10, Class 2024,
Gabby is a forward with good handles, good footwork and a soft touch around the rim. She had good footwork when doing the spin moves during the drill. During the scrimmage she had some put back layups off rebounds. She is square to the basket when scoring in the paint. Gabby is a forward who moves well for her size, and has good potential.
Jojo Ready Jojo Ready CG Monomoy | 2025 State NewE , Position SG, HT 5'6, Class 2025, High School Monomoy
Jojo looks ready (Pun intended) for the upcoming high school season. Jojo is an athletic player, that has a quick first step, and can explode off the dribble. I have herd from Swish that she performed very well in her fitness test. She works hard, and is always trying to gain the edge. She also impressed me in the shooting drills, and finishing drills during the sessions. She was able to finish with both hands during the drill. Going into her sophomore season you could see Jojo breakout with an expanded role on the team.
Mckinley Wenzel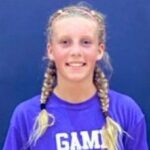 Mckinley Wenzel 5'6" | CG Bourne | 2025 State NewE , Position PG, HT 5'7, Class 2025, High School Bourne
Coach Vaneria says " McKinley could be in the running for most improved player since the end of last high school season". I have seen her play a few times this fall, and now during a group training session. She had good handles during the ball handling, and finished well on both sides during the layup drills. She also made some shots during the scrimmage at the rim and from mid range. McKinley has the ability to be a scorer on offense, and is also a tough defender. After watching her this fall, I think she has the potential to take her game to the next level.
Aubrie Schwager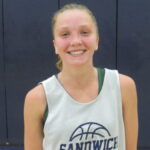 Aubrie Schwager 5'5" | PG Sandwich | 2025 State NewE , Position PG, HT 5'5, High School Sandwich, Class 2025
Aubrie know as "The Engine", is living up to the name. She can get going from three point range, and make shots in bunches. In the scrimmage last session she was on fire from three point range. She is a confident player, and has poise and makes good decisions when running the offense. I had seen her play a few times this fall now, and I continue to be impressed with what I see.