Kick back, relax, and check out these hoopers who know how to serve it up on a platter and feast on the competition!
Clara Wilson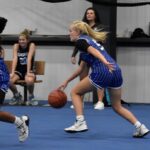 Clara Wilson 5'7" | PG U32 | 2025 NewE , 5'8 G – U-32 High School Class of 2025
With a shifty handle and quick footwork, Clara is able to get to her spots with ease and manipulate the defense with ball fakes and look-away dishes. When slashing, Wilson has a good sense of timing and slips bounce passes under the hands of forwards just as they begin to rotate, leaving little time for the backside defense to rotate down and disrupt the pass. Moreover, Wilson's ability to hit shots both off the catch and dribble cause defenders to close hard, which Clara's attacks well, getting by primary defenders and causing defenses to scramble. Wilson can pick apart an opponent in the halfcourt set but she also likes to push the break, hitting teammates with well-timed lead passes as they stride into an easy lay. The rising sophomore is one to keep an eye on.
Shelby Companion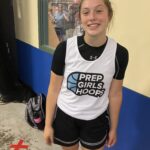 Shelby Companion 5'6" | CG CVU | 2023 State NewE , 5'7 G – Champlain Valley Union High School Class of 2023
I remember watching some of the first games I caught of Shelby's and thinking just how impressive her vision and anticipation are. Companion can serve it up in myriad ways, for she has great court awareness in the fastbreak and is quick to advance the ball where she'll attack defenders hard, forcing them to make a decision, and either finishing with a side-step lay or a nifty little dump pass to the trailer. Moreover, Shelby can really manipulate defensive movement, especially against zones. She sees through the defensive layers well and fakes defenders out with her gaze, looking to one side while ripping a pass from the perimeter into the interior. Companion's vision and passing lift the abilities of those around her, I'm excited to watch her feast on defenses in just a few weeks.
Sakoya Sweeney Sakoya Sweeney 5'6" | CG Lake Region | 2023 State NewE , 5'7 G – Lake Region High School Class of 2023
From the jump it's clear that Sakoya loves to get teammates involved. Sweeney's eyes are always scanning the floor, looking for holes to exploit as she sets up her passing angles with poise. Sakoya gets into the second layer well and uses her sound footwork and patience to break defenses down. Sweeney's ability to slash paired with her consistent jumper forces defenders to slide into help position when she drives, which is exactly what she's looking for as teammates relocate for jumpers or back cut for slip passes behind the defense. Sakoya also utilizes ball screens well, applying pressure to the defense with hesitations and shot fakes in order to drop passes to the roller or finish herself. Lastly, it's evident the joy that Sakoya gets in keeping others involved as she's constantly celebrating their success. Gotta love the comradery.
Addison Hunter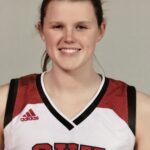 Addison Hunter 6'0" | PF Champlain Valley | 2023 State NewE , 5'11 F – Champlain Valley Union High School Class of 2023
Addi is one of the premier post passers in the state, hands down. Hunter's ability to operate comfortably in both post up and face up situations make her extremely difficult to guard, for she has a steady mid-range jumper and a slew of post moves. Yet, she mixes that shot making with crafty passing. Addi sees developing cuts and passing windows intuitively and keeps a poker face right up until it's time to thread the pass through. Hunter hits cutters with nice bounce passes, fellow forwards with heady over the top passes when doubles come, and she'll throw in a couple "oh my" passes due to her impressive court awareness. Lastly, Addi is a quick outlet, and her strength provides her the ability to hit teammates with immaculate lead passes for easy buckets. There aren't many other forwards in the area with her vision and touch.
Lauren-Kate Garceau, 5'10 W – BFA St. Albans High School Class of 2023
With LK's height she's often able to comfortably see over the top of defenders, seeing cutters and picking out passes with ease. Garceau's high school team runs lots of back screens and LK is adept at reading how teammates run off of them, hitting players with timely dishes right as they come into open space. Furthermore, LK can push the ball in transition situations too where she's shown good instincts on when to hit advance passes or play a little give and go in order to force defenders into a decision. Lastly, Garceau's finishing ability also garners a lot of attention around the rim, where she's keen to hit cutters and perimeter shooters when the defense collapses. LK has a good feel for the game.
Brittany Love, 5'4 G – Fair Haven Union High School Class of 2023
Constantly probing, Birttany is someone who loves to serve up assists. Love is agile with great lateral movement, providing her the ability to get outside defender's hips and snake into the teeth of the defense. Once inside the second layer, Love can rise up for floaters and crafty finishes, but it's her passing that totally opens the game up. Love sees backdoor passes sometimes before her teammates do, yet she manipulates the defense and remains poised until passing lanes finally manifest. Moreover, Brittany loves to get out on the break where she has great instincts, attacking defenders to get them on their heels, setting teammates up with crisp passes and the occasional no-look. Love's game has style and substance.