Today, I want to highlight some intriguing guards in the 2023 class. A few kids have seemed to rise to the top of the class in their first season of high school ball, but plenty more will make a name for themselves in their sophomore campaign. Let's talk about a few intriguing guards in this class.
Libby Fandel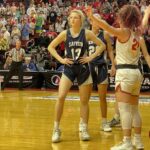 Libby Fandel 5'11" | SF Cedar Rapids Xavier | 2025 IA
The Xavier guard has all the talent in the world. The Saint is more than comfortable handling the ball for extended periods, and she can handle the volume of initiating offense every time down the floor. Fandel led her team in scoring as a freshman by a wide margin and led the Saints in assists. Kids who can do that comfortably early on tend to get better with experience at the high school level.
Abby Tuttle Abby Tuttle 5'8" | SG North Polk | 2025 IA
The North Polk guard can play anywhere from the one to the three but is one of the most gifted passers in her class in the region. Tuttle is one of the most patient players with the ball in her hands. I enjoy watching her operate in up-tempo games because she can handle it. It almost seems like she's playing in slow motion whenever the ball gets to her, but defenses can never seem to keep up with her, and that's because she sees the game on another level than most kids her age and at the high school level.
Laynee Hogan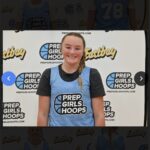 Laynee Hogan 5'8" | SG East Buchanan | 2025 IA
The East Buchanan guard is a permanent mismatch when she's on the floor. The Buccaneer can attack the basket, overpower weaker guards and shoot over kids when they don't respect her jumper from the start of the game. The first time I saw her play, she did the former and recorded two baskets with a foul in a few minutes, setting the tone for that game that her team went on to win. I love kids who can exploit defenses in multiple ways and make things happen out of nothing.
Madeline Casey
The Iowa City guard does an excellent job getting into open pockets of space on the floor and knocking down shots. Her jumper looks solid and repeatable, and she's shown she can shoot teams out of zones relatively quickly. She's more than just a shooter. You can tell by watching her get to her shots. She's not a kid who'll stand still and wait for the ball to get to her. She'll maneuver around and find the open space.