*This article is based off of the playoff matchup between Eaglecrest and Fossil Ridge*
Fossil Ridge (19-7) League (10-1)
Fossil Ridge is a guard-oriented team that plays with quickness and toughness. An undersized group a year ago that will still have some key returners that will look to replace some solid Senior guard play. The guards love to attack and can get into the lane at will, becoming playmakers scoring and getting to the foul line.
Kate Davis Kate Davis 5'9" | SF Fossil Ridge | 2023 State CO – 5'9 F 2023
14.2 ppg/4.6 rpg./ 33% FG%/ 46 3pt Made/28% 3pt%/ — All-State Honorable Mention
Kate was Fossil Ridge's leading scorer last season at 14.2 ppg. She has great overall size with her solid built frame. Kate is a tough defensive matchup because she can play on the perimeter and is very tough and aggressive in the paint. Her main takeaway trait would have to be her overall playstyle and toughness that she plays with. Doesn't back down to heavy contact. Can step back and hit a three in rhythm. Moves extremely well on D and can slide and pursue. More than holds her own in the contact department.
Ella Lavigne Ella Lavigne 5'10" | SG Fossil Ridge | 2024 CO – 5'10 G/Wing 2024
10.5 ppg./8.9rpg./1.7 apg./1.5 spg.
At nearly a double-double average, Ella is crucial to the success of her team. A highly active guard/wing with some solid length and a consistent motor. Her motor and length are a great combination for her to come up with a ton of boards and loose balls. She is always fighting for that extra possession and hustle play for her team. A very valuable asset to the Fossil Ridge squad. Quick hands defensively and will pick up full court and take chances on steal opportunities. Comes up with many offensive rebounds throughout a game.
Kaycee Steinke Kaycee Steinke 5'9" Fossil Ridge | 2024 CO – 5'9 G 2024
7.2 ppg./4.4 rpg./ spg. 1.0/28-99 3pt/ 28% 3pt-fg%
There's a lot to like about Kaycee's game and the way she impacts the game with her style of play. Loves to attack off the dribble to kick quickly to shooters and get in the lane to make plays for herself. An electric guard that is sudden off the dribble and becomes a playmaker. A relentless on-ball defender that easily stays with her matchup because of her elite movement and lateral agility.
Kiley Ballek Kiley Ballek 5'5" | CG Fossil Ridge | 2023 CO – 5'5 (estimation) G 2023 3.9 ppg./1.1 apg./3.8 rpg./1.4 spg.
Another guard that can attack and is a scrappy guard that plays with quickness. She'll have an expanded role in her Senior season.
Gianna Leone
Gianna
Leone
6'0" | PF
Fossil Ridge | 2025
CO
As a Freshman Gianna appeared in 16 games, scoring 2.0 ppg. and hauled down 2.4 rpg. She'll be one to watch in the upcoming season.
Eaglecrest (12-12) League (2-9)
Eaglecrest is a highly talented team with some high-level prospects across its program. What stands out about the returning prospects is the versatility the top prospects show on the court. They aren't defined by just one skill or attribute. They were .500 last year but that doesn't paint a clear picture on how individually talented this group of prospects are. I would be very surprised if the team didn't improve on its 12-12 mark in the upcoming season, just based on how talented the group is.
Nia McKenzie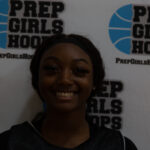 Nia McKenzie 5'11" | SG Eaglecrest | 2023 State CO – 5'11 G 2023 – Washburn University (DII)
11.3 ppg./6.3 rpg./2.8 apg./3.5 spg./
Nia is a great overall athlete that also has skill with the ball. An elite combination of the two aspects of the game. An absolute stat-stuffer on the hardwood that can do it all. She seems to come up with the ball more often than not. Has a lock of shake to her offensive game, allowing her to get by the initial defense. Scores in a variety of ways and possesses good size. A playmaker on D, coming up with 3.5 spg.
Laci Roffle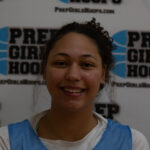 Laci Roffle 6'0" | SF Eaglecrest | 2023 State CO – 6'0 F 2023
9.9 ppg./5.1 rpg./2.2 spg./1.4 bpg. — 2nd Team All-Conference (Centennial League)
Offers: Western Colorado University, Metro State University of Denver, Colorado State University Pueblo
Anjolene Ramiro Anjolene Ramiro 5'7" | CG Eaglecrest | 2023 State CO – 5'7 G 2023 – Colorado State Pueblo (DII)
9.4 ppg./2.8 apg./ 3.3 rpg./ 1.8 spg./ 28 3pt Made
Anjolene is a long lefty guard that is athletic, quick, and has ball skills. A very skilled ball-handler that can make combination move after combination move in a series, to get to the hoop and past her on-ball defender. An ultra-quick first-step that also allows her to blow by the initial defense, causing help defense to come. Highly creative with the ball and a legitimate individual handle on the ball. A guard that is fun to watch with her ability around the rim to create and contort her body to finish smoothly away from the defense. A very creative and effective euro arsenal in her game.
Lauren Perkins Lauren Perkins 5'7" | CG Eaglecrest | 2025 CO – 5'7 G 2025
Athletic overall prospect that can move laterally at an elite level and it shows on the defensive side of the ball. She can fly around and move with quick ball-handlers and will contest shooters at a high level.
Shyann Farbes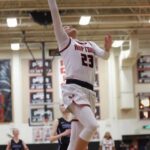 Shyann Farbes 5'9" | CG Eaglecrest | 2024 State CO – 5'9 G/Wing 2024
6.5 ppg./4.1 rpg./2.0 apg./1.3 spg.
Shyann is a very long guard/wing standing at 5'9. Most certainly has a positive wingspan. She can handle the ball at size and length, with the ability to take it straight at her defender off the dribble. Has the ability to breakdown her defender some from a stand-still standpoint. Such a versatile prospect, that she can bring the ball up and handle the point spot well. Ability to make dime passes to cutters. Showed the ability to get into the lane consistently and put up floaters in the lane.
Brooklyn Bickerstaff Brooklyn Bickerstaff 5'8" | CG Eaglecrest | 2024 State CO – 5'8 G 2024