New Jersey girls basketball got a bit of a shakeup this season as point guard Kiyomi McMiller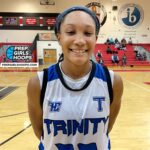 Kiyomi McMiller 5'8" | PG Life Center Academy | 2024 State NJ , formerly at Trinity Collegiate High School in Darlington, South Carolina, has transferred to Life Center Academy in New Jersey.
The No. 6 overall player in ESPNW's Class of 2024 rankings, McMiller averaged over 27 points a game as a sophomore at Trinity Collegiate and has more than proven herself to be among the most elite prospects in the country.
McMiller, a 5-7 point guard, has taken over the top spot as PGH NJ's No. 1 player in the Class of 2024.
When you watch this Twitter video above, you'll see exactly why McMiller is rated as highly as she is, with ball-handling skills straight out of a video game and the ability to truly put any player on skates that she wants to.
Great outside range and a great feel for the game overall, McMiller knows how to control an offense and knows when and where to take over a game.
She's great at surveying the floor to see if there are teammates that are open or open spots on the floor to drive and shoot to.
The same can be said about her defense as she's aggressive and plays with a purpose, not making unnecessary fouls and making the smart play always.
New Jersey girls basketball fans are going to be seeing plenty of her this season around the state and she'll be must-watch basketball any time she steps on the floor.
A few highlights of this upcoming season for Life Center Academy include games against Paul VI and St. John Vianney as we get to see McMiller play against top 2023 recruits Hannah Hidalgo Hannah Hidalgo 5'7" | PG Paul VI | 2023 State NJ and Zoe Brooks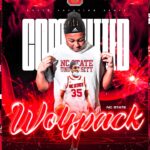 Zoe Brooks 5'8" | CG St. John Vianney | 2023 State NJ .
It's not often you get to see two five-star prospects go head-to-head outside of neutral-site tournaments, so we're beyond excited for what this season will bring for McMiller.