The talent pool in Arizona is deep with prospects who have worked hard to be the best of the best in their respective classes. Here is my Pre-season all state third team for the class of 2023.
Third team
PG: Ashiian Hunter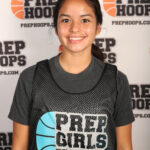 Ashiian Hunter 5'5" | CG Mesa | 2023 State AZ 5'4" Mesa high
Hunter is a top tier talent who lets her game speak for itself. One of the better all around talents in the state that doesn't dim when the lights get brighter. The numbers are there both offensively and defensively but it's her heart, desire and work ethic that stands out the most. She has all the individual accolades in her trophy case now she just needs the state championship to add to it. Ashiian will definitely be in the player of the year conversation when the season wraps up.
SG: Sage Begay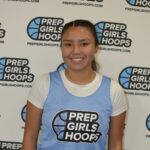 Sage Begay 5'8" | SG Flagstaff | 2023 State AZ 5'8" Flagstaff High School
An offensive savant who excels at scoring the basketball. Her scoring has increased each of the last three seasons and I don't see that slowing down this season. She is versatile enough to play both guard positions and she can fill it up from midrange as well as from three point range. Her and her Flagstaff squad fell short in the star championship game against Salpointe Catholic. Best believe they're looking for a return trip and Sage will definitely help them get there.
SF: Amaya Washington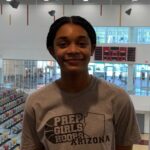 Amaya Washington 5'10" | SF Dream City Christian Prep | 2023 State AZ 5'10" Dream City Christian
A long athletic wing who can take it to rim off the bounce and can knock down the open jumper. Always plays under control and makes good decisions with the basketball in her hands. Should see her stock rise with a strong senior season. Already a top prospect in this senior class but definitely has all the tools to be even better.
PF: Brittany Kogbara 5'11" Peoria high
A key cog for her Peoria high school team. Kogbara averaged a solid 13.8 points and an outstanding 17.8 rebounds per game! Yeah you read that right, 17.8 boards per game! She always plays with maximum effort on both ends of the floor which is why she is on the radar for conference and state player of the year honors.
C: Anais Cook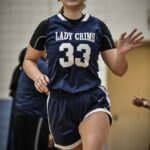 Anais Cook 6'2" | C Yuma | 2023 State AZ 6'2" Cibola high
Cook is a strong prospect that uses her physicality to control the paint on both ends of the floor. Her numbers might not pop out at you on the stat sheet but it's the intangibles that makes her such an intriguing prospect. I have no doubt that we'll see her numbers improve this season as predict she'll average a double double. She has the skill and the will to pull it off, you heard it here first!