Prep Girls Hoops started the season off at the Lady Fox Thanksgiving Tourney in Hartsville this past weekend. The opening round featured 6 teams playing on the first day of action. Let's take a look at the game coverage with Prep Girls Hoops in attendance on Day 1.
Day 1 Results:
Socastee HS 67 Cross HS 54
Westwood HS 74 Loris HS 47
Sumter HS 53 Northwood Academy 46
Milestones: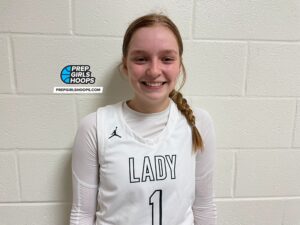 Sailor Rearden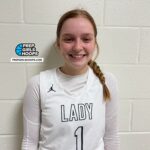 Sailor Rearden 5'6" | PG Socastee | 2023 State SC needed just 4 points to join the 1,000 points club in her high school career. Sailor made a free throw with 1:07 mark of the first quarter to join the club. Rearden for her efforts finished the night with 28 points to push her career total to 1,024 points. She was able to able connect on some short jumpers today while at times dropping a few floaters along the way. Rearden is an UNSIGNED SENIOR.
Top Performances:
MacKenzie Massey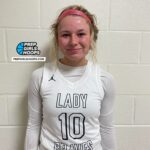 MacKenzie Massey 5'7" | SG Socastee | 2023 State SC started off the season with a 22-point performance for the Lady Braves. Massey got things going first off by connecting on a handful of three pointers on the evening. Mackenzie brings opportunity to the floor when it comes to getting a loose ball, finding a rebound on one end and just being in the right spot at times. She knows how to hustle and to be active at all times on both ends of the floor. Massey is an UNSIGNED SENIOR.
Jessica Woods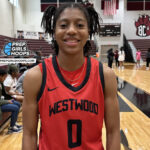 Jessica Woods 5'7" | CG Westwood | 2023 State SC is headed off to Campbell University after her high school career is over at Westwood HS. Woods started off the evening scoring 10 points on (3) Three pointers including a 4-point play for the Redhawks. Jessica brings so much craftiness and savvy to the floor with her ability to get to the rack at ease and set-up her teammates with open looks. She plays the game very smooth with her ability to change directions in the open court and stop and pop from the mid-range at times.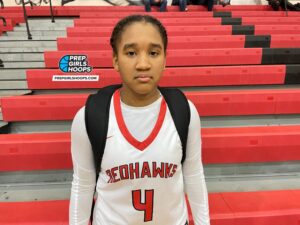 Makiah Thompson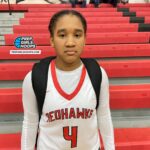 Makiah Thompson 5'5" | PG Westwood | 2024 State SC really came to play today by scoring 16 points in the opening round game vs Loris HS. Thompson set the tone with her play from the point guard spot all night long. Makiah showed great body control to the rack and really used the ball-screen well to survey defense. Thompson was (8-8) on the foul line in the opening game.
New Names to Follow: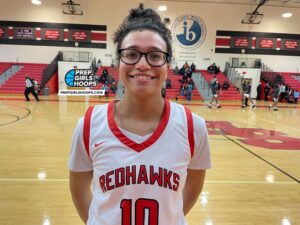 Thanna Davis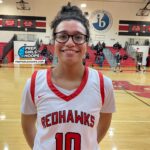 Thanna Davis 5'6" | SG Westwood | 2025 SC was extremely productive all day long for the Redhawks. Davis has a sweet stroke from downtown and doesn't look to force shots at all. Davis receives the pass in the pocket and seems to be shot ready every time. Thanna was very vocal on the floor chatting it up with her teammates and in constant communication all game long. Thanna finished with 14 points in the opener vs Loris HS after connecting on 4-three pointers from downtown.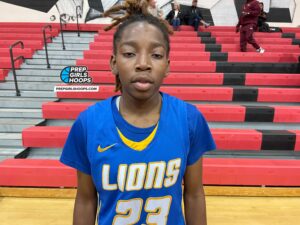 MariAsia Moody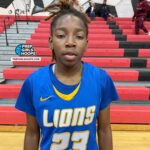 MariAsia Moody 5'6" | CG Loris | 2025 SC was quite shifty with the ball heading to the rack today. Moody thrives on a game of attacking the rack and being a slasher deluxe type player. MariAsia is a pesky on the ball defender who really plays older than her age on the floor.
Playing Up This Weekend: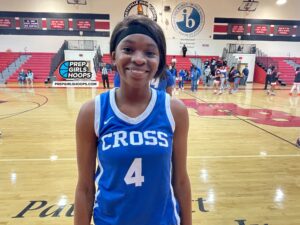 The Cross HS Lady Trojans are a Class 1A school located down in Berkeley County in the Lowcountry. The Lady Trojans suffered an opening round loss to Socastee HS a Class 5A program. Tranice Smalls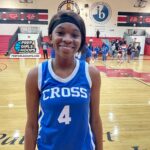 Tranice Smalls 5'7" | SF Cross | 2023 State SC led the charge with 23 points. Smalls an undersized shooting guard was able to dial up some long-range shooting from deep. Lauren Middleton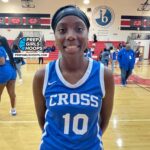 Lauren Middleton 5'6" | CG Cross | 2025 State SC and Diamonique Nelson both contributed 16 and 12 points respectively for the Lady Trojans. Middleton has been a constant figure for the Lady Trojans over the past few years.
Nelson today brought a fearless mindset to the floor and a lot of hustle. She was involved in every play and skirmish on the floor today it seemed for the Lady Trojans.
Junior Duo: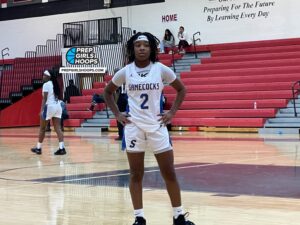 Rickell Brown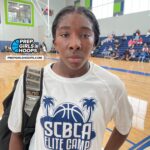 Rickell Brown 5'6" | SG Sumter | 2024 State SC and Keziyah Sanders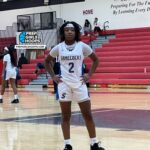 Keziyah Sanders 5'3" | PG Sumter | 2024 State SC provided 34 points in the Sumter HS Lady Gamecocks opening round victory over Northwood Academy. Brown a combo guard finished with 18 points and showed a variety of ways to score the ball. Rickell was able to score the ball from 3 levels and really played the game aggressively on both ends of the court. Sanders a scrappy guard provided a much-needed spark down the stretch for the Lady Gamecocks. She plays her best game when in attack mode heading to the cup. Keziyah has no problems jumping on the floor for loose balls and getting a few floor burns in return for her efforts. This Class of 2024 duo will provide plenty of leadership for the Lady Gamecocks squad this season.
New Faces in New Places:
Northwood Academy has landed a few transfers to this season's squad. Morgan Jones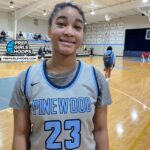 Morgan Jones 5'6" | CG Northwood Academy | 2024 State SC was not in attendance here today at all for the Lady Chargers. Jones has left Pinewood Prep for Northwood Academy and won't be eligible until January 2023. Ashton Wyndham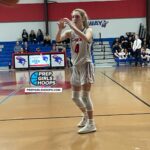 Ashton Wyndham 5'5" | PG Northwood Academy | 2024 State SC has transferred into Northwood Academy from nearby St John's Christian Academy. Wyndham scored 3 points in the opener vs Sumter HS.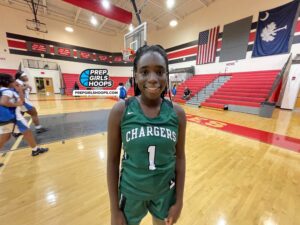 Virginia Byrd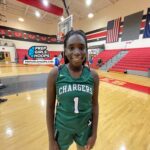 Virginia Byrd 5'3" | PG Northwood Academy | 2024 State SC had a strong debut for the Lady Chargers on her way to scoring 16 points. Byrd a junior combo guard brings plenty of hustle and perimeter shooting to the table. She made the move over to the Lady Chargers from Lucy Beckham HS.
Jasmine Frierson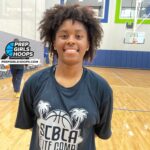 Jasmine Frierson 5'5" | PG Hartsville | 2024 State SC has been a welcomed addition to Hartsville HS this season. Frierson a junior played last season at A.C. Flora HS. Jasmine is a Top 20 player in the Class of 2024 Palmetto State Class.
Youth Movement: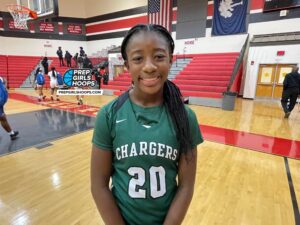 Maliyah Birch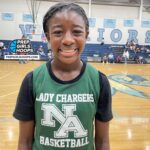 Maliyah Birch 5'3" | PG Northwood Academy | 2027 SC sure doesn't play like an 8th grader at all. Birch stepped up and scored 20 points in the opening round for the Northwood Academy HS. Maliya was able to drop several three pointers along the way while she logged a lot of minutes in this contest today vs Sumter HS. Maliya is the youngest daughter of Lady Chargers Head Coach Ginnell Curtis.
Players Not Playing Today:
Kiara Croskey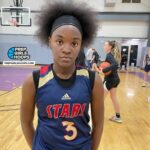 Kiara Croskey 5'6" | PG Sumter | 2024 State SC , Alayah Birch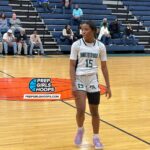 Alayah Birch 5'9" | CG Northwood Academy | 2024 State SC , Anna Reese Pratt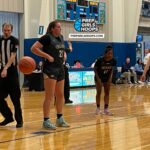 Anna Reese Pratt 6'4" | C Socastee | 2024 State SC and Teanna Perry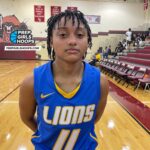 Teanna Perry 5'1" | PG Loris | 2025 State SC didn't play this weekend in the event. Croskey is still out until it looks like Late December – early January according to her mother with an injury. Kiara one of the top players in the junior class went down back in the spring during the Grassroots Circuit. Birch looks to be out for the year at Northwood Academy. Pratt was walking around in a boot today in Hartsville. Perry didn't play due to a coaching decision by the Loris HS staff.