I attended the annual Lake Hamilton Classic Tournament which began Tuesday, November 15, and concluded Saturday, November 19, 2022. Six quality programs participated in this event. There was high-level competition throughout the tournament.
Greenwood H.S. Madison Cartwright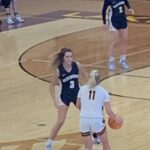 Madison Cartwright 5'11" | SF Greenwood | 2023 State AR , Anna Trusty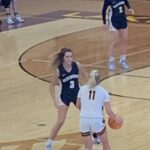 Anna Trusty 6'0" | CG Greenwood | 2024 State AR , and Carly Sexton were clearly the top standouts for the Bulldogs. Cartwright 2023, a University of Tulsa signee led Greenwood to an undefeated 3-0 record. Trusty 2024 5'10" SG and Sexton 2024 5'6″ Wing played flawlessly running the floor and scoring at will. These two juniors, along with Cartwright, will lead the Bulldogs to another deep playoff run and possible back-to-back State Championships.
Hot Springs H.S. Nicholette Nelson and Annalise Stanford led the upstart and very young Trojans. Nelson 2024 is a 5'11" lefty forward with a soft touch to the rim. She's got length and seems to glide to the basket. Nicholette is an excellent rebounder on the defensive end but needs to work on her weak side from an offensive perspective. Annalise 5'4″ 2024 point guard is the quarterback of the team getting touches on every possession. She has excellent court vision and is clearly the team leader.
Little Rock Christian Academy-Whitley Rogers 2026 is a very talented freshman. I was impressed by every part of her game. Whitley is a 5'9″ point guard with speed and quickness. She has the size and strength to go down low and score. She can hit the three but prefers to attack the rim. Look for this student/athlete to make some noise this coming season.
Kirby H.S. Jenna Bailey 2023 is the leader of this Trojan squad. She is an excellent catch-and-shoot scorer. She works very hard to get open but can also dish off to a teammate when she recognizes the double team. Jenna protects the basketball on offense and has great footwork on the defensive end. Look for this 5'4″ point guard to lead her team to another deep playoff run.
El Dorado H.S. London Ingram 5'10" SG 2024 and Lauren Nelson Lauren Nelson 5'11" | SF El Dorado | 2023 State AR 5'11" 2023 F Lauren gets up and down the floor. In the half court, she works mainly in the paint posting up for the entry pass. Lauren is very athletic. She has extraordinary length which enables her to rack up rebounds. When she plays under control, she is a force to deal with. London usually plays facing the basket, but can post up if needed. Her strength is running the floor. When she gets out on the break no one will catch her.
Lake Hamilton H.S. Brooklynn Braughton 2024 5'6″ SG has a high-level basketball IQ. She can handle the rock proficiently. She can play the point guard position but prefers the swing guard spot. Defensively she's intense, logging multiple steals. Her anticipation skills are impressive by positioning herself to take a charge when the opportunity is there. When her counterpart, 5'6″ Emma Hughes 2024 recovers from an ACL injury, Brooklynn will get back to her swing guard position and will increase her offensive productivity.
All of these students/athletes were standouts in the tournament and will undoubtedly contribute to their respective team's success this coming season. Next, I will list some newcomers that got my attention during this 5-day event.