A notable classification change, 14 returning all-league players, a few all-state returnees, notable college commits, the defending 3A state champion, the 3A runner up, and a key loss sprinkled in highlight this look at the Great West Activities Conference. All roads to the GWAC league title and the 3A state championship run through defending state champ Goodland.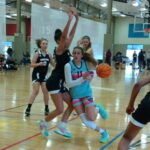 Cimarron (2022 record 16-7). Statewide, Cimarron is a early favorite to reach the 3A state tournament especially since a league rival has moved up to 4A. I hope, like last year, they do not wind up in the same substate as Goodland.
Taryn Jantz Taryn Jantz 5'6" | SG Cimarron | 2023 State KS , 5'10", SG, 2023 – Jantz brings good size, length, and athleticism to the team. She is a solid three point shooting threat including off the pull-up. She also has handles to get to the hole off the bounce and to create space. Jantz will play some three as well.
McKayla Miller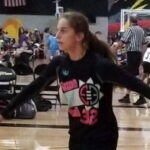 McKayla Miller 6'1" | CG Cimarron | 2023 State KS , 6'1″, PG/CG/SF, 2023 – Sometimes you know there is something wrong with all-state honors when one of the top 5 2023s, indeed top 3A prospect, in the state with substantial NCAA Division I interest, did not receive all-state honors much less first team honors by the Kansas Basketball Coaches Association. Welcome to Cimarron do everything player, and Creighton University commit, Miller's high school career. Even with running mate, and Pratt Community College starter Emily Acton, Miller lead the team scoring, rebounds, steals, blocks, and assists. Just like the year before. Two important attributes Miller has is that she makes everyone around her better and, which is usually overlooked, is a terrific offensive rebounder with timing to catch and finish the board while airborn. She scores well at all three levels, has solid transition handles, and creates well for herself and her teammates. She is also a solid defender who will turn defensive rebounds or a steal into a transition basket quickly.
Caitlyn Sonday Caitlyn Sonday 6'0" | PF Cimarron | 2023 State KS , 6'0″, C, 2023 – An honorable mention selection. Sonday has good physical size, does a good job of taking up space, and is a solid inside scoring and shot blocking presence who can go off if opponents do not keep a body on her. She also has solid north-south transition ability.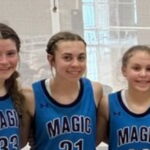 Colby (2022 record 9-13). Colby returns a good group of young players. With the graduation of Metropolitan State Roadrunner Brooklynn Jones expect to the Eagles to see several players step up.
Alisabeth Barton Alisabeth Barton 5'5" | PG Colby | 2025 State KS , 5'4″, PG, 2025 – Barton has quick hands, terrific on-the-ball and off-ball anticipation, and the ability to finish at speed and in traffic. She also has solid floor vision. With her ability to shoot the three off the catch and the dribble Barton can be expected to be a keyscoring cog for the team.
Logan Nolan, CG, 2025 – Having a season of varsity and a summer of club ball behind her Nolan can be expected to be a more poised player this season. She has decent handles and looks to create off the bounce. Nolan also has good lateral quickness.
Anna Stramel Anna Stramel 5'10" | SF Colby | 2024 State KS , 5'10", SF/PF, 2024 – Stramel has been battling a foot injury since last season and the timeline for her return is uncertain. When healthy Stramel brings to the table a good combination of size, athleticism, physicality, and versatility. A good rebounder, Stramel can play inside and out. Stramel has a solid jumper, three point range, good interior handles, and finishing ability.
Anna Starbuck, 5'8″, PF, 2024 – While undersized from a height standpoint Starbuck was a effective interior competitor last season. She has good physical strength, is active at defending with a denial, and has solid transition speed.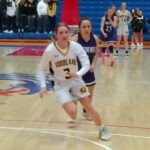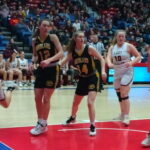 Goodland returns nearly everybody including including three all-league selections. Key will be seeing who steps into the leadership void created by the graduation Colby Community College volleyball player Emma Lehman.
Haley Biermann, PG, 2024 – Junior point guard Haley Biermann is among the returnees expected to come off the bench first.
Lindsay Cure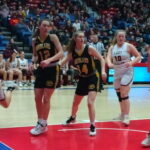 Lindsay Cure 6'0" | PF Goodland | 2023 State KS , 5'11", PF, 2023 – Cure is the top post threat on both ends of the floor. A strong face-up and back-to-basket threat Cure can be counted on the shut down the post player on opposing teams. Cure wrapped up last season with third team all-league honors.
Olivia Lehman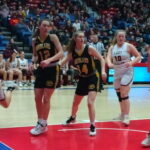 Olivia Lehman 5'11" | SF Goodland | 2023 State KS , 5'11", PF/SF, 2023 – Lehman was the first person off the bench last season. She brings good size and athleticism.
Jaxi Mitchek Jaxi Mitchek 5'7" | CG Goodland | 2024 State KS , 5'8″, CG, 2024 – Mitchek is a solid combo guard who will run some point as well. With the size the team has, having a player who can consistently make good entry passes is important and Mitchek excels at it. She also is two-way threat. She can slash or get to the rim off the bounce to finish. Mitchek also will use her quick hands and feet to create turnovers that lead to easy buckets. She was earned third team honors last season..
Talexa Weeter Talexa Weeter 6'0" | CG Goodland | 2023 State KS , 6'0″, PG/CG, 2023 – Weeter, a Fort Hays State commit, runs the point but can play and defend all five positions. With size, strength, handles, and aggressiveness Weeter is walking mismatch for defenders. Defensively she has the quickness to defend ball handlers, length to disrupt passing lanes, and strength to compete with any big in the class. Weeter was a GWAC and KBCA 3A first team selection.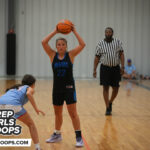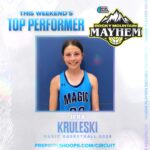 Holcomb (2022 record 12-10). The team returns a pair of all-conference players who put a substantial amount of work in growing their game. Holcomb will have among the strongest back courts in the league.
Halle Jones Halle Jones 5'5" | PG Holcomb | 2025 State KS , 5'5″, PG, 2025 – Jones is a returning honorable mention all-league selection who brings quickness on both ends as well as leadership to the position. Jones will spy on the backside to jump lanes when the ball is being reversed on the perimeter. She also has quick hands to just pick a players pocket. Once with the ball Jones heads to the basket quickly for a lay-in. Defenders must come out on her as she is a solid perimeter threat with a quick release.
Jera Kruleski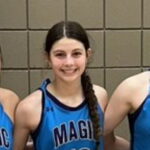 Jera Kruleski 5'7" | SG Holcomb | 2024 State KS , 5'7″, SG, 2024 – A returning second team all-league selection Kruleski is lengthy, fast, and athletic. She also shoots well and can drop bombs with great range. When she gets hot she will rack up points by the bushel. Kruleski has great hands on both ends of the floor, is fairly heady, and can finish with length over taller players. She is only going to get better as she gains strength and shows equal confidence handling the ball with either hand.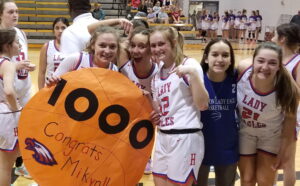 Hugoton (2022 record 22-3). After two consecutive deep runs in the 3A state tournament that culminated last season in a one-point loss to league rival Goodland the Eagles move up to 4A. With the graduation of Breckyn Haar, who had a career season in the post, the team will be looking for someone to step up right away on both ends of the floor inside. Additionally, the team will be relying on the top layers on the bench a season ago and the development of younger players to fill the void created by an injured Mikyn Hamlin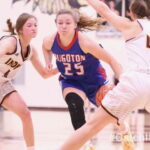 Mikyn Hamlin 5'8" | CG Hugoton | 2023 State KS .
Mikyn Hamlin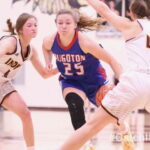 Mikyn Hamlin 5'8" | CG Hugoton | 2023 State KS , 5'9″, CG, 2023 – Hugoton suffered a major blow when Hamlin went down with a knee injury mid-summer. A Wyoming Cowgirls commit, it remains to be seen whether she will be able to return in time for the post-season. The returning GWAC first team and KBCA 3A second team selection is strong and physical. She likes to get down hill and use her strength to create space and draw fouls. Hamlin has a good mid-range game and shoots the three ball off the bounce as good as anyone.
Gianna Vos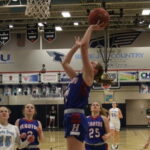 Gianna Vos 5'9" | SG Hugoton | 2023 State KS , 5'9″, SG, 2023 – One of the top three point shooters in the state Vos is returns after earning first team all-conference and honorable mention 3A all-state honors a season ago. A lefty with a long wing span Vos is adept at finishing with both hands. Vos also can take defenders off the bounce, split defenders, and transition with speed with the ball. She is a commit to Florida Southern College.
Summya Adigun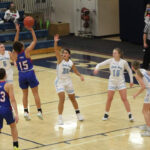 Summya Adigun 5'8" | SF Hugoton | 2023 State KS , 5'8″, SF/PF, 2023 – Adigun is a diversely skilled player who is experienced at playing the 1-4 positions on both ends of the floor. Playing primarily on the wing Adigun is a good creator, rebounds it hard, and just knows how to play the game. She is a commit to Northwest Oklahoma State University. Adigun earned second team all-conference and 3A KBCA honors.
Julienne Salazar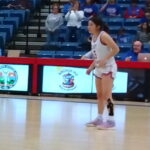 Julienne Salazar 5'2" | PG Hugoton | 2023 State KS , 5'2″, PG, 2023 – Salazar has worked hard over the past year plus to strongly fill a starting role and her work continues to pay dividends. She has good defensive quickness and handles to finish at speed in transition.
Scott City (2022 record 8-13). Regardless of their record the Beavers historically have been a team the opponents must show up against every night because they always give their best shot. Key be for the returners to lead the less experienced players through a tough league, a tough schedule, and to show confidence in whoever takes over at the point.
Erika Felker
Erika Felker 5'6" | CG Scott City | 2024 State KS , 5'6″, CG, 2024 – Felker earned second team honors last season. A tenacious defender, she also has good half court visions and the ability to score the mid-range jumper with elevation. A top floor leader candidate Felker has experience bringing the ball down the floor against pressure and knowing the role of a distributor.
Brooke Strine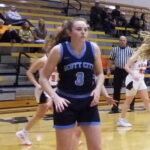 Brooke Strine 6'0" | C Scott City | 2023 State KS , 6'0″, C, 2023 – Even when you have good height and size a player can be overlooked. Playing in a tough league with many good bigs Strine has often been a victim of just that. The returning honorable mention selection is a shot blocker with good anticipation, a strong rebounder, and a substantial scoring threat around the hole and in the mid-range. Having played at the varsity level for several years she also is experienced and knows what needs to be done to be successful.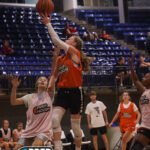 Ulysses (2022 record 2-18). The Tigers continue to rebuild after a 4A state tournament appearance a couple seasons back that left the cupboard pretty empty due to graduating a varsity squad so senior laden that only one non-senior remained. Ulysses returns some younger talent that looks to lead the inexperienced team back to competitiveness.
Chloe Curl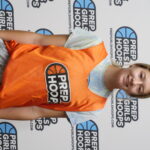 Chloe Curl 5'10" | CG Ulysses | 2024 State KS , 5'10", SG/SF, 2024 – Curl returns to the court after missing her sophomore season due to injury. Long, quick, and rangy Curl is a good jump shooter off the catch and has among the quickest releases around on her three ball. Curl has been gaining in visibility due to her club ball play this past summer and with continued development has the potential to develop into one of the top players in the west regardless of class.
Cami Kenny, 5'10", SF, 2024 – Kenny earned honorable mention honors last season. Kenny is a steady presence that walls up well defending inside and makes good decisions with the ball.