With the first games of the high school season less than two weeks away here is a look at top rank movers to watch in the 2023 class. Prospects are listed in order of the number of places advanced.
Lily Ba Lily Ba 6'2" | C Blue Valley West | 2023 State KS , 6'3″, C, Blue Valley West – 86 spots to #19 – Not only has Ba rocketed up the ranks 86 spots but also debuts in the top 20 at #19. Ba has long been respected for her size, strength, and abilities to take up space in the paint and run the floor. Most players not only physically cannot match up with her around the hoop but she also is a shot blocker, has legitimate three point range, and shoots quickly off the catch. Ba has signed to play for Tulane University.
Adyson Scott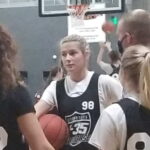 Adyson Scott 6'0" | SF Stanton County | 2023 State KS , 6'0″, SF, Stanton County – The reigning Hi-Plains League player of the year, and Kansas Basketball Coaches Association 2A honorable mention selection, blasted up 31 spots to #88. Since I first saw her more than two years ago she has developed her abilities and made effective use of her size to reach a point there is not a great deal she does not do well. Good transition speed, handles well with speed. Passes and catches well in transition. Lengthy, athletic, fluid, coordinated. Hustles. Use of behind the back dribble to get a step. Finish through traffic. Drive with either hand. Able to finish reverse layup with right hand crossing the rim to the left. Good looking three point shot. Has block face up and back to basket game. Good bounce to go back up off ORB. Scott has received an offer from Barton County Community College.
Sariyah Williams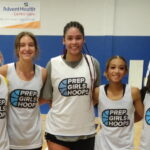 Sariyah Williams 6'1" | C Olathe North | 2023 State KS , 6'1″, C/PF, Olathe North – A transfer from Gardner-Edgerton who has not played until the last few months since Summer 2021 due to injury, Williams climbed 28 spots to #83. Prior to her injury PGH's Phillipe McCree reported on her play at the 2021 MAYB Girls Nationals that she was a "Good sized post who did a good job of carving up space in the paint. Did a good job of tracking down rebounds. Solid right-handed post moves. Also showed the ability to step out and defend in open space." While not yet to 100%, at the October 2022 PGH Top 250 Expo in Shawnee, she was put to the test at a major individual event. Putting in heavy minutes through the four games, battling other bigs of all sizes and capabilities, Williams passed with flying colors. She has a big frame to play power forward and center positions. She showed great hands, scoring ability at all three levels, and creativity around the basket. Her block game on both sides was evident but she did not show its depth. I am quite confident that it is there. She showed good footwork to score on both blocks but also to get a step from elbow range to slice by other bigs for lay-ins. A high potential, uncommitted player she has since drawn substantial interest from several Jayhawk Conference Jucos and NAIA schools.
Ava Baker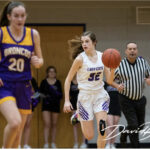 Ava Baker 5'10" | SF Louisburg | 2023 State KS , 5'9″, SF, Louisburg – Climbing 23 spots to #85, Baker had a solid October PGH Top 250 Expo event in Shawnee and played well at the September I-35 Showcase in Wichita. I also saw her at the June MAYB Summer Kickoff. Having already received an offer from Juco Div I Cloud County Community College, Baker has speed with and without the ball, athleticism, and hops. She also can light up with range and shoots well off the catch and off a really nice jab step step-back. Defensively she has active feet and makes good use of her peripheral vision defending on the perimeter.
Daphne Bracker-Sturm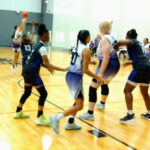 Daphne Bracker-Sturm 6'3" | C Lawrence | 2023 State KS , 6'3″, C Lawrence – Bracker-Sturm has had a break-out summer. Having seen her at several stops on the PGH Dynasty Circuit playing for her Royalty Basketball club team and then at the Shawnee PGH Top 250 Expo in October I have seen the enormous growth in her game that has resulted in her climbing 22 spots to #116. Bracker-Sturm has great size and has substantially improved her quickness so that she defends well on the short perimeter and on the interior. She also has developed into a solid post-up threat out of her face-up and back-to-basket game. She transitions well and protects the ball well off the rebound. Bracker-Sturm has drawn strong interest from several D III schools.
Serenity Keo Serenity Keo 5'7" | CG Lawrence | 2023 State KS , 5'7″, CG, Lawrence – A two-time Sunflower League honorable mention selection Keo advances 17 spots to #84. While I did not see much of her this summer I did the summer ago. Keo is consistent, athletic, and a solid scoring threat from all three levels and can make the "did I just see that?" creative scores around the hole. Opponents have to be aware of her ability to step in to draw charges. Keo is uncommitted.
Delanie Tally Delanie Tally 5'6" | PG Louisburg | 2023 State KS , 5'6″, PG, Louisburg – I enjoyed the opportunity to see Tally play with her high school team at the MAYB Summer Kickoff in June. She has quick hands, dribbles well with speed, and is a consistent three ball threat. One of the little things she does that I really like is her ability to slide well into space of the pass to set up a shot off the return pass. Defenders who turn their head on her entry pass are dead money. With an offer from Kansas City Kansas Community College in hand, Tally climbs 17 spots to #144.
Jaci Vonlintel Jaci Vonlintel 5'11" | CG Thomas More Prep-Marian | 2023 State KS , 5'11", CG/SF, Thomas More Prep-Marian – Vonlintel was a first team selection this past season in the brutal Mid-Continent League after earning second team honors in 2021. She is regarded as having good length, the ability to hit the three ball and get to the rim, and is a very good athlete and defender on the interior and on the perimeter. The uncommitted Vonlintel advances 17 spots to #94.
Maddie Mauch Maddie Mauch 5'4" | PG Shawnee Mission Northwest | 2023 State KS , 5'4″, PG, Shawnee Mission Northwest – Mauch is a very heady point guard who is quick afoot as well has with her hands. With a strong change of pace dribble in her arsenal she can get to the hoop to finish with either hand at speed, dish well on the interior, and is a good perimeter shooter. With an offer from Kansas City Kansas Community College already, Mauch moves up 15 spots to #117.