I have seen a lot of basketball this fall. Here are 5 new players added to my radar. This fall was the first time I saw these players play.
Ella Flanagan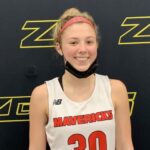 Ella Flanagan 5'10" | SF St. Mark's | 2024 State NewE , High School ST Marks, Position PF, Class 2024,
Ella has a versatile skill set and plays with a high motor. She is very good on the defensive and offensive rebounds. She can also be a slasher, shoot the three, or be a facilitator. She has a high basketball IQ and a good feel for the game. Definitely a player that can help a college program.
Gabriella Bellacqua Gabriella Bellacqua 5'8" | CG Pentucket Regional | 2024 State NewE , Class 2024, High School Pentuket, Position CG
Gabriella is a hustler, and a skilled guard. She does what ever the team needs from her to help them win. She is often the first person to dive on the floor for a ball. She can get to the rim and score, and also rebounds the ball well. Defensively she puts good pressure on ball handlers, and gets a lot of steals by jumping the passing lanes.
Jaelynn Scott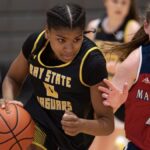 Jaelynn Scott SG Wachusett | 2026 State NewE , High School Wachusett, Class 2026, Position CG
Scott has good length for her position and skill set. She is a three level scorer, and likes to push the ball up the floor. She can shoot from the outside as well. She plays with high energy on both sides of the floor. On defense she is versatile, moves well, and can guard multiple positions. Definitely a lot of upsides in Jaelynn's game.
Alana Cudmore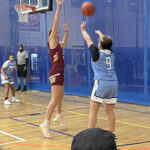 Alana Cudmore 5'6" | CG Milbury | 2024 State NewE High School Mildbury, Position CG, Class 2024,
Alana has become a more diverse player on offense. She has long range and her shooting and confidence from three point range has really impressed me. She has a high arcing shot, that helps her shoot over bigger defenders. She can create her own shot, and moves with a purpose away from the ball. She also handles the ball with confidence, and is a hustler.
Emma Smith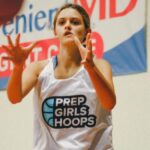 Emma Smith 5'9" | SG Cca | 2026 State NewE , High School Concord Christian Academy, Position SG, Class 2026
Emma has had an impressive fall for the MCW Stars. She is a versatile guard who can score in a variety of ways, and also get her teammates involved. She plays with high energy, and has shown the ability to score and make moves with her off hand. She can pull up, get to the rim, or make the smart pass. Emma has good legth to match her skill set. Watch out for Smith as she enters the high school basketball scene.