As I continue catching up enjoy learning about more players who competed in October's PGH Top 250 Exposure event at Okun Arena, Shawnee, Kansas. Enjoy this look at a very young team 3 who had three players make all-event first and defensive teams.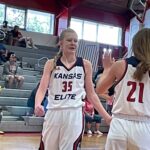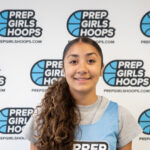 Regan Becker Regan Becker 6'0" | CG St. James Academy | 2026 KS , 6'0″, PF/CG, St. James Academy (KS), 2026 – Becker was an event all-defensive and first-team selection who showed the ability to play all five positions. Interior opponents noted her ability to apply physical pressure, release, and then reposition to pressure – making them pay attention to their own balance as well as knowing where she was versus thinking primarily about getting into position to catch a pass. A multiple threat offensively, my colleague Adrian Maloney regarded her as one of the top five shooters of the event. Becker showed the ball well to shake a defender to score a layup. She also showed quick decision making and a swift perimeter release.
Danae Copeland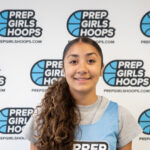 Danae Copeland 5'5" | PG Olathe North | 2026 KS , 5'5″, PG, Olathe North (KS), 2026 – Copeland showed the desire to run the show. She also showed solid handles with speed and the ability to finish off the bounce. Among the things that really caught my eye were her ability to use her quick hands to get them on the ball of a basket attacker and good explosiveness in some situations off the bounce. are Finish left off the bounce. Some things I will be looking for in the future are consistency in shot selection, elevation on her perimeter jumper, and looking at the roller/slipper off the high screen.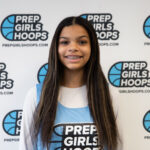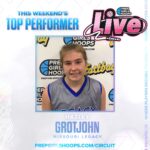 Ajala Glover, 5'10", SF/PF, Lawrence (KS), 2025 – Among the things Glover did well were transition hustle on the break, an ability to finish on the fly off the catch, and some general athleticism. She has good length and size to score contested shots. I will be looking for quicker feet and a better stance to defend perimeter drivers. Some solid potential to keep an eye on with Glover.
Hazley Grotjohn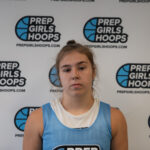 Hazley Grotjohn 5'6" Seneca | 2025 MO , 5'6″, PG, Seneca (MO), 2025 – Grotjohn brought what she always brings to events where I see her, intensity; fire; and toughness. And if she senses an edge on her opponent she will abuse it mercilessly. Grotjohn showed very strong handles, quick hands, and very good movement into creases in a half court defense. What I enjoyed most is watching her head on a swivel running the break. She passed with strength and accuracy in transition and showed athleticism on finishes. As I expected Grotjohn showed serious scoring ability in the mid-range and around the hole. I would like to see her improve her perimeter shot selection and accuracy as well as getting more air under the ball around the hoop. Because of her driving ability she has the potential to be an extremely successful, six assists, and three-to-one assists to turnovers kind of playmaker.
Regan Hervey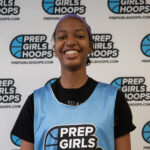 Regan Hervey 6'0" North Kansas City | 2024 MO , 6'0″, PF, North Kansas City (MO), 2024 – There is a great deal to like about Hervey and it all starts with good size, length, and speed when she hustles in transition. The potential is there for Hervey to be an extremely good off-ball rim protector and an athletic finisher around the basket. She showed flashes of both out of pivot moves from 8′ away and by seeing off-side drives developing and walling up on her help. What I hope to see in the future is back-to-basket and face-up game diversity and better body positioning to help her stand stronger when defending.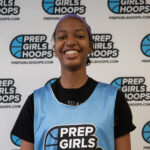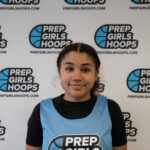 Brynnae Johnson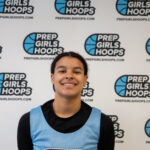 Brynnae Johnson 5'8" | CG Lawrence | 2025 State KS , 5'8″, CG, Lawrence (KS), 2025 – An all-event first team selection Johnson was the talk of the event from the many players familiar with her. In general they thought she played the best they had seen. She showed quick, strong drives across the lane in both directions to elevate quickly and athletically; transition speed with the ball, and perimeter shooting ability. Her ability to change dribble speeds when working to create was a cut above, including when setting up a defender to use a screen. I will really be watching how good she gets at canning her mid-range, step back bounce jumper. On both ends of the floor Johnson showed serious quickness.
Imani McGlory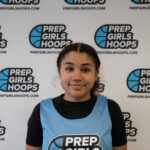 Imani McGlory 5'7" | SG Topeka West | 2026 KS , 5'7″, CG, Topeka West (KS), 2026 – McGlory has some solid abilities. Those include fairly good handles in the half court against very solid defenders and three ball shooting with range. When she was decisive about what she wanted to do with the ball she played well. To be effective she will need to do that consistently. I look forward to seeing results of work put in to get faster in transition and to find an extra step in lateral quickness. McGlory displayed a good understanding of the game and gaining in the three areas will make her fundamental abilities that much more impactful.