Now that we have a week of games under our belt, I want to talk about some uncommitted performers who had an excellent first week of the season. There have been plenty of incredible performances to begin the season. However, there are four players I'd like to highlight today.
Alayna West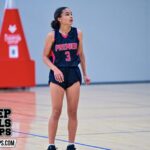 Alayna West 5'9" | PG Madison La Follette | 2024 State WI
The La Follette guard has begun the season on a tear. She's broken the Lancers' single-game scoring record in both of their first two games of the season, with a 36-point opening night performance, followed by a 48-point performance against Madison Memorial. West is one of the most athletic wings in the Madison area and contributes to every aspect of the game. West has added 40 rebounds in her first two games, which is the most for anyone with two recorded games. She's done everything to start the season.
Jayden Nortier Jayden Nortier 5'9" | SG Clinton | 2023 State WI
The Clinton wing began the season with 42 points in a narrow four-point win to begin the season. Nortier is an excellent two-way wing who'll help a team at the next level. She's physical and possesses more skill than she's given credit. Nortier can get to the basket, defend on the wing and in the paint, and knock down perimeter jumpers when teams help off her. Nobody helped herself more than anyone in the first week of the high school season.
Emily Montgomery Emily Montgomery 5'9" | SG South Shore | 2024 State WI
Players get lost in the shuffle in Division 5. There are so many kids, and it's challenging to keep up with everyone. However, Montgomery and South Shore have an excellent duo, and the now junior is one of them. In the first game of the season, the Cardinal recorded a 24-point and 12-rebound game to open the season for South Shore in a dominant win over Prentice. This South Shore team has the tools to make a run in February and March, and that could be down to Montgomery's improvement. She played well last summer and began her season in style. Keep an eye out for South Shore in D5.
Kyrin Lile Kyrin Lile 6'0" | PF Elkhorn | 2026 WI
The Elkhorn forward began her freshman season in an ideal manner, with the Elks winning their opener and Lile playing well on both ends. She is a dual-threat post who can make jumpers or bury opposing forwards under the basket. Lile has plenty of room to grow, but her ability is apparent, and Lile made that clear in the first high school game of her career.