Basketball will once again soon be the favorite sport of many a South Carolina sports fan as the 2022-23 will soon tip off across the Palmetto State.
That is where we come in. Throughout the last several days and weeks, Prep Girls Hoops has unveiled in-depth, comprehensive previews of every region in the state. In those, we take a look at the key players in those regions and offer our opinion on where we think which teams will finish where in the standings.
We are close to concluding our previews of the teams in Class 4A. Next up is Region 7-AAAA.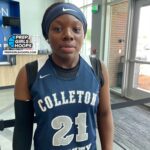 5'3" | CG | 2023
Colleton County
Chisolm plays for a team that has the distinction of being the lone high school in the entire county. She has also participated in track and field events as well as softball games throughout her athletic career. Chisolm is a combo guard for the Cougars that delivers a great deal of hustle for her team. With the heads up attitude that she plays with, it enables her to take advantage of if an opposing ball carrier makes a miscue leading to additional Cougars possessions. Chisolm puts plenty of points on the board and also hauls in a good number of rebounds – hence why she is a double-double possibility on a consistent basis.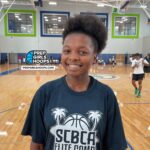 5'8" | CG | 2024
Bluffton
(*PGH Preseason Player of the Year*)
The rest of the Palmetto State high school hoops landscape may be encountered an extra-motivating Heyward given her Bobcats suffered a surprising first-round exit to Darlington. Heyward has also participated in track and field events throughout her high school career. She has accurate 3-point shot from that particular range and can also bring down a good bit of rebounds. In addition, she can get out in the open floor and convert on transition baskets. Heyward will reject a good number of shots and can create extra possessions with how many steals she can rack up. Outside of the loss to the Falcons, the only other defeat Bluffton suffered was to Northwestern.
5'9" | PF | 2024
Hilton Head Island
Young put together her best statistical season in her sophomore campaign with the Seahawks as she went for 14.3 points and 8.8 points in the 20 games she competed in last season. In addition to the interior presence she presents, Young brings versatility with her ability to play a number of positions – including as a shooting guard and as a small forward. Young can also handle the ball as if she were a one or two guard and is a consistent threat to steal the ball and create extra possessions for Hilton Head Island. The Seahawks will be in their fourth season as a 4A team since moving up from 3A.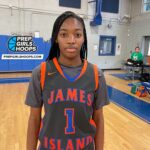 5'7" | PG | 2024
James Island
Duncan and the Trojans will be playing its third season at the 4A level since moving down from Class 5A following the 2019-20 season. She is coming off an AAU season where she ran grassroots with SHOTS United. As is the case with many a star, she gets the lion's share of her attention for her scoring. Duncan also is unafraid of contact that can place her at the free throw line. Another of her strengths is the ability to convert on tough shots in addition to her ability to finish at the rack. Duncan is also a name to be reckoned with on the defensive side.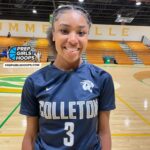 5'7" | SF | 2024
Colleton County
Brown stays extra active during the athletic year given she competes in softball, track and volleyball. Playing a number of sports will certainly make one very athletic and she brings that athleticism to every game she plays in. Between that and her ability to handle the basketball, Brown is a difficult one to contain when she goes at the rim. She is an efficient floor runner as well and can get out in transition to convert on high-percentage opportunities. Brown had a stellar sophomore campaign at Colleton County as she averaged 15.6 points, 4.9 rebounds and 3.9 steals last season.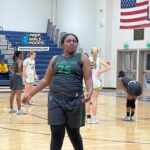 5'10" | PF | 2024
Bluffton
When looking at Washington's athletic resume, one will see basketball and one will also see track and field given she has also participated in track and field at the shot put and the discus throw. She can bring down a great deal of rebounds and a number of rebounding battles will go her way. In addition to the paint presence she provides, Washington is unafraid of physicality. She presents a tough matchup for anyone in the interior who is a four or a five. She participated in 18 games last season and averaged 9.6 points and 9.7 rebounds a game for the Bobcats.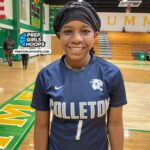 5'4" | PG | 2024
Colleton County
Green took to the court in 21 games last season for the Cougars. Green will connect on 3-point attempts in addition to placing points on the board in the midrange game. She is a threat to corral steals and those can translate into transition plays. In addition, Green does many of the things that may not always show up on the stat sheet but have a great impact on the game. These include converting on hustle plays. Green is listed at 5-foot-4 and primarily will play in the backcourt at the one. Her shot selection is another aspect of her game that is a plus.
5'2" | PG | 2024
Bluffton
Rodney will be coming into the 2022-23 season with more experience than the traditional junior. She has been playing at the varsity level since she was a seventh grader and her athletic resume also includes track and field work. Rodney has earned the playing time she has garnered over the years with her play. She can look to score the ball on plenty an occasion and also understands when the right occasions are to score and pass. Rodney is also an efficient floor runner and defensively she will convert an opposing team's ball handling miscue into an extra Bobcat possession.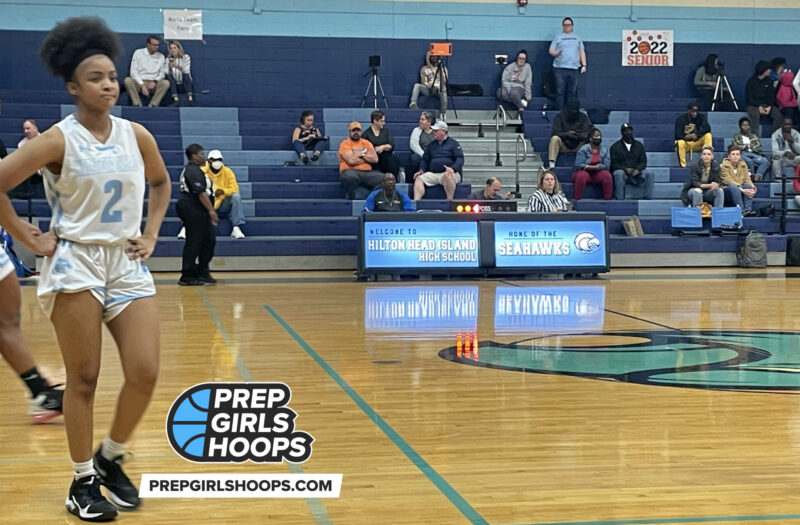 5'2" | PG | 2024
Hilton Head Island HS
Godsun has seen plenty of statistical improvement throughout her time with the Seahawks and one can expect that it will continue as she enters into the veteran half of her career at Hilton Head Island. She worked her way up from the junior varsity team up to the Seahawks' varsity squad. On defense, it appears as if she is a step in front of who she is defending. In case she mishandles the ball, she can quickly recover. Whether she is starting or coming off of the bench, Godsun will provide productive minutes. She shoots the 3-point shot well, attacks the rim with fearlessness and ferocity and will draw contact to get to the free throw line.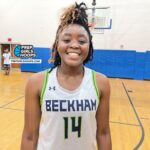 5'6" | PG | 2025
Lucy Beckham | Lowcountry Premier Ballers 15U
At the conclusion of the 2021-22 season, Collins began balling out for Lowcountry Premier 15U on the AAU circuit during the spring and summer months. For the Bengals, she participated in 21 games that season. Collins is more than willing to absorb contact and get to the free throw line. On the defensive end of the floor, she will take advantage of an opposing ball carrier's mishandle and convert it into an additional possession for the Bengals. Collins does plenty of work on the boards and is a skilled passer. Taking advantage of screens and ball distribution are two other areas of her game she excels at.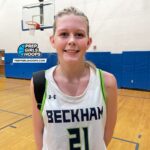 5'10" | PF | 2025
Lucy Beckham
Palmetto Christian Academy's loss will be Lucy Beckham's gain as this talented underclassman will soon sport the navy blue and lime green colors of the Bengals. She is listed at 5-foot-10 and typically plays as a four forward. Cox combines height with wingspan which make her a tall challenge to get rebounds against. Occasionally, she will drain midrange jump shots. Cox can be efficient as a ball distributor and shot blocker and can be a threat to create extra possessions as much of a ball hawk as she can be. Cox joins a Bengals program that won 10 games last season but is still in relative infancy.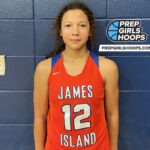 5'5" | SG | 2025
James Island | Shots United
The Trojans present to teams a formidable backcourt between Graf and 2024 Andrea Duncan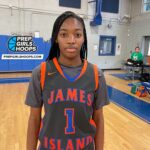 Andrea Duncan 5'7″ | PG James Island | 2024 State SC . Graf competed in 27 games this past season for a Trojans team went 8-4 against regional opponents last season. Graf adds a 3-point shooting dimension to a team's offense and can affect an opponent's passing lanes with her ability to deflect said passes. She also has no issues with absorbing contact and getting to the free throw line. Graf is listed at 5-foot-4 and spends much of her time on the court playing as a two guard. Defensively, she can gather steals and create extra James Island possessions.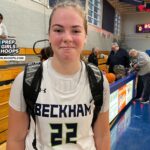 5'10" | SG | 2026
Lucy Beckham | Storm
Seifert saw a good deal of playing time last season for the Bengals as an eighth grader. Lucy Beckham is still a relatively new school to the South Carolina athletics landscape, but standouts like her are allowing the program to earn statewide respect. An element of her game that she particularly thrives in is her 3-point shooting. Seifert displays great shot selection to go along with her long range accuracy. Seifert played in 20 matchups last season for the Bengals and is a two-sport athlete who adds volleyball alongside her basketball play. Seifert averaged 6.7 points and 5.6 rebounds in 2021-22.
5'3" | PG | 2026
James Island | Shots United
Smith earned playing time in 18 games this past season for the Trojans, but will enter the upcoming season with plenty of experience. She originally played on the junior varsity team with the Trojans as a seventh grader and it was not long before she began showcasing her skills on the varsity squad. Smith is listed at 5-foot-3 and displayed early on why she had a great deal of upside. Typically, she operates at point for a team that, last season, had a noteworthy mix of backcourt and frontcourt players. Smith is someone who embodies the concept of "just getting started."
Prep Girls Hoops predictions:
Bluffton – The Bobcats are too good of a team to settle for a first-round postseason exit.
James Island – A young Andrea Duncan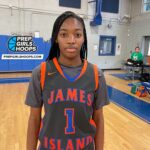 Andrea Duncan 5'7" | PG James Island | 2024 State SC was dangerous. An experienced Andrea Duncan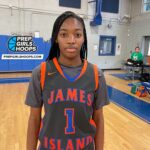 Andrea Duncan 5'7" | PG James Island | 2024 State SC ? Look out.
Colleton County – Who knows where the Cougars would have finished if not for going 4-8 in conference play.
Hilton Head Island – If the Seahawks can improve on their home record from last season, Hilton Head Island can make some noise.
Lucy Beckham – The school is only in its third year of existence.
May River – Losing Morgan Scott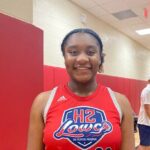 Morgan Scott 5'10" | PF Hilton Head Christian | 2024 State SC to Hilton Head Christian will certainly leave a mark.