Coming in to the 22-23′ season, Region 7 is returning multiple athletes that can put up impressive number's night in and night out. The region will be a very competitive within North Dakota and will an exciting one to keep a close eye on. Let's take a look at some of the returners coming back.
Harys Beauchamp Harys Beauchamp 6'0" | PF Beulah | 2023 State ND : 6′ Sr. Beulah– Harys is nothing short of talented and you can tell shes put tons of time into her game. She is as strong and athletic as they come and knows how to do her job and does it well. I was able to watch her over the summer and her abilities to attack the paint, her soft touch around the rim, and ball handling skills for her size really made her stand out. She's returning averaging 15ppg and 10rpg, the All-Region selection could be in for a huge year, and very well be an all-state candidate.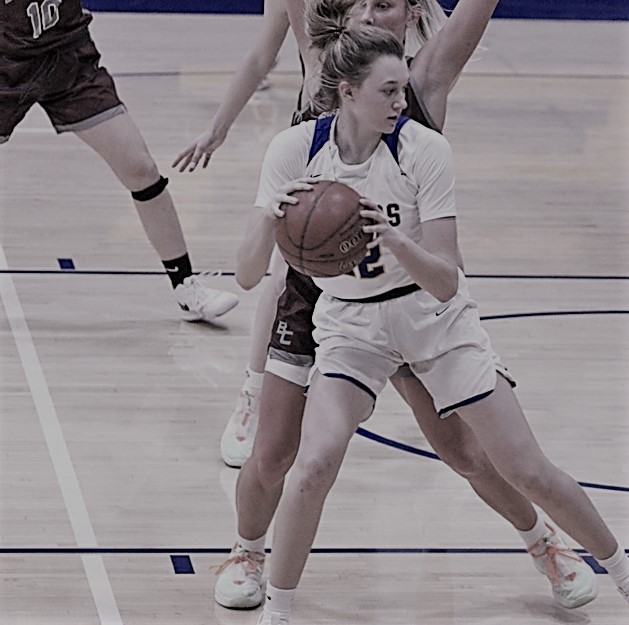 Anna Schatz Anna Schatz 5'10" | SF Grant County | 2023 State ND : 5'10 Sr. Grant County-Mott/Regent– Schatz is a shooter who has proven if you give her the ball, she will make it count. Schatz is coming into 22-23′ with 10.1PPG and 5.6RPG, numbers I expect to increase this year. She's crafty, moves well and doubles as an elite passer. Offensively her ability to create separation for a bucket or hitting shots off a screen can cause trouble for other teams. She's in for another big year, and you can expect her to be one of the many talented players on the floor for GC-MR filling a stat sheet.
Janessa Zentner: 5'5 Sr. Grant County-Mott/Regent– Another gifted athlete for GCMR is Janessa Zentner. She will be one of the big leaders on the court, vocally and statically. She has a good court IQ, knows how to find open teammates but also is fluid with the mid-range shots and capitalizing points off turnovers when she steals the ball. Shes a bulldog of a defender and loves to pressure the offense. Look for her to be running the front court, and making plays happen. Shes coming back averaging 9.4PPG, 5.1RPG, and an impressive 90 Steals.
Taylor Christensen Taylor Christensen 5'10" | PG Glen Ullin-Hebron | 2023 State ND : 5'10 Sr. Glen Ullin/Hebron– A quick talented guard who also doubles as a threat in the paint will be a big part of a very talented Glen Ullin/Hebron team. Taylor is an incredibly talented shooter who can knock um' down fluidly mid-range, to behind the 3-point line. She's quick, has a great first step, moves well and flat out gets after it on the court. She's coming in averaging 13PPG, 3RPG.
Laela Jensen Laela Jensen 5'7" | CG Hettinger-Scranton | 2025 State ND : 5'7 Soph Hettinger– Jensen is one player we all need to keep an eye on in the next few years. Her level of talent is incredibly high, and she is only getting better and better. She is clutch hitting open shots mid-range or off the screen, drives to the rim well and is a standout defender. Shes quick, sees the court well and knows what's going happening on the court at all times. Coming into her Soph Yr. Shes averaging 13.9PPG, 4.9RPG and was an All-Region player as well, I wouldn't be surprised if she didn't pick up an All-State selection as well. She will be a big-time player in North Dakota for years to come.
Ava Jahner: 5'6 Jr. Dickinson Trinity– Jahner is a very quick, feisty player that seems to get all over the floor and do work offensively and defensively. One thing that stands out is how quick she can shift her feet and her quick hands when grabbing the ball. She runs the court very well and finishes well at the rim strong adding points off the glass. She is talented on both sides of the court and is a big asset to Dickinson as a playmaker and scorer. She returns averaging 10.4PPG and 5RPG
Ellie Powell Ellie Powell 5'11" | PF Bowman County | 2023 State ND : 5'11 Sr. Bowman– Powell an All-Region selection as well has proven she can get it done on both ends of the court. Offensively she can connect down low, or outside making long shots look easy. Defensively she has very good court awareness and utilizes her quick hands and feet to get to the ball/defender. She brings a ton of talent to the Bowman team. Her along with Jaci Fischer Jaci Fischer 5'9" | SG Bowman County | 2024 State ND and Sophia Headley Sophia Headley 5'10" | SG Bowman County | 2025 State ND are a very deadly trio and will be tough to handle. The combination of them working the game inside and outside with their height/skills will be very fun to watch. Powell is returning with 12.1PPg, 8.9RPG and picked up nearly 60 steals.
Other Notable Mentions/Impactful Players returning to region 7.
Gracie Doe Gracie Doe 5'5" | PG Killdeer | 2023 State ND : 5'4 Sr. Killdeer– 9PPG, 3.1RPG.
Jaci Fischer Jaci Fischer 5'9" | SG Bowman County | 2024 State ND : Bowman 10.5PPG, 4.7RPG, 41 3-Pointers, All-Region Selection.
Sophia Headley Sophia Headley 5'10" | SG Bowman County | 2025 State ND : Bowman 107PPG, 5.8RPG, 32 3-Pointers, All-Region Selection.
Hanna Frank: 5'7 Sr. New England 12PPG, 3RPG.
Kaley Schatz: Sr. Glen Ullin/Hebron– 12PPG, 6RPG, All-Region Selection
MiKayla Schneider: Sr. Glen Ullin/Hebron– 13PPG, 8RPG, All-Region Selection
Samantha Greff: 5'10 Soph. Grant County/Mott-Regent 9PPG, 5RPG.
Ameerah Rosin: Grant County/Mott-Regent 9.5PPG, 3.2RPG, 63 Steals.
MaKenna Brunmeier: 6′ Sr. Hazen 11PPG, 8RPG.
Tyra Feldmann: 5'5 Sr. Beach 11PPG, 8RPG.
Eliza Braden: 5'10 Sr. Beach 11PPG, 7RPG, 21 3-Pointers.