Today, I want to talk about some returning players who got to the free-throw line most last season. Most of the kids at the top of the list last year were seniors, but for obvious reasons, the seniors last season won't be getting the line over 170 times this season, so let's meet some of the kids who'll make a second home at the charity stripe.
Paige Klocke
The now Glidden-Ralston senior finished second in the state in free-throw attempts, only behind now Iowa Hawkeye Hannah Stuelke. That is some elite company that Klocke found herself in last season, taking 212 shots at the free-throw line. The Wildcat got to the free-throw line over ten times per game last season. Although, she only converted 67% of those attempts. On the bright side, improving that aspect of her game will help her team score a few more points per game, assuming she continues to get to the line at the rate she has.
Kaliyah Sain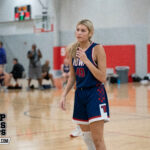 Kaliyah Sain 5'10" | SF Cedar Rapids Kennedy | 2023 State IA
Last season, Sain finished in fifth for free-throw attempts with 185. The Lindenwood commit is a dynamic forward with triple-threat ability on the perimeter. She is a threat off the dribble with her length, and when she attacks the basket, she draws contact from defenders who tend to be a little too handsy with her in the paint. Sain also has a burst that helps her beat her initial defender off the dribble and get downhill.
Abbey Bence
The West Burlington Falcon is a player who did her best work in the paint, even though she isn't a traditional post player. Bence is an excellent rebounder who often grabs offensive rebounds between multiple opposing players. After grabbing offensive rebounds, she powers up toward the basket for putbacks, and at that point, she tends to get hit by opposing players, which leads to her getting to the free-throw line. For fans of players who play with a high effort, you'll love watching Bence play.
Lydia Olejniczak Lydia Olejniczak 5'8" | SF Perry | 2023 State IA
The Perry wing is the fourth-leading returner in free-throw attempts. Olejniczak gets to the line more traditionally, getting by her initial defender at the perimeter and putting pressure on defenders to stay vertical and defend the basket. The Jayette can finish through contact with both hands, which helps her in transition when she doesn't have much control over where she attacks the basket from on the perimeter. Her creativity finishing with odd angles, makes her an intriguing kid to watch.