The AIA is loaded with 47 very talented 5A teams this upcoming. Last years state tournament teams included: Flowing Wells, Willow Canyon, Ironwood Ridge, Fairfax, Casteel, Cactus Shadows, Sunnyside, Gilbert, McClintock, Millennium, Cienega, Canyon View, Catalina Foothills, Buena, Williams Field, and Sunrise Mountain. These are my predictions for the top contenders to bring a home a state championship this season.
1) Millennium: The Millennium tigers are coming off their 4th straight state championship title this past season. The Lady Tigers finished the season with a 21-9 record and ended the year on a 7 game win streak. The Lady Tigers lose their leading scorer but return their nucleus of players. The Lady Tigers will be led by Elli Guiney and Mia Amundsen Mia Amundsen 5'9" | CG Millennium | 2023 State AZ and UC Santa Barbara commit Bella Barret. Guiney averaged 15Pts and 7rbs as a sophomore. Millennium has to be the favorite in the 5A division coming off of 4 straight state titles.
2) Fairfax: The Fairfax Stampede are coming off of a sensational 20-3 season. They were bounced in the first round of last year's state tournament. The Stampede had 5 freshman average double figures last season and helped lead Fairfax to a 20 win season. The Stampede will be led by sophomores: Saniya Jones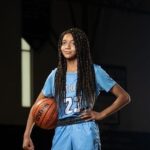 Saniya Jones 5'9" | SG Betty Fairfax | 2025 State AZ (13pts/game), Savannah Helms(13pts/game), Mackenize Buckner(13Pts, 10rbs/game), Dianalynn Howell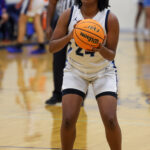 Dianalynn Howell 5'9" | PF Betty Fairfax | 2025 State AZ (11pts, 9rbs/game), and Victoria Ballard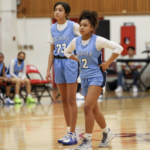 Victoria Ballard 5'5" | CG Betty H. Fairfax | 2025 State AZ (9.5pts/game). This a young group with a ton of untapped potential. I see this squad having a legitimate chance at competing for a state title this season.
3) McClintock: The Chargers are coming off an 18-9 season and a first round exit at the state tournament. McClintock has an absolute superstar in sophomore Aiyanna Perkins. As a freshman, Perkins averaged 23pts per game. The chargers also have another really good guard in Senior Xaria Culver. Culver averaged 8Pts a game as a junior and plays intense in your face defense. McClintock is an athletic group that is capable of making a run at a state championship if everything starts to click.
4) Sunrise Mountain: The Mustangs are coming off a 24-3 season which included a State Semi-Final loss to the eventual champion Millennium. The Mustangs are returning their top two scorers in Mackenzie Nielsen Mackenzie Nielsen 5'10" Sunrise Mountain | 2023 AZ and Mackenzie Dunham Mackenzie Dunham 5'11" | PF Sunrise Mountain | 2023 State AZ . Dunham averaged 15pts and 13rbs a game, while Nielsen averaged 14pts a game. The Mustangs return the majority of their team from last years team and will be a contender for a state title come playoff time.
5) Ironwood Ridge: The Nighthawks went 17-12 last season and were eliminated in the quarterfinals of the state tournament. The Nighthawks are led by freshman sensation Sidney Anderson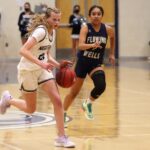 Sidney Anderson 5'10" | CG Ironwood Ridge | 2025 State AZ . Anderson led the team in points with 14.3 per game. Anderson is one of those players that can light up a scoresheet on any given night. This past spring/summer she played up two ages on the 17U Tucson Rattlers team. I'm anticipating a breakout season from her. The Nighthawks return a solid core and will be a very good team come the end of the year.
6) Notre Dame Prep: The Saints are moving up a division from 4A to 5A this season. In 4A the Saints went 16-9 and were bounced in the first round of the playoffs. This year the team returns one of the top prospects in Arizona in Junior Ava Pautz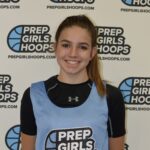 Ava Pautz 5'11" | SF Notre Dame Prep | 2024 State AZ . As a sophomore, Pautz averaged 15pts and 10rbs a game. The Saints will be also led by senior Sarah Evans and sophomore Olivia Frankel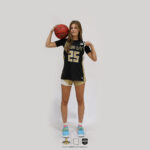 Olivia Frankel 5'9" | SG Notre Dame Prep | 2025 State AZ .