The AIA is loaded with 42 very talented 6A teams this upcoming. Last years state tournament teams included: Sunnyslope, Valley Vista, Mesa, Dobson, Mountain Ridge, Desert Vista, Tucson High Magnet School, Hamilton, Cesar Chavez, Westwood, Perry, Cibola, Pinnacle, O'Connor, Chandler, and Xavier College Prep. These are my predictions for the top contenders to bring a home a state championship this season.
1) Desert Vista: The Desert Vista Thunder are coming off a 25-5 season that ended with a state semi-final loss to the eventual champ Valley Vista. The Thunder return their three leading scorers in Dylan Swindle, Eanae Dagons Eanae Dagons 5'3" | PG Desert Vista | 2024 State AZ , and Michaela Fairwell Michaela Fairwell 5'9" | SG Desert Vista | 2025 State AZ . The Thunder also added two of the best players in the nation in Junior Shay Ijiwoye Shay Ijiwoye 5'6" | CG Desert Vista | 2024 State AZ and Freshman Jerzy Robinson. Adding two high-level division 1 talents in Ijiwoye and Robinson alone make the Thunder the top team in 6A. This team is as electric as it comes and could very well compete with some college programs already. Desert Vista is the team to see this winter. They are my heavy favorite to win the state title in 6A this season.
2) Perry: The Perry Pumas finished up their season last year with a record of 22-10. As the 11 seed in the state tournament the Pumas made a cinderella run to the state championship game before falling to Valley Vista 68-46. The Pumas return the #1 overall prospect in the state of Arizona, Vanderbilt Women's basketball commit Khamil Pierre Khamil Pierre 6'2" | SF Perry | 2023 State AZ . Pierre averaged 21pts and 9rbs as a junior. The Pumas will be anchored by 5 seniors and sophomore Hannah Strauss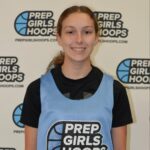 Hannah Strauss 5'8" | PG Perry | 2025 State AZ . Returning the nucleus of a team that made the state championship game makes the Pumas poised for another run at greatness.
3) Mountain Ridge: The Mountain Lions are coming off a 23-4 season and a first round exit at the state tournament. The Mountain Lions are returning their core of Hannah Uhlenhop Hannah Uhlenhop 5'10" | PF Mountain Ridge | 2023 State AZ , Alyssa Fraulino and Janae Floyd. Mountain Ridge also added Georgia Women's basketball commit Miyah Verse Miyah Verse 6'0" | SG Mountain Ridge | 2023 State AZ to their roster. Verse is capable of dominating a game completely by herself and having a senior heavy nucleus added to everything that she does on the basketball court makes the Mountain Lions one of the top teams to beat in the division.
4) Xavier College Prep: The Gators finished their season with a 19-6 record and a close loss in the state semi-finals against Perry. The Gators are returning their top four scorers from last years team: Sarah Miller, Dominique Nesland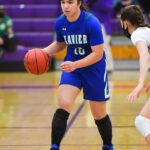 Dominique Nesland 5'10" | PG Xavier College Prep | 2024 State AZ , Sienna Cherwinski Sienna Cherwinski 5'7" | PG Xavier Prep | 2023 State AZ and Maureen Uhlrich. This team is loaded with returning talent and could very well make a run at a state title this year. Sarah Miller and Dominique Nesland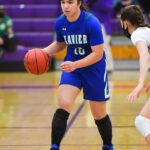 Dominique Nesland 5'10" | PG Xavier College Prep | 2024 State AZ have both received division-1 interest to play basketball at the next level.
5) Valley Vista: The Valley Vista Monsoon ended their season on a 12 game winning streak on their way to a state title. The Monsoon graduated 5 seniors including their two leading scorers: Jennah Isai and Makalea Cooper. The Monsoon will be led by senior Olivia Arvallo Olivia Arvallo 5'2" | PG Valley Vista | 2023 State AZ , sophomore Destiny Lunan, and senior Hannah Young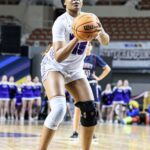 Hannah Young 6'0" | PF Valley Vista | 2023 State AZ . Valley Vista has a solid group of returners, but the 6A division has exploded with talent this year. The path looks difficult for Valley Vista to repeat as state champs but if they peak at the right time, they could repeat as state champs.