Julia Leach Julia Leach 6'2" | PF Cherry Creek | 2024 State CO – Cherry Creek
Leach is a mobile wing defender who will be a notable complemtary defender at 6'2. Leach has the ability to defend three positions, primarily wings and forwards have been her strongsuit. She guards well in the low post, possessing a strong lower body and quick reaction time. The forward has a wiry frame which makes her a versatile defender against a wide variety of opponents, proving capable out on the perimeter. Through her sophomore season at Cherry Creek, the power forward averaged 3 points and 2.4 rebounds within a very deep Cherry Creek roster. Given the incredibly talented young core at Creek, Leach will be a crucial defensive piece and slashing wing. Considering the playmaking upside of multiple Bruins, Leach will have ample opportunties to make plays off of primary actions.
Addicyn Kessinger Addicyn Kessinger 6'0" | SF Akron | 2024 State CO – Akron
Yet another double double threat within the class, Kessinger will be making major noise out in Akron. Putting up a double double through her sophomore season, Kessinger showed promise as an all around scoring threat. Posting 20.1 points, 11.5 rebounds, and 4 stocks per game while contributing 30% of her three point attempts. Kessinger has pure hustle on the glass, maneuvering around box outs time and time again. Kessinger also benefits from one of the better second jumps in her class.
Allison Schwertner Allison Schwertner 6'3" | SF Mullen | 2024 State CO – Mullen
The 6'2 forward possesses defensive versatility along with shooting upside as a two way wing. Schwertner has a the ability to defend up to four positions given her height and quick footwork. Either as the point of attack or helpside, the forward is there to force a difficult shot without fouling. She brings plenty of energy regardless of the possession, whether she fights on the offensive glass or a loose ball. Schwertner attempted 54 three point attempts this past season, an area worth monitoring for her potential efficiency improvements. This past season at Mullen, the forward averaged 7.3 points and 4.7 rebounds per game. Following the departure of multiple key seniors, Schwertner will have a larger role than just a complemenary scorer.
Essynce Contreraz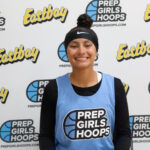 Essynce Contreraz 5'4" Holy Family | 2024 CO – Holy Family
Contreraz brings high IQ as a pick and roll ballhandler. At roughly 5'5, the guard tightly maneuvers around screens and forcing defenders into tough positions. She darts around with or without the ball, capable coming off the screen into a shot. Her shot balance is up there with the top guards in the class, given how quickly she relocates going up for shot attempts. This past season at Holy Family, the junior guard averaged 11 points, 5.2 assists, and 2.6 steals per game while contributing 37% of her three point attempts. While posting 3.8 three point attempts per game, Contreraz still has upside as a volume shooter both off the dribble and catch. Contreraz returns to a stacked organization, going 21-4 last season and reaching the great 8 within 4A. Her pick and roll playmaking will be a key area for the junior guard, big season ahead for her.