The 2025 ranks saw 14 new players join when it dropped a while back. Now composed of 71 prospects, a look at the top seven is in order to get them on fans' radar ahead of the first games. Players are listed in rank order.
Saliyah Johnson Saliyah Johnson 5'6" | PG Arkansas City | 2025 State KS , 5'6″, CG, Arkansas City – Johnson is among the reasons the Bulldogs will be a team to watch. I saw a great deal from her this summer and she has a game that combines solid physical abilities, good skills, and – probably most important of all – court awareness. A prime example of her awareness came when she saved a ball out of bound in the corner and threw a strike to a post underneath the basket for a layup. Not something ya see everyday. Johnson is a scorer with the athleticism, handles with speed, and creative finishing abilities. She has good hands and makes the quick catchable pass. Defensively she uses her awareness, length, and quickness to stick and to fight through screens.
Lydia Reed Lydia Reed 6'2" | C St. John | 2025 State KS , 6'2″, C, St. John Hudson – Reed might be the best unknown big on my radar. I had the opportunity to see her at the MAYB Summer Kickoff playing with her high school team. She is a high potential talent and can quickly become one of the top players in Class A. Reed has a slender frame her but height and length are legitimate and she pairs them well with solid game feel and activeness on both ends. Reed is fast in transition, boxes well and elevates around the basket, and is purposeful and effective in the half court pick and roll/slip game. She finishes at speed and extension with both hands. As she gains strength, grows her offensive game Boxes well, improves her defensive game against opposing screen games, and sees her teammates improve their use of her in the half court Reed can expect her to be a force to propel the Tigers to the state tournament.
Makenzie Farmer Makenzie Farmer 5'9" | SF De Soto | 2025 State KS , 5'9″, SF, De Soto – Farmer has some solid abilities lead by her footwork to keep ball handlers in front of her. She also walls up well in good situations.
London Cousin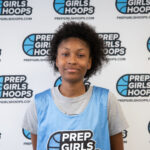 London Cousin 5'9" | PF Olathe North | 2025 State KS , 5'9″, SF/PF, Olathe North – Prior to seeing her at the Shawnee PGH Top 250 in October what I knew of her was that she was a deep bench player for Olathe North who could hit the deep three ball. She showed many abilities at the event like a quick release and a good stop and pop mid-range jumper with elevation. I will be watching for is improvement in defensive positioning that will make use of her quickness. I will be looking to see how well her quickness, speed, and athleticism combine with her wiry frame to enable her to stand out defensively. A high potential player.
Mattie Galliher Mattie Galliher 5'11" | PF Hutchinson Trinity | 2025 State KS , 5'11", SF/PF, Hutchinson Trinity – I have not seen Galliher since the Sterling tournament last mid-season. Athletic, fluid, and a growing offensive game she will likely step forward in the middle now that her sister Lauren, now playing at Pratt Community College, has graduated. Another high potential player, Galliher could be really, really good in a year or two. It all depends upon how much work she put into her game this summer.
Prayer Roebuck Prayer Roebuck 5'10" | SF Neodesha | 2025 State KS , 5'9″, SF, Neodesha – I finally got to see Roebuck, a Tri-Valley League first team selection, play in person. She is a well rounded player with a solid IQ. A three point threat with good length, what I really like about her that makes her effective is how well she moves without the ball in the half court.
Katie Linenberger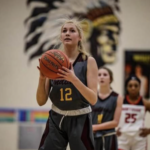 Katie Linenberger 6'0" | PF Hays | 2025 State KS , 6'0″, PF, Hays – An up-and-coming legitimate big for the Indians, Linenberger has a good frame. She is athletic, has good transition speed, and works hard around the basket on both ends. With the work she has put in over the summer I expect big things from her this season.