We're back at it, looking at Vermont's top point guards as we head into the 22/23 season. Jump in!
Karsyn Bellomo, 5'8 G – Rutland High School Class of 2023
One of the first things I noticed about Karsyn is her killer crossover, particularly the double cross, where she sends defenders left and right, resulting in a blow by into the second layer. Her floater/short range game is strong, and paired with her vision, she can really break a defense down. Furthermore, she can knock down the three both off the bounce or the catch, so defenders really have no good option, they either have to find a way to stick with her or give something up. Bellomo has the grit to tough out close games and the skill to take over. Tune in.
Maia Jensen, 5'8 G – Mt. Abraham High School Class of 2023
A strong two-way player who can score it many ways, Maia is going to be on my radar all winter. Jensen turns defense into offense, forcing turnovers out of the zone press by corralling ballhandlers into traps and using active hands without fouling, ultimately opening up transition buckets and assists. In the halfcourt too, Jensen can cause faulty possessions with her heady help defense and reading of passing lanes. Maia orchestrates the offense well and, if necessary, can create something out of nothing with her clean handle and three-level scoring. I look forward to seeing her play this winter.
Anna Moser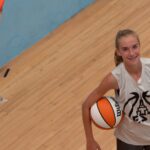 Anna Moser 5'8" | CG Rutland | 2026 NewE , 5'6 G – Rutland High School Class of 2026
The youngster Anna Moser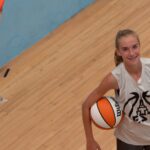 Anna Moser 5'8" | CG Rutland | 2026 NewE finds her way onto this list and for good reason. Anna is the ultimate competitor, it doesn't matter if she's facing a weaker matchup or playing against the previous Gatorade POY, Anna battles. Moser loves to pick the ball up in the backcourt, applying pressure and making sure opponents have to work for their position. Her handle is crisp and secure, allowing her to break defenders down and slip into the paint for finishes and assists. Moreover, she has a high hoop IQ, showing an understanding of off-ball spacing and action with cuts and screens. Moser is ahead of the pack as an incoming freshman.
Nicole Norton Nicole Norton 5'7" | CG Colchester | 2024 State NewE , 5'9 G – Colchester High School Class of 2024
Nicole has been one of my favorites to watch over the last year. Norton has a long frame, quick feet, and the will to hound ballhandlers anywhere on the court. She forces lots of turnovers purely off of her ball pressure and is also adept at getting her hands onto passes without taking herself out of the play if she miscalculates. Offensively, Nicole has an incredible first step and her elevation after a long stride is impressive. She's constantly finishing around the rim, regardless of rim protectors, and can also knock down the three ball. Nicole is poised for a big winter.
Yvonne Roberge Yvonne Roberge 5'6" Spaulding | 2023 NewE , 5'7 G – Spaulding High School Class of 2023
Roberge has flown under the radar a little bit, but I anticipate a strong senior season for Yvonne. Gritty with great instincts, Roberge can really disrupt offenses with her on-ball pressure and her anticipation in help position, poking the ball loose and deflecting passes. Moreover, she rebounds well for her size and can dissect a transition defense with crisp passes and smooth finishes in the paint. Her jumper is knock down, particularly off the catch from three and off the bounce in the mid to short range. Roberge's game is heady and well-rounded.
Cassie Beste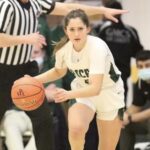 Cassie Beste 5'6" | CG Rice Memorial | 2024 State NewE , 5'5 G – Rice Memorial High School Class of 2024
It's been too long since Cassie has been in here; unfortunately, she suffered an injury that kept her sideline through the AAU season. However, this list wouldn't be complete without her. Beste is a savvy lefty with a solid handle, capable of breaking defenders down and launching from distance with efficiency, or she'll slip into the second layer for pull-ups, kick outs, and finishes around the rim. Her vision is elite, able to thread passes that few see coming. Lastly, she's a heady defender who absolutely gets after ballhandlers. I can't wait to see her back on the floor.