Here we go! The start of our D1 deep dive begins.
Addison Hunter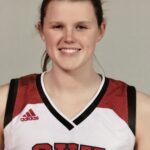 Addison Hunter 6'0" | PF Champlain Valley | 2023 State NewE , 5'11 F – Champlain Valley Union High School Class of 2023
Addi has long been a favorite of mine to watch. With crafty footwork and great basketball senses, Hunter is a swiss army knife in the post. She can create shots of her own with drop steps, counters, and face-ups as well, exhibiting a deep bag of tricks which opens up short to mid-range jumpers and baby hooks. Moreover, she gathers boards at a high clip, clogs the paint, defends 3-5, and has impressive vision and touch all around the post. Hunter is a high-level plug and play hooper who makes those around her better.
Meghan Thompson, 5'9 G – Colchester High School Class of 2025
With a confident quick trigger and impressive arc on her jumper, Thompson can fill it up in a hurry. Her three-ball is dialed in both off the catch and bounce, but she also knows when to throw a shot fake and get to the rim. Her off-ball movement involves lots of cutting, solid screens, and intuitive relocation as she has a great sense of spacing. Meghan is developing into a three-level scorer, and at the same time she knows how to make plays for others. With length and strength, she defends perimeter players well and out-rebounds most wing players due to her pursuit of the ball. Thompson is due for a breakout season.
Shelby Companion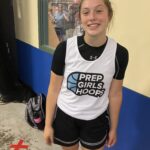 Shelby Companion 5'6" | CG CVU | 2023 State NewE , 5'7 G – Champlain Valley Union High School Class of 2023
Competitive and communicative, Shelby simply makes winning plays. At the PG slot, Companion facilitates well with her communication and direction, getting players into spots where they can excel. Furthermore, her vision allows her to make plays for others as she manipulates defenses with her eyes and threads the needle. Shelby also gets downhill effectively and finishes with strength around the cup. Defensively savvy, Companion pressures the ball well with her quick feet and strong frame. Shelby is all-around PG who affects the game in myriad ways.
Cherise Shamp, 5'10 G – Mount Mansfield Union High School Class of 2023
Shamp gives you 110% each night, no questions asked. Cherise is consistently hawking ballhandlers and turning defense into offense by corralling opponents into traps and using her length to deflect passes. She loves to do damage in the interior, getting to the rim often and making a living at the free throw line. Moreover, Cherise collects an insane amount of 50/50 balls and offensive boards, creating multiple extra possessions out of sheer will. She's also dialed in her catch-and-shoot three, leaving defenses unsure as to how to slow her down. Shamp plays at a high gear night in and night out.
Karsyn Bellomo, 5'8 G – Rutland High School Class of 2023
Offensively sound, Karsyn gives defenders trouble each and every game. Bellomo has a strong handle and solid agility, blowing by defenders and making plays for herself and others with heady dump passes and slips to cutters. She's a three-level scoring threat with a clean jumper and a nice lay-up/floater package in the mid to short-range. Defensively, Karsyn likes to hassle ballhandlers and force them into uncomfortable positions, causing offenses to faulter as their PG is taken out of their element. Bellomo has the grit, skill, and leadership to bring out the best in herself and others.
Serenity Clark, 5'7 G – Colchester High School Class of 2023
A tough guard who does the dirty work, Serenity does a lot that doesn't always show up in the box score. Clark recovers loose balls with her quickness and anticipation, makes quick outlets to spark transition opportunities, and runs the floor well, finishing with poise around the rim. She's a hardy defender who enjoys making life tough for opponents, clogging driving lanes by sliding into help position and rotating instinctually when the defense begins to scramble. Clark glues it all together with her hustle and unselfishness.